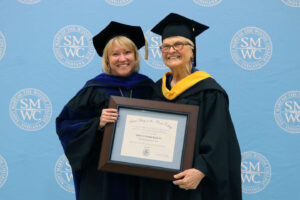 During the 2019 commencement ceremony, Saint Mary-of-the-Woods College presented Valerie Dziubek Kuck, a 1961 graduate, with the Distinguished Alumni Award. The Award is the highest honor the College bestows upon a graduate in recognition of her noteworthy achievements and valuable professional and personal contributions.
Kuck transferred to Saint Mary-of-the-Woods College in the middle of her sophomore year. She was impressed by the friendliness of the students, the dedication of the professors and the number of women interested in learning. She graduated with a bachelor of science degree in chemistry and earned her master's degree in chemistry at Purdue University.
While at Purdue, she became an advocate for gender equity, specifically for female doctoral candidates who had greater difficulty than males in attaining positions commensurate with their level of education.
After marrying Mark Kuck, she joined the technical staff at AT&T Bell Laboratories in New Jersey. A few years later, she assisted in the drafting of the founding documents for the first women's support group at Bell Labs and was elected the group's first president.
Kuck became active in the local section of the American Chemical Society (ACS), the largest technical society in the world with 150,000 members. She went on to be a co-founder of a women's chemists support group and was elected to the ACS Council.
She was appointed to several national committees, chaired five national committees and was elected for three terms to the ACS Board of Directors and chaired the board's awards committee. In her leadership roles, she increased the number of women and minorities proposed for committee appointment and leadership positions and improved the selection process. Those efforts lead to a significant rise in the number of women receiving national awards.
In addition, she completed in-depth research on the training and hiring of women in STEM fields. She determined that women in chemistry were encountering more barriers than in other fields. She presented her findings at universities and scientific meetings including the National Science Foundation, published her research in peer reviewed journals and wrote several book chapters.
Kuck is well known for her initiative and innovative spirit. When a significant research discovery was made public just two-weeks prior to a national ACS meeting, She sprang into action. She persuaded the ACS president to hold a session on high temperature superconductors. Kuck quickly identified the key researchers and then presided over the tutorial. While there was no advance publicity, 2,000 attended the session.
Two years later, another significant breakthrough was discovered before a meeting – cold fusion. She again persuaded the ACS president to hold a special symposium. This time 8,000 attended the symposium, which was covered in the New York Times, The Wall Street Journal, Newsweek and Time.
Kuck transitioned into a new role as a Career Consultant for the ACS. She helped design workshops designed to help graduate students and postdocs in their careers. She also prepared and presented career workshops at colleges, universities, and at ACS local, regional and national meetings. Hundreds of students and the unemployed benefited from the presentations.
Kuck has received several awards from Bell Laboratories and from the ACS for her leadership, dedication, and numerous efforts to help women and others in advancing their careers. She authored 41 publications, edited two books and has been granted 24 U.S. patents.