One hundred and eleven graduates participated in SMWC's 185th Ceremony on Saturday in the Knoerle Center.
By Dianne Frances D. Powell
Teresa Lubbers, commissioner for the Indiana Commission for Higher Education,  told Saint Mary-of-the-Woods College's spring graduates to be an example of respect, kindness and service toward others during her address at SMWC's 185th commencement ceremony on Saturday in the Knoerle Center.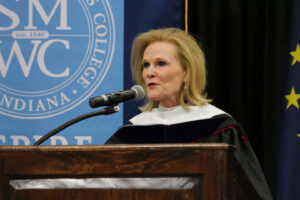 "The education you have received at Saint Mary-of-the-Woods [College] is certainly about knowledge and academic preparation but it's about more than that," Lubbers said. "It's about developing a set of values — a moral compass — that guides the way you work and the manner in which you engage with others. The combination of knowledge and empathy allows us to connect with others in a way that artificial intelligence will never replace."
She referred to the graduates as "the antidote to the divisiveness that threatens our relationships, communities and nation." As they go out into the world, she offered two pieces of advice: the first, to "resist coming to conclusions about people based on anonymous sources or stories that are published as fact when they are really perceptions based on limited knowledge or understanding," she said. The second is to seek opportunities to engage with others, especially those from different backgrounds, in meaningful and personal ways.
"Living fully in this manner will require you to choose hope over cynicism and service over disengagement," she added. "The value of your character will be measured by the ways you use this great education in service to others."
Lubbers received an honorary doctorate of humane letters at the ceremony.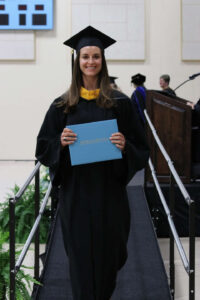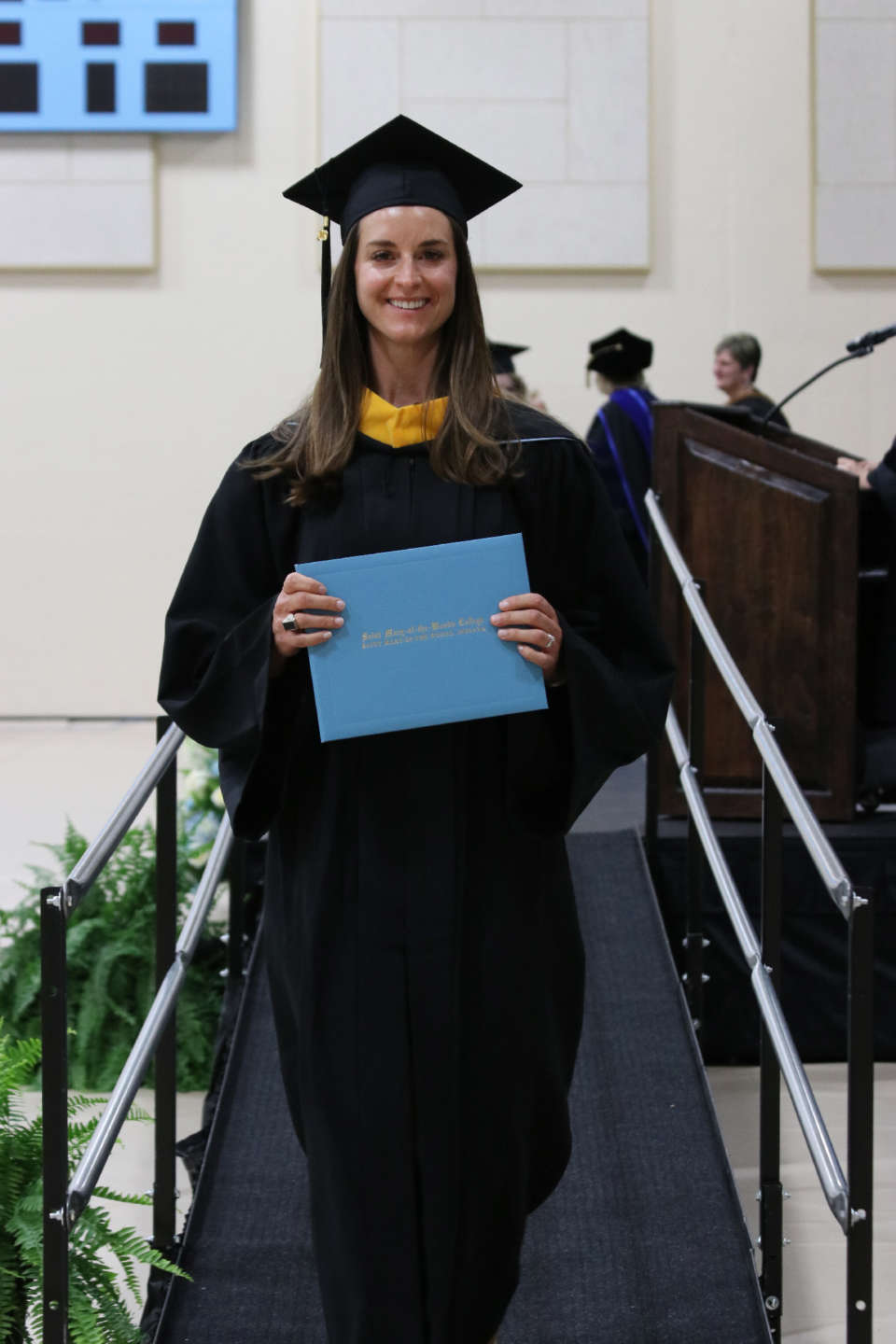 Music, cheers and applause filled Hamilton Arena in the Knoerle Center as 111 graduates processed to celebrate their educational achievements. Of the 111, 81 received bachelor's degrees, 28 received master's degrees, and 2 completed certificates. They represent 12 U.S. states and China.
One of the graduates traveled from her home just outside New York City for the ceremony. Laura Kinon completed a degree in psychology from the Woods Online program. Her bond with her mother, Pam Dwyer, is strengthened by one more commonality: they are now fellow Woodsies. Dwyer graduated from the online program (formerly known as Woods External Degree) in 1993. So, for the family, graduation day was a day filled with pride.
"I've gained so much from my experience at The Woods," Kinon said. "Besides finally completing my degree, I have a newfound pride in myself and my accomplishments.  It was not easy to do, especially while raising a family and dealing with other responsibilities, but I didn't give up."
"I also thoroughly enjoyed each and every class, and each and every professor.  I love to learn, and felt that I learned something new and interesting every day."
"Most importantly, I showed my children to never give up and to always work hard.  I know they are both immensely proud."
Another graduate, Aaron Ashley of Terre Haute, identifies his family as his inspiration in his pursuit of education. Ashley recently completed an eight-year enlistment contract with the U.S. Army, which included a deployment to Kuwait and the United Arab Emirates in support of Operation Enduring Freedom. Upon completion of an associate's degree from Ivy Tech Community College, he transferred to The Woods last summer to complete a degree in human resource management. He completed his bachelor's degree in two semesters and one summer term by taking classes on-campus and online.
At SMWC, "I have met a lot of great students, alumni, professors, and other faculty members who were always willing to assist you with your journey here and in life, and make the experience what it should be," Ashley said.
"There were many times when I struggled with things here like assignments and projects, but there were a number of people around campus who want to see you succeed just as much as you do. Every encounter I have had on campus has shown me that the campus' core values are not only accepted, but also embraced and practiced every day."
He is eager to continue to make a difference and climb the ladder of success in business.
"When it comes to graduation, I have bitter-sweet feelings because I have become so used to seeing everyone on campus, and it is such a small community where everyone knows everyone here. This has been something I have begun to expect in my days, and will miss experiencing everyday. At the same time, I am eager to go out and use the knowledge and skills I have gained from here in the workplace, and begin making a positive impact on the world just like Saint Mary-of-the-Woods College has made on me."
Two alumnae, Margaret "Mickey" Kelly Murray '70 and Valerie Dziubek Kuck '61, were honored at the event with SMWC's Distinguished Alumni Award. The Distinguished Alumni Award is one of the highest honors presented to alums for professional achievements, contributions to society and support of the College.
Six students received special awards for academic excellence and service including:
Maud Helm Rockwell Medals for Superior Scholarship: Elizabeth Hope Trausch (Terre Haute, Indiana) and Nicole Renee Koopman (Terre Haute, Indiana)
The St. Catherine of Alexandria Award, sponsored by Kappa Gamma Pi, the National Catholic College Graduate Honor Society: Mariah Stout (Terre Haute, Indiana) and Christina Pearison (Sullivan, Indiana)
2019 Undergraduate Alumni Leadership and Service Award: Kayla Moats (Terre Haute, Indiana)
2019 Graduate Alumni Leadership and Service Award: Naomi Nothdurft-Moeller (South Bend, Indiana)
---
Additional Coverage