As part of an initiative to become an Apple Distinguished School, each incoming freshman at Saint Mary-of-the-Woods College (SMWC) received an iPad Air and Apple Pencil. More than 200 devices were distributed Aug. 20.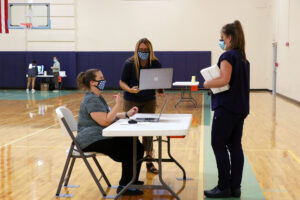 Faculty in key programs received their iPads over the summer, and, so far, they are optimistic about the possibilities according to Sara Boyer, '03 and '13, executive director of academic affairs. Many classrooms have been equipped with Apple TVs, which faculty and students can use to mirror their devices on the screen for presentations and high-tech learning.
The College began laying an early foundation for this plan three years ago with the introduction of MacBook Pro laptops for all music majors, which will continue. As the world moved to virtual learning and work platforms last spring during the COVID-19 pandemic, access to technology has become even more vital.
"This is really a big step toward accomplishing our ultimate goal of having one-to-one technology for all students," Frankie Enochs '93, executive director of information technology, said, adding that the College's plan for recognition from Apple might take a few years to completely implement.
A select number of faculty are piloting the technology in the Woods Core 100 class, a critical thinking class that teaches students to analyze complex problems from multiple angles. It also teaches students about the College's traditions and founding, which includes Saint Mother Theodore Guerin and the Catholic values on which the liberal arts core is built as well as skills including time management and other things that lead to being a successful student.
Faculty are quickly learning the interfaces as they conduct their courses. When they have questions, there's a room full of people to work out any issues.
Boyer said they are all learning together. While she said it's going to be an "adventure" for the faculty to develop different opportunities in the classroom, she thinks the technology itself is handy.
"One student said, 'I'm not sure how to save the document,' but another student said, 'I know how,' so I gave the screen to her," Boyer said, referring to the screen mirroring capabilities of Apple TV. "And then she demonstrated for the students how to do it. So, anybody in the class with an iPad can access the technology remotely from their own chair. This is going to be critical for the physical distancing piece as we respect strict pandemic protocols."
Collaboration is a word consistently utilized by the faculty who are part of the trial technology group, according to Boyer who believes the technology will ultimately provide a seamless teaching and learning environment.
"They can collaborate well. We're learning. The students are learning. But the possibilities are just incredible," Boyer said.
Visiting assistant professor of criminology and an instructor for the Woods Core 100 class, Louis Reeves, said the iPads are also a great way for students to work together.
Reeves is using an educational technique called 'think, pair, share' where he presents a concept and then his students discuss it and work in groups. With iPads, Reeves said, "Students spend more time collaborating than on the mechanical process." He also believes it encourages more diverse thinking.
Jamie McCracken '99, Ph.D., associate professor of business, admits she was a bit leery of how much her class might use the technology at first, however has found herself utilizing her iPad in every class.
Thinking outside the box, McCracken implemented a new way to gather information from her students. She asked students to record video introductions of themselves, which she says may possibly be her favorite thing during her 16 years at the College.
"They could just hold their iPad up and record and then submit," McCracken said. "And bam, it was done. That's been wildly entertaining."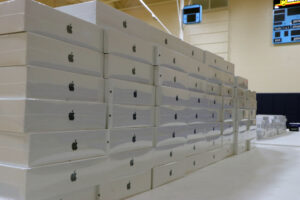 With the Apple Pencil, students can easily take notes directly on documents from their instructors, which will help SMWC uphold one of its main values – sustainability. Some faculty are foregoing printed materials altogether with the arrival of the new technology.
McCracken is one who is jumping at the opportunity to ditch paper and go fully digital.
"I'm going to airdrop files for things like handouts to my students because I have a zero-paper policy this term. With technology, we don't need to exchange paper in the classroom," McCracken said. "I'm hoping more areas of the College will do that."
Boyer agrees that the sustainability aspect is a positive one. As she is teaching this fall, she is learning the technology alongside her students.
"This is an environmentally sound way to learn," Boyer said. "You don't need to hand out printed slides anymore. They have the Apple Pencil where they write on them."
Faculty have also expressed an interest in better and more wide-spread use of eBooks this year. Antonia Taylor, associate director of academic services for student success, purchased book codes for her students. Reeves concurs that eBook access could save a lot of money for students.
While the success of transitioning to one-to-one technology is yet to be proven, the feeling across campus is that the technology has been well received by the students.
"They're a hit," Reeves said. "It just seems more effective. Once we get it rolling, I think it will be fantastic."
Christina Gunderson, director of academic services for student success and ADA advisor, understands that some students are not yet familiar with Apple brand devices, but they are working to teach them effectively.
"I think the biggest transition is that a lot of high schools use Chromebooks, so learning Apple devices is different," Gunderson said. "I think they're open to the technology piece of it, especially with our instructors equipped to help them learn it."
Boyer, who is typically an Android user, said that some of her students are still apprehensive about the new technology, but that watching students teach each other is heartwarming.
"The good news is that students who are rock stars at it have really been trying to help their classmates along the way," she said. "And sometimes the peer interaction has a stronger impact than my interaction."
After describing himself as "old school," Tim Tesmer, adjunct instructor, said he is excited about the usage of iPads. One of the handiest features, he said, is the ease of sharing information. "Students won't have to log onto a computer or bring a flash drive to present projects anymore – instead they can just share their screen to the class and present," explained Tesmer. "This generation is tech savvy and know their way around these things. They're predisposed to be able to use technology in a way that my generation just doesn't. If it benefits the students – enhances their education experience – then let's do it."
Boyer said the IT department, who had been in the process of creating a program to put iPads in the hands of students as part of a strategic initiative and the Aspire Even Higher strategic plan, have been rock stars.
As for the future of the technology on campus, the faculty are hopeful.
"There are so many benefits we can't even know yet. I'm excited to watch the progression," Boyer said. "We have just scratched the surface."