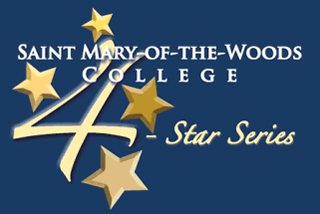 The Four-Star Series at Saint Mary-of-the-Woods College offers a diverse spectrum of performing arts and esteemed speakers who inspire, challenge and stimulate the imagination. Designed to enhance the College's curriculum and to enrich cultural exploration, the series is an intricate part of the College's history. The Four-Star Series has presented world-renowned lecturers, musicians and productions.
All Four-Star Series events are free and open to the public. Events take place in Cecilian Auditorium at Saint Mary-of-the-Woods College.
Town Mountain
October 23, 2012, at 7:30 p.m.
Banding together in 2005, Town Mountain is Phil Barker on mandolin and vocals; Robert Greer on lead vocals and guitar; Jesse Langlais on banjo and vocals; Bobby Britt on fiddle; and newest member Jon Stickley, rounding them out with his steady bass and rock-solid guitar and vocals. Thanks to their relatable, unforgettable lyrics, along with their arresting stage presence and swagger, Town Mountain manages to rise above the seemingly bottomless canyon of bluegrass bands touring today.
Margaret Lowman, Ph.D.
November 2, 2012, at 7 p.m.
Margaret Lowman pioneered the science of canopy ecology. For 30 years, she has designed hot-air balloons and walkways for treetop exploration to solve mysteries in the world's forests, with special expertise on the links between insect pests and ecosystem health. Margaret is affectionately called the mother of canopy research as one of the first scientists to explore this "eighth continent." She relentlessly works to "map" the canopy for biodiversity and to champion forest conservation around the world. Her international network and passion for science have led her into leadership roles where she seeks best practices to solve environmental challenges. As director of the Nature Research Center, Margaret oversees the new wing's research agenda, which includes supervising senior research staff; and developing, directing, implementing and fundraising for all research programs of the NRC.
"Animal Farm," Performed by the National Players
January 16, 2013, at 7 p.m.
Revolution has broken out on Manor Farm — the animals have claimed their independence! Humans are banished, and the new "Animal Farm" will be a beautiful egalitarian paradise. Pigs, horses, goats, donkeys and dogs — all animals are equal. They can build their new utopia, but can they resist the corruption that led to the human's downfall? From the author of "1984," this chilling and provocative fable is brought to the stage with the focused clarity and spark you've come to expect from The National Players.
Thomas DeWolf, "Inheriting the Trade"
February 11, 2013, at 7 p.m.
Thomas DeWolf will be presenting the documentary he was featured in, entitled "Traces of the Trade: A Story from the Deep North." Thomas Norman DeWolf is the author of "Inheriting the Trade: A Northern Family Confronts Its Legacy as the Largest Slave-Trading Dynasty in U.S. History" (Beacon Press, 2008), companion book to Katrina Browne's Emmy-nominated film of their family's journey: "Traces of the Trade." Tom's next book, "Gather at the Table: The Healing Journey of a Daughter of Slavery and a Son of the Slave Trade," is co-authored with Sharon Leslie Morgan and will be published by Beacon Press in October 2012. Tom graduated from the University of Oregon, served on the Oregon Arts Commission for nine years, and as a local elected official for eleven. His years of public service focused on the arts, literacy, children's issues, and restorative justice.
Previous Years