Clad in hard hats and with shovels in hand, President Dottie King, Ph.D. and the leadership of Saint Mary-of-the-Woods College (SMWC) broke ground on a new $15 million residence and dining hall Thursday.
While already historical, the day was made even more memorable by a surprise not even King knew.
Jim Schmidt, president of University Housing Solutions, explained that his company also has a foundation that supports private Catholic institutions in appreciation of their values. He shared a story about his own Catholic upbringing and the commitment of he and his partner Frank Murphy by making investments in private Catholic education as they hope to help institutions carry out their mission.
"We would like to give a half million-dollar initial contribution," Schmidt said as he shared the news with nearly 130 attendees. "The funds can be used for the building, endowments and elsewhere. We are super excited about this partnership."
For King this was a significant day. The groundbreaking for the last residence hall, Le Fer Hall, was in 1920, and housing has not been added to campus since. However, due to growing enrollment, she said this is the next logical step to accommodate for the influx of students and it will be supplementary to Le Fer.
"As I drove to The Woods this morning, I was emotional thinking about the events of today," she said. "Saint Mother Theodore Guerin settled on what is now campus, and while much has changed, you can look around and see that 180 years later there are still a lot of trees. And yet, God has done something special here and he has continued to bless us."
Vice President for Academic and Student Affairs Janet Clark, state senator Jon Ford, state representative Tonya Pfaff, chair of the SMWC Board of Trustees Barbara Brugnaux, principal and director of architecture of MKC Architects Matthew Teismann and SMWC senior Justine Gibson also spoke at the event.
Gibson, who is working in the admissions and advancement offices this summer, and will be a residential assistant come fall, said that The Woods is her life.
"The campus is magical. [SMWC] turns you into your best possible version of yourself you can be," said Gibson, a music therapy major with a psychology minor from Terre Haute. As many legacies have walked the halls of Le Fer, Gibson said she is confident the history will continue as the next generation of Pomeroys have their Avenue moments.
"Our legacy has expanded so much that we need two residential buildings to hold our students. I'm sure the love and warmth that floods our hallways of Le Fer will certainly carry over to our new residential hall," Gibson said.
Pfaff, a 1990 SMWC alumna, is sure something else will carry over into the halls of the new building – although it is much different than you might think. When she was a student at SMWC, tales of the Faceless Nun were shared between students.
"Faceless Nun stories have circulated the campus for years. Everyone remembers different versions [of her], and we know she is still here," Pfaff said. "I only hope the Faceless Nun can find her way to the new building."
All joking aside, Pfaff said the campus is near and dear to her heart. Between visiting campus when she was eight years old, to 11 years later when she was entering the gates as a student, she said she "knew this is where I was supposed to be."
Pfaff, who is a teacher at Terre Haute North High School, and Indiana House District 43 representative, said SMWC is providing new leaders and a good workforce to the community.
Sister Dawn Tomaszewski '74, general superior of the Sisters of Providence, offered her prayer and blessed the land where the hall will be located.
"May this new space be a place of discoveries and wellspring of endless possibilities and friendships," Tomaszewski said.
The new space will be where students connect, learn and interact, Schmidt said. Likewise, Teismann added he predicts that today's students will gather in the data center, common social spaces and integrated outdoor spaces which are spaces designed to enhance students' experiences while also encouraging them to live on campus.
"The new student residence and dining hall embodies these values of collaboration," Teismann said.
For Brugnaux, a 1970 alumna, the leadership and vision from King and the cabinet has led the College to where it is today "as SMWC grows into everything Saint Mother Theodore Guerin dreamed of."
Upperclassman and graduate students will be housed in the yet-to-be-named hall scheduled to open fall 2021.
"With the continued growth of our campus undergraduate enrollment and with the increased interest of students to have a residential experience, this new residence hall will provide the College with the additional spaces and rooms needed for our future growth," said Brennan Randolph, vice president for enrollment management and institutional technology. "Additionally, interest from graduate students to live on campus is growing and this new hall will provide the amenities that a graduate student would desire."
Ford, state senator for district 38, compared his experience as one of the first men to attend a small, formerly women's college to what he has seen as the College has grown following its decision to become fully coeducational in 2015, complementing King and her team for being strategic in enrollment and athletic growth. "I can't wait to see what's yet to come for The Woods," said Ford.
Located southeast of Le Fer, the new residence hall is designed to seamlessly fit into the College's historic buildings – three arches will draw in elements from other buildings including Le Fer Hall, Guerin Hall and the Conservatory. A Celtic cross on the east facing outer wall of the structure is a replica of crosses found atop the historic buildings as well – tying this new structure to not only the architecture, but also the Catholic legacy of the institution.
The new building will be a 92-bed facility with suite-style rooms with mini-kitchens and living room areas in each suite.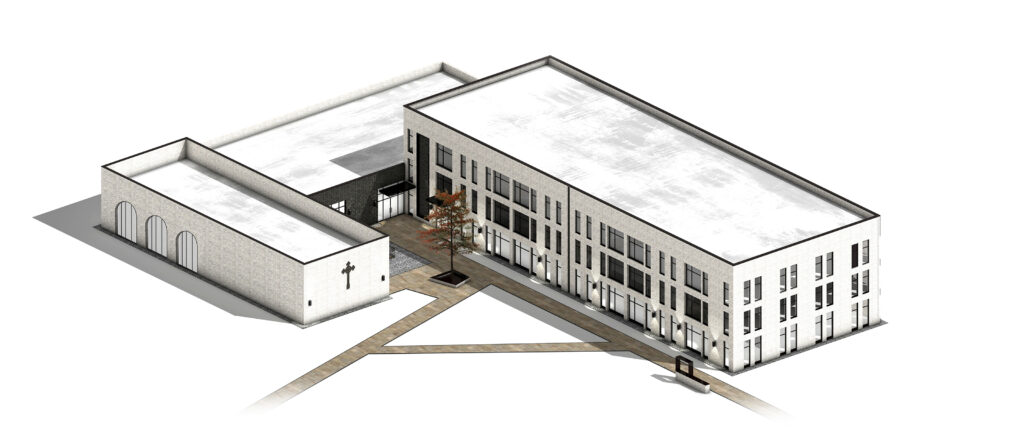 The new dining hall will have the capacity for 500 students, accommodating the growing campus population. This College-owned space will be dedicated to Woods students daily providing modern food service amenities commensurate with the needs and expectations of today's students. The College will now be able to provide necessary separation for food allergies and sensitivities as well as grab-n-go options and extended dining times for student athletes and those with adjusted schedules for student teaching, clinicals and internships.
"Along with the residential addition, the new dining hall will give the College the much-needed flexibility to provide meals for students with an expanded service schedule," Randolph said.
The three-story complex will include keyless entry to ensure student safety. A new parking lot will also be added.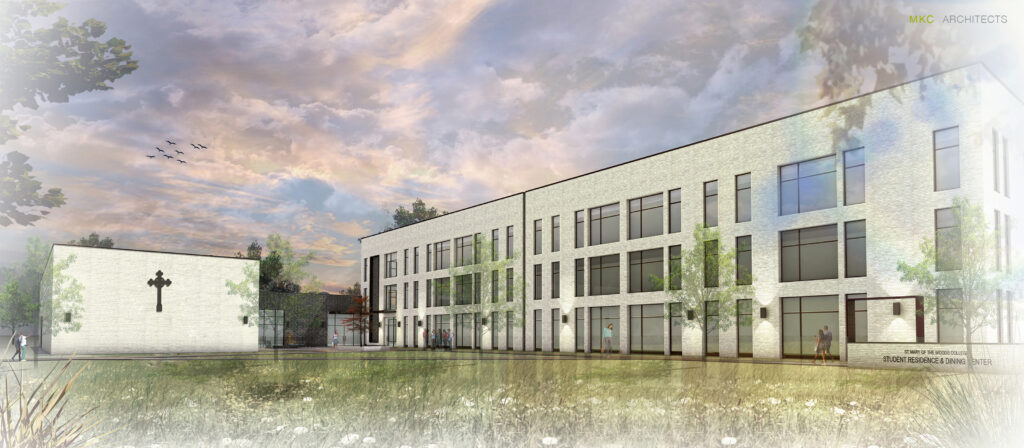 The SMWC Bookstore, currently in the lower level of Hulman Hall, will be relocated to the new facility for easier accessibility for students and families visiting The Woods. This will also allow the expansion of the nursing department in Hulman, where more labs and classrooms will be located as the program continues to grow in academic offerings and enrollment.
In addition to University Housing Solutions and MKC Architects, partners in the project include Sycamore Engineering, Sodexo and Follett.
A full picture gallery can be found on Flickr.