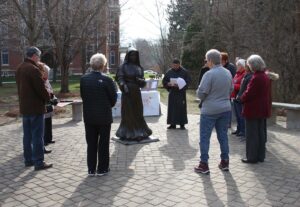 By Dianne Frances D. Powell
From a distance, it looked just like a familiar occurrence on the Saint Mary-of-the-Woods Historic District: A group of people gathering around the statue of Saint Mother Theodore Guerin, heads bowed in quiet reflection, before proceeding to walk along the path.
Today, however, those who gathered had special intentions; every step taken were in solidarity with their brothers and sisters halfway across the world living in refugee camps. In a 30-minute program, they learned and imagined the life of a refugee.
Saint Mary-of-the-Woods College (SMWC) students, faculty, staff, Sisters of Providence, students from local colleges and members of local churches participated in a refugee camp simulation, Walk a Mile in My Shoes. The experiential learning opportunity was adapted from a program by the Jesuit Refugee Service and was brought to the campus by the SMWC Campus Ministry, the SMWC Peace and Justice Club, the Coalition of Terre Haute Neighbors and University Ministry at St. Joseph University Parish.
"This simulation is an opportunity for us to leave our comfort zones and think about the struggles refugees face daily," including their frustration and hardships, Campus Minister and Chaplain Friar Mario Serrano wrote in an e-mail to participants.
As participants entered the simulation, they received an identity card with the name, country of origin and background of a refugee. Throughout the simulation, participants imagine what it must be like for that particular person as they walk — prayerfully — to each station: the border station, food station, housing station, a water station, among others. The experience took 30 minutes and was offered continuously from 10 a.m. to 2 p.m. today, two days before Holy Week officially begins for many Christians.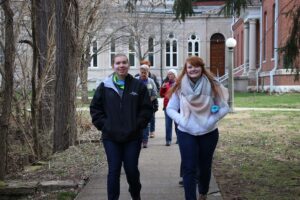 Elementary education major Shannon Sonderman of Jasper, a student leader in the SMWC Campus Ministry Leadership Team as well as the University Ministry at St. Joseph University Parish, volunteered at the event because she is passionate about raising awareness about the issue. "Through this experience, I'm able to gain the knowledge of how other people throughout the world are living in today's society," she added.
Another senior, Karah Ellis of Terre Haute, said participating in the event is her effort to gain a better understanding of refugees' experiences.  Ellis was thankful that such an opportunity was offered on campus, one that she and her friends can attend in between classes.
According to the program, "more than 65 million refugees and internally displaced persons start their day seeking water, food and shelter to meet the needs of their families." More than half these refugees are children.
Richard Collins, Ph.D., associate professor of theology, was among the first group of simulation participants.  The plight of refugees is often seen on TV or other media but for Collins and others in attendance, the simulation brought the issue closer to home. "Having a concrete experience like this makes it more real," he said.
At the last station, participants offered this prayer:
Adonai, Lord and Master,
Many are the journeys your people have taken:
Abraham's journey led from fear to understanding;
Moses' journey led from bondage to liberty;
the disciples' journey led from death to new life.
Even today, your people journey—
immigrants and refugees, pilgrims and nomads,
searching for hope,
searching for opportunity,
searching for peace,
searching for you.
Lord, I know that I too am called to journey.
Yet too many times, I have heard your call,
and my feet have remained unmoved.
Continue to call me
beyond my comfort and into encounter.
And when I meet a companion on the road,
may we find you in each other's embrace.
Let us share the journey.

Amen.