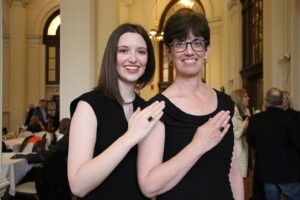 By Dianne Frances D. Powell
Madeline Grumieaux gave her mom a tight embrace, and upon pulling away, bowed her head and wiped the tears off her eyes before walking back to find her seat.
This brief moment between the Saint Mary-of-the-Woods College (SMWC) junior from Vincennes and her mother, Valerie, celebrates their special bond strengthened by the new Woods Rings [Link} they now proudly wear on their fingers. The mom-daughter duo received their Woods Rings on Saturday during the 96th Ring Day ceremony at the Church of the Immaculate Conception.
"My mom and I are extremely close and I feel as though SMWC has brought us together even more. It is something that we have in common and getting to experience Ring Day together [is] … special," Madeline Grumieaux said.
Valerie Grumieaux became eligible to receive a Woods Ring while completing her bachelor's degree in elementary education from Woods Online (formerly Woods External Degree). She graduated from the program in 2007 and completed a master's degree in education in 2013.
"Back when I was first eligible to receive my ring while working on my bachelor's degree, our time and finances were all focused on raising our three children, so a Woods Ring just wasn't possible," she said. "I had always planned to get my ring one day, but even when I graduated with my master's from SMWC, it still just wasn't the right time," she said.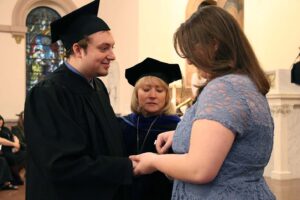 When Madeline asked her to be a co-presenter of her ring, she realized it was time, and this Ring Day became a memory that members of the Grumieaux family — Valerie and Madeline's biggest supporters — will cherish forever.
"I am so happy that it has worked out to get my ring the same year as my mom," Madeline said. "We may not have gone to SWMC at the same time or even in the same program, but we have both benefited from becoming strong Woods women."
The 96th Ring Day was filled with other special moments as one-by-one, 89 undergraduate and graduate students received their Woods Rings from SMWC President Dottie L. King, Ph.D. Some students chose family members, close friends and mentors to co-present their rings.
Alum Beth Allard Yoder '15 beamed with pride as she presented her husband, Joel, with his very own Woods Ring inside the packed church. With Beth currently a student in the Master of Arts in Music Therapy program and Joel, a student in the Master of Leadership Development program and serving as the College's webmaster, sharing the legacy of the Woods Ring felt natural for the Yoders.
Beth said she was thrilled to fully share The Woods with Joel. "This [The Woods] is home to us," she said. "Getting to see him be a part of that ceremony was really neat. It was so special to me."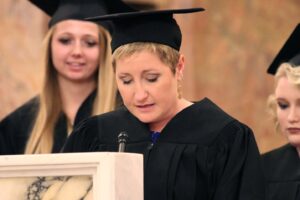 Joel said he chose to get the ring because it is an essential part of being a Woods student even at the graduate level. The ring links him to generations of SMWC alums and a tangible reminder of his "home," he said.
The ring — featuring a deep black onyx — is the single, most recognizable image of the College. It honors academic success and sacrifice; it is a symbol of the wearer's bond with the College and their growth as students at The Woods. The rings are presented to eligible students upon fulfillment of academic requirements. This also means they are near graduation.
Paris, Illinois resident Nicole Shaughnessy — a registered nurse who is about to complete a bachelor's degree in nursing — said her husband and three kids were just as excited for Ring Day.
"It [the ring] will be a daily reminder of all of the things that my family came together to do so that I can accomplish this goal," she said.
"There have been a lot of nights that my children have had carry-out or delivery or fast food," she said with a laugh, "or that my husband has had to take care of all of the kids by himself so that I could finish up assignments … They are just as excited as I am," she added. She hopes to share the legacy and pass down the ring to her children one day.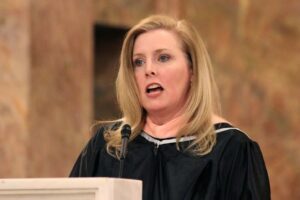 Celebrating with the theme, "Our Journey," this year's 90-minute Ring Day ceremony followed time-honored traditions including the promises declared by the ring recipients, their families and SMWC's alumni, faculty, staff and trustees. The program ended with the 2018 recipients singing the Ring Song. A video of the song, as of Monday, has received more than 413 positive reactions, 119 shares and more than 7,000 views on Facebook.
Guest speaker Peggy McCormick Platz '88, SMWC Alumni Association Board of Directors secretary, encouraged the students to open their minds and hearts to seek the path God intends for them.
"Proverbs tells us wisdom, knowledge and understanding are guides of the journey … Our own Saint Mary-of-the-Woods College alma mater reinforces these same truths," Platz said during the reflection.
"As the adorned marble surfaces in this space remind us, your polished Onyx ring will represent only a small fraction of what lies beneath the hand on which it rests."
See more photos on Flickr