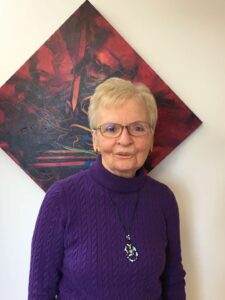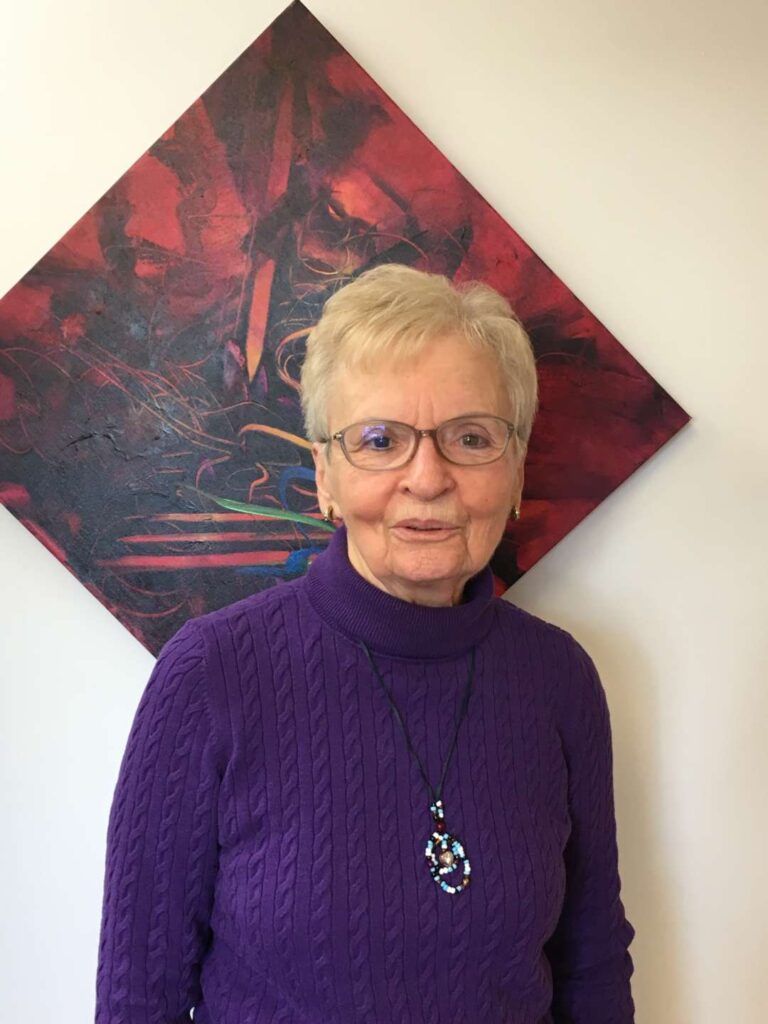 In honor of Saint Mother Theodore Guerin, Saint Mary-of-the-Woods College annually recognizes an individual of like purpose, devotion, community vitality and leadership. This award is presented to an alumna/alumnus who embodies the spirit and virtue of our foundress. Emulating the qualities of service by Saint Mother Theodore Guerin, Janice Searles Vandeerhaar, class of 1959, has lived her life as a peacemaker and advocate for justice.
She has served humanity through a variety of organizations. She served at Pax Christi, USA, a Catholic peace organization, on the U.S. National Council and with the local chapter. In Memphis, Tennessee, Janice and her husband, Gerry, founded the Mid-South Peace and Justice Center. In addition, they established the Gandhi Institute for Nonviolence in Rochester, New York.
Their enthusiasm spread internationally to Hiroshima on a peace pilgrimage, the Philippines on a student mission and to Antwerp, Belgium, as staff members at the International Peace Center. Creating cross-cultural education opportunities, Janice led the effort to bring from students from the Ukraine to Memphis for an exchange program.
Her life's work for peace and justice has received many accolades. In 2003, Christian Brothers University awarded the couple the Bishop Carroll T. Dozier Award for Peace and Justice. In 2006, she was named an Ambassador of Peace for Leadership at the annual Pax Christi U.S. National Conference. In 2007, the Muslims of Memphis recognized Janice as a "World Class Force" for her contributions to interfaith dialogue.
She and Gerry were instrumental in establishing Gandhi Institute for Nonviolence at Christian Brothers University. Their beliefs were shared and embraced by the University community. After Gerry's passing in 2005, Janice established the annual Gerard V. Vanderhaar Symposium at the University, which features experts and scholars in peace and justice. The symposium continues to this day.
Today, her commitment to social justice has expanded to the rights and needs of veterans. She and husband, Ed Wallin, work to secure funding for the future West Tennessee Care Home that will serve veterans suffering from trauma and disabilities.
Rev. Msgr. Algert Kirk, Janice's former pastor and retired priest of the diocese of Memphis, writes, "I never cease to be amazed by Janice's energy and commitment. What separates her from most people is that her love knows no boundaries and her imagination refuses to be stymied by common sense notions and expectations."
The Saint Mary-of-the-Woods College Alumni Association couldn't agree more. The Association is proud to honor Janice's lifelong commitment to peace and justice.