By Dianne Frances D. Powell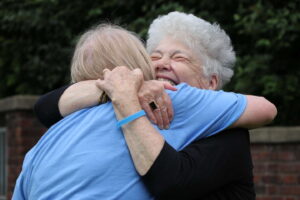 When Lois Patton Olzawski '49 of Tulsa, Oklahoma attended Saint Mary-of-the-Woods College Reunion five years ago, the Knoerle Center was still under construction and Saint Mother Theodore Guerin's remains were still inside the Church of the Immaculate Conception.
So, on Reunion this past weekend, celebrating 70 years since graduation, she was excited to tour the completed Knoerle Center and to see Saint Mother Theodore Guerin's shrine, both opened in 2014. "This one [Reunion] is special to me," she said. "I really made a big effort to make it back for this."
But Olzawski, 91, had one more reason to consider this Reunion special: she attended it with her daughter and fellow Woodsie, Vicki Olzawski Robinson '74, who lives in Conroe, Texas. "It's really special that we're here together," Robinson said. She counts her mother and herself blessed to have been able to celebrate this milestone together.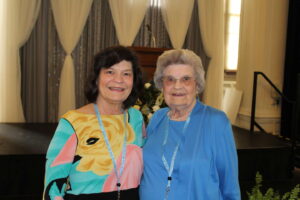 While on-campus, Olzawski shared some fond memories of her time at The Woods including a recital performance with classmate Jeanne Knoerle, SP, '49, SMWC's beloved 12th president. In a finale number, Olzawski, who studied drama, music and journalism, recalls playing the organ while Knoerle sang.
President Dottie L. King, Ph.D., who sat at the table with Olzawski and another 1949 graduate, Georgia Schneller Priebe, during the Reunion banquet on Saturday night, lovingly shared stories about Knoerle from her classmates during the presidential address.
Just like Olzawski, Priebe was accompanied by her daughter, Janet Fiandola. The two traveled from Long Island, New York, for the event. It was Fiandola's first time at The Woods.
Both 1949 graduates attended Reunion on the heels of being recognized for their long-term volunteerism at their respective communities, and they both credit their Woods education for this spirit of service.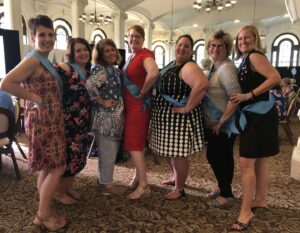 About 250 people, including alums, guests and SMWC staff and students participated in Reunion weekend's activities on Friday through Saturday (May 17-19). Positive energy, joy and laughter filled the campus especially emanating from the class of 1994, which celebrated its silver anniversary, and the class of 1969, the golden jubilarians. The golden girls were joined by special guests at their Golden Jubilee reception on Friday including, at 103-years-old, the class' sophomore adviser Marceline Mattingly, SP, '53.
Many members of the class of 1969 traveled from afar to be at the event, two of them from the U.S. Virgin Islands, proof of the global connection existing between Woodsies.
Anna Mae Brown Comment and Gail Shulterbrandt, both of St. Thomas, came back to reconnect with classmates. "It is a privilege that God gives you that you live to see people that you lived with and studied with 50 years ago," Shulterbrandt said. "Saint Mary-of-the-Woods is a very special place; it has a camaraderie, a sisterhood that is universal. …It's a place of universal love," she added.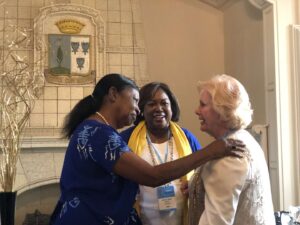 Comment said coming back to The Woods reminded her of the emotions and thoughts she took with her when she graduated half-century ago. "We had such a camaraderie with the girls that we met here. It was very diverse. We had an international club. We had students from Korea, Japan, Africa, the Philippines, Puerto Rico, the Virgin Islands. We were all welcomed by the girls that were here who were from this area and just had a wonderful sense of belonging and camaraderie with them."
This same camaraderie was felt all weekend long as alums formed new memories at this year's Reunion events — from registration on Friday to Sunday Mass and brunch. The Sunken Gardens just outside of Le Fer Hall saw some action in the croquet match between the classes of 1964 and 1969 on Friday featuring a special appearance by Onyx, SMWC's mascot; inside the residence hall was a tasting of local wines, followed by the Golden Jubilee reception and a welcome dinner with remarks by President King.
On Saturday, Susan Dolle, director of grants development, shared fascinating insight about SMWC's historic architecture during "A Woods Walk," followed by a forum by the president's cabinet and the Reunion luncheon.  The afternoon saw recognition of class secretaries and agents, the SMWC Alumni Association meeting, class meetings, a memorial service for the class of 1969, a memorial service for all alums, class photos and the Reunion banquet.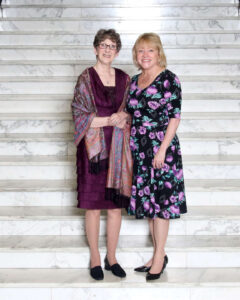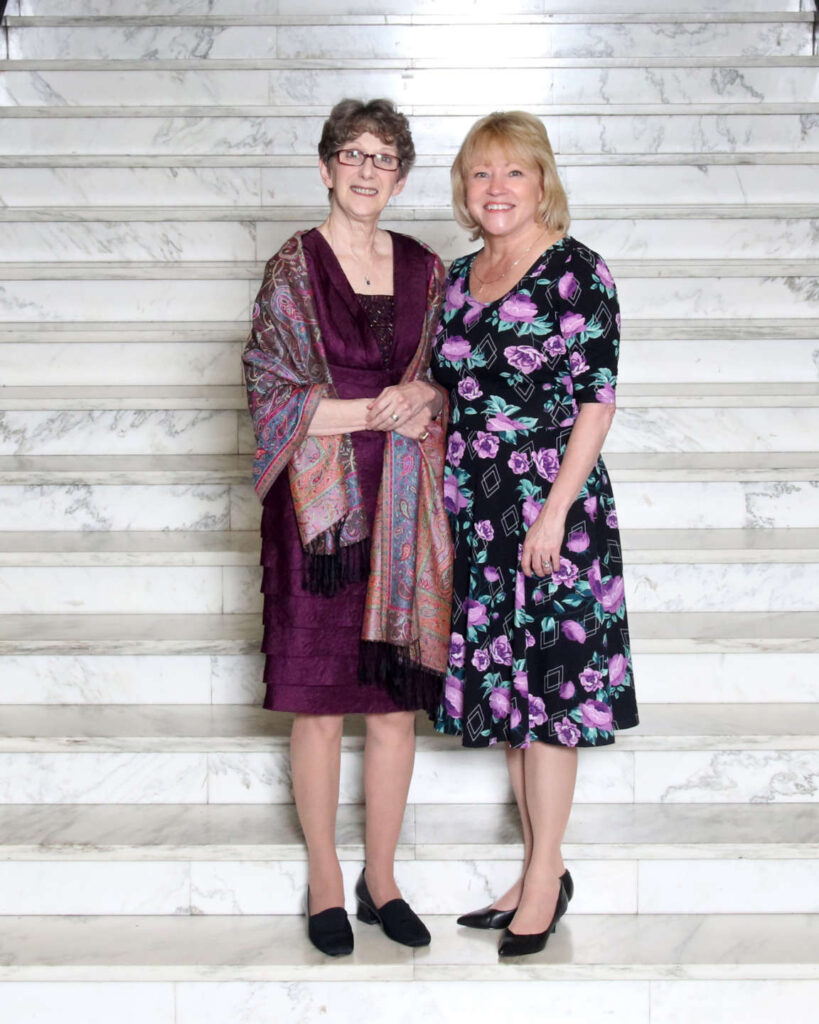 Anne Longtine '64, recipient of the Frances Murphy Rumely award and Janice Vanderhaar '59, recipient of the Saint Mother Theodore Guerin award, were honored at the banquet. The Rumely award is presented annually to an individual who has demonstrated outstanding dedication to and leadership within civic, religious or educational organizations; the Saint Mother Theodore Guerin award is presented to an alumna/alumnus who embodies the spirit and virtue of the College's foundress.
During her acceptance speech in which she shared anecdotes about former students, Longtine expressed gratitude to The Woods for molding her into a student-centered educator. "Who I was as a teacher is rooted in this place," she said. She described attending The Woods as "a dream come true" which provided "a life-changing experience."
"Whose Woods these are? The Woods of Saint Mother Theodore Guerin, the Sisters of Providence, all the other women and men who have given so much and received so much from this place, from our Saint Mary-of-the-Woods," Longtine said.
"And for however many more miles we have to go, we have promises to keep."
View more photos on Flickr