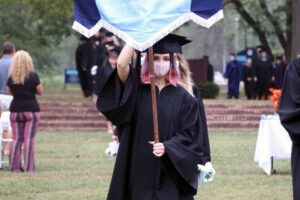 After being granted an exception to a rule to get her ring her junior year, Leah Pache was devastated when her Ring Day at Saint Mary-of-the-Woods College (SMWC) was postponed in March, not knowing when or if she would be able to have the tradition that her mother and grandmother had before her.
As a transfer student from Ivy Tech, Pache would not have been eligible for her ring until her senior year due to the credit requirements. But Pache wasn't going to have it – she wanted to celebrate with her friends.
"My advisor and I worked very hard, and somehow got that rule altered so that I could get my ring this year," Pache, a psychology major from Fishers, Indiana, said. So, when the ceremony was up in the air, she couldn't help but feel disappointed. "All the stress that I went through of thinking I wouldn't get my ring that year at all, to the rules being changed was suddenly pointless."
On Saturday, Sept. 12, Pache was able to receive her mother's ring and take part in the long-standing Woods tradition of Ring Day. The 98th ceremony took place in the Sunken Gardens in front of Le Fer Hall as the Church of Immaculate Conception is not open to the public.
While co-presenters were not permitted, her mother, Julie Cavanaugh Pache '90, was able to watch in person. The experience made her sentimental, Julie said.
"I just envisioned being in the Church myself with my roomie next to me, and we were both crying and looking at our rings," Julie said. "It was a throwback to this place and our friends – it brought back good memories." Julie's mother, Josephine Eggers Cavanaugh '65, will pass down her ring to her daughter so Julie and Leah will have their mother's rings.
Leah's mom was confident that Ring Day, so rooted in tradition, would happen in some way. However, Leah and Julie were too excited, and held a Ring Ceremony of their own.
"When I found out Ring Day was postponed, I literately gave her my ring in the kitchen," Julie said.
"In lieu of the official ceremony, my mom took her ring off her finger and put it on mine," Leah said. She and her family went out to dinner and celebrated when the ceremony would have taken place in March. But having the real thing meant the world to Leah. "While the little impromptu ceremony in my kitchen was great, it means so much to be able to officially receive my ring with my classmates and friends."
While many of the class of 2021 was holding individual ceremonies with their families in the spring after the decision to postpone Ring Day, Elizabeth Reel was holding out hope for her official day – refusing to wear her ring until the ceremony.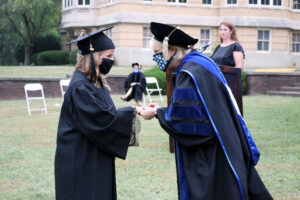 "It didn't feel right to me," Reel, a senior professional writing major from Sullivan, Indiana, said. "I told myself that if it wasn't blessed and it didn't go through the ceremony that I wasn't going to wear it."
However, after being away from her friends for most of the spring semester and the summer, she said it got hard not to put the iconic symbol on her finger. When the ceremony was postponed, she didn't realize it would be six months until her opportunity would come. But she stuck it out, and the feeling when President King put the ring on her finger is something that will resonate with her.
Catherine Saunders, associate vice president for advancement and junior class advisor, made sure a Ring Day was happening for the class that has already endured so much.
"Whenever Catherine called my name to get my ring and Dottie put it on my finger, I let out a deep breath," Reel said. "I was proud of myself for waiting as long as I did, but also because I was overwhelmed with the achievement and the value behind it."
Of the 93 eligible students to receive their rings on Sept. 12, 60 participated in the ceremony.
"I am overjoyed to celebrate with this year's Woods Ring recipients," Saunders said. "Ring Day is a much anticipated and long-awaited milestone at SMWC, more so by this class than many before them. After being postponed, it is a blessing that we are able to continue our longstanding tradition, honor our recipients' academic achievements and link alumni and students to one another and our beautiful Woods."
While the day looked different than year's past, the integrity of Ring Day still held.
"Did I cry during the Ring Song? Yes," Julie said. "I don't know how you don't hear the Ring Song and it just doesn't grab your heart."
Reel agreed, saying that the Sunken Garden was a beautiful substitution for the Church. With the theme of Ring Day being "There's no place like The Woods," she said having Le Fer Hall – a beloved building on campus – being a backdrop for the day was Providence.
"It was the best possible ceremony it could have been given the situation," Reel said.
President King summed it up well – "There really is no place like The Woods."
---
Additional Coverage