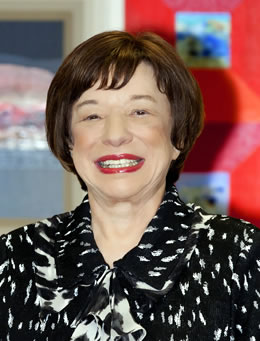 Advertising executive, entrepreneur and a philanthropist with a passion for the arts, Myra Janco Daniels, will speak at the 171 annual commencement ceremony at Saint Mary-of-the-Woods College on May 5, 2012 at 2 p.m. At the ceremony, Daniels will receive an honorary doctorate of humane letters.
Daniels has been one of the most accomplished women in advertising for more than three decades. A former Chicago-based advertising executive, Daniels served as president of Draper Daniels, Inc. Prior to that, she served as the executive vice president of the firm Roche, Rickerd, Henri, Hurst, Inc. She also ran her own agency, Wabash Advertising, in Terre Haute, Ind. Most recently, Daniels founded the Naples Philharmonic Center for the Arts and the Naples Museum of Art.
Daniels built her reputation identifying problems and generating creative solutions.
"Myra is a visionary businesswoman and pioneer whose ideas changed an industry," said Dottie King, Ph.D., president of SMWC. "She has clearly demonstrated how leadership, intelligence and determination – noteworthy traits that our graduates share – are critical to shape the future of our world."
As a student at Indiana State University, Daniels coordinated an extremely successful ad campaign for junior summer dresses at the Meis Department Store, a long-standing, family-owned company, in Terre Haute, Ind. Her two-page spread helped sell more than 700 dresses. After graduation she started her own ad agency, Wabash Advertising, in Terre Haute and within a year had built it into a million-dollar business, making her the highest paid woman in the city.
Selected to be vice president of the firm Roche, Rickerd, Henri, Hurst, Inc., she was the first woman to have held that position at the company. Additionally, she was the first woman to lead a national advertising agency, and in 1965, she was the youngest woman to win the National Advertising Federation "Advertising Woman of the Year" award.
Years later, legendary advertising executive Draper Daniels bought her agency where she remained president and COO and he became CEO. The company name was changed to Draper Daniels, Inc., and the pair landed accounts with Colgate-Palmolive, Consolidated Foods, Maytag and Swift.
If the name Draper Daniels sounds familiar, it probably is. The character in the "Mad Men" cable TV series about advertising executives in the late 1950s and early 1960s is based in part on Draper Daniels, renowned figure in advertising. Daniels, known for the creation of the iconic Marlboro Man, was the late husband of Myra Janco Daniels.
In addition to her success in the advertising world, Daniels has redefined the arts in Naples, Fla. Through her vision, the dream of a center for the arts became a reality. She founded the Naples Philharmonic Center for the Arts and the Naples Museum of Art, a cultural complex and non-profit organization that presents the best of visual and performing arts. The facility has become one of the state's premier arts venues. More than 400 top-notch performances take the stage each year in music, theater, dance, comedy, Broadway shows and special events. The Center also is home to youth and adult chorales, youth orchestra and education programs for children and adults. The art museum houses major permanent collections of American and Mexican modernism.
In January 2012, Daniels retired from the chairman, president and CEO positions at the Philharmonic. She had served as its CEO from the day it opened in 1989.
Her memoir, Secrets of a Rutbuster: Breaking Rules and Selling Dreams, was published in 2009 by Ruder Finn Press. The autobiography shares how she became successful in what was known as a man's world by making her own breaks.
She is a former member of the Florida Arts Council and has won numerous honors including the Jefferson Award for community service. She also hold honorary doctorates from Elms College, Indiana State University, University of North Carolina-Asheville and Allegheny College.
Daniels earned her bachelor's and master's degrees in business and communication from Indiana State University. She held a six-year associate professorship in marketing and advertising at Indiana University, where she pursued doctoral studies in marketing management.