The Sullivan County Chamber of Commerce recently held its award banquet and the 2021 Leader of the Year was awarded to Christy Pearison, '19, '20G. Along with maintaining their construction business, she and her husband have a coffee shop in downtown Sullivan. They also operate a non-profit organization. Christy also has earned her graduate certificate in women's leadership from Saint Mary-of-the-Woods College (SMWC) and is currently pursuing her Ph.D. in Global Leadership from SMWC.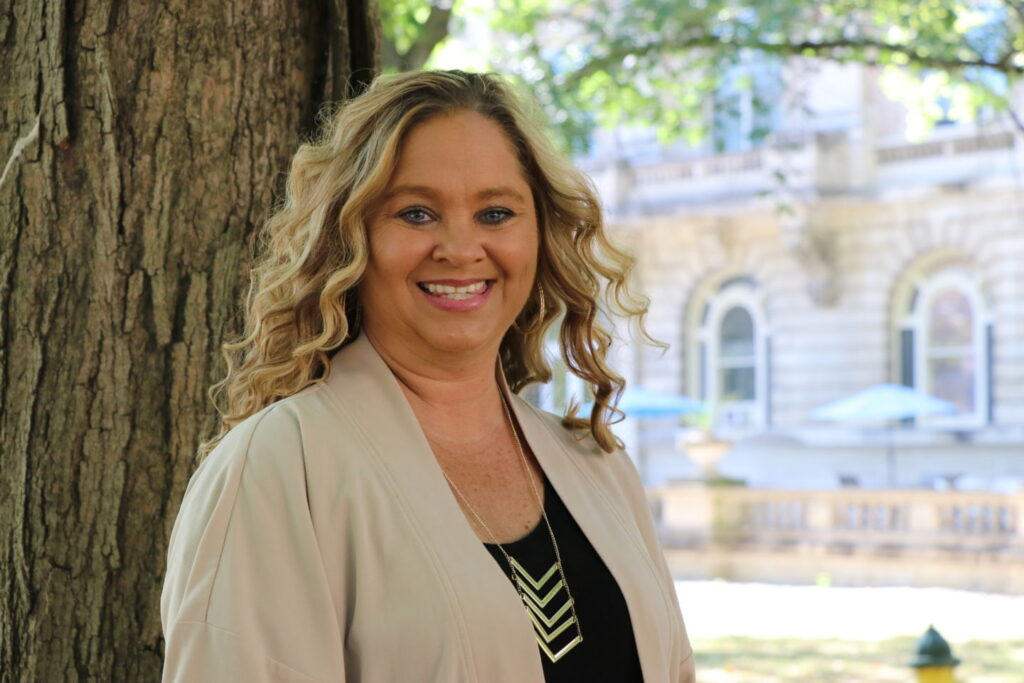 "The gratification of helping others in the community overcome obstacles is my greatest motivator. Being a recipient of this award is now a daily reminder of just how important it is always to hold true to your authentic and transparent self. You never know when your smile just might be contagious enough to light the world on fire," Pearison said.
"Christy is a fantastic representation of the leaders we form at SMWC. Her drive and determination to serve both her hometown community and her community at The Woods are truly inspiring," said Sarah Mahady, director of alumni relations at SMWC.
Leadership can be described in a variety of ways. Pearison said it's not as complex to her as some might think.
"The key to my leadership is simple. Everything I do is guided by my heavenly father and the following of the discernment of his leading. I have learned over the years that if you want to be an elite leader who influences positivity and inspiration, you have to be willing to help the person to the right of you and the left of you and never believe you alone can create success; it just doesn't work that way."
In addition to managing their businesses, Pearison serves on the Pace Board, the United Addictions Awareness Board, the Sullivan County Chamber of Commerce Board and she's the Board Chair of the CEO Program that partners with local high schools in the area. To Pearison, the reward isn't doing the work itself; it's seeing the impact that it can have on people's lives.
"For me, it is about serving others and loving them where they are. It is about helping them meet a need, advocating for them at the highest level, and encouraging them never to stop living. The joy that comes with being a part of another person's success is what life is all about for me."
As the year continues to move forward, so does the list of goals that Pearison has for herself, her family and their local businesses. She is humbled by the recognition that she and her husband have gotten for impacting the community. To her, leadership is much more than making a difference. It's continuing to have the drive to do so.
"I live my life each and every day by the Golden Rule; "Do unto others, as you would have them do unto you." In a chaotic, hurting and lost world, it only takes one kind gesture to make a difference."