Saint Mary-of-the-Woods College (SMWC) announced a newly developed open-access academic journal focusing on global leadership across multiple academic subjects and cultures. αρετή (Arete): Journal of Excellence in Global Leadership is published through the Global Leadership Institute in collaboration with SMWC. This peer-reviewed journal seeks a broad audience who appreciate the intellectual breadth of a global theoretical framework in leadership.
αρετή (Arete): Journal of Excellence in Global Leadership is currently accepting submissions that will undergo a double-blind peer review thanks to a diverse group of reviewers from around the world. Selected submissions are published virtually in the journal and include theory papers, case studies, perspective-taking essays, and critical essays that include global leadership within a field of study such as but not limited to: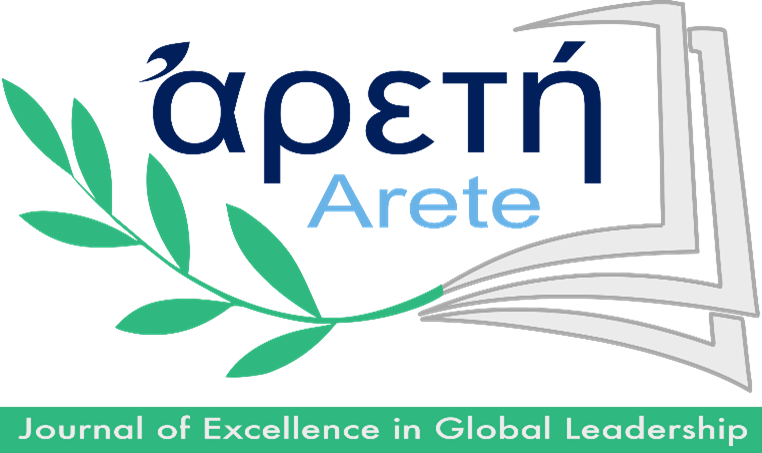 Leadership
Theory Building
Strategy
Organizational Behavior
Human Resource Development
Cultural Intelligence and Global Mindset
Action Projects for Positive Change
Ethics, Diversity and Inclusion
Technology for Good
Learning and Development
Healthcare Leadership
Equine Business and Leadership
Therapeutic Studies
The chief editor of Arete and emerita professor at SMWC, Jennie Mitchell, Ph.D. stated "This journal is a platform that encourages theory development, theory-related discussion, and action projects from multiple disciplines with the aspiration of generating commentary and debate surrounding global leadership."
The naming of the journal is reflective of Saint Mary-of-the-Woods College's motto Virtus cum Scientia or Virtue with Knowledge United. αρετή (Arete) is an ancient Greek word meaning excellence or virtue. It is intentional that Aρετή (Arete): Journal of Excellence in Global Leadership is an opportunity to unite various people and perspectives in the global leadership field to further increase and share knowledge. The journal's editorial board will select one submission to be awarded the annual Contribution of Excellence designation. The award considers contributors that most effectively identify the hypothesis stated in their submission and ultimately provides added value to the field of study.
Section editor of Arete and assistant professor of Global Leadership at SMWC, Kimberly LaComba, Ph.D. stated, "The Journal of Excellence in Global Leadership highlights the multidisciplinary connectiveness in global leadership. We look forward to submissions that have a global leadership component from various fields of study."
For more information, visit https://journals.smwc.edu/index.php/arete/index.