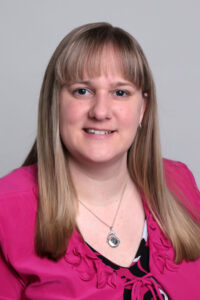 A Saint Mary-of-the-Woods College alumna and an active member of the Terre Haute community is now leading the Wabash Valley Leadership Institute (WVLI).
Stephanie Pence, a 2013 graduate of SMWC's Master of Leadership Development (MLD) program, has been appointed coordinator of WVLI, a collaborative effort between SMWC and the Terre Haute Chamber of Commerce. In June, Pence joined the Chamber staff as coordinator of Downtown Terre Haute.
Originally from Robinson, Illinois and now a West Terre Haute resident, Pence said she is excited about this new opportunity; she saw it as a way for her to stay connected with her alma mater.
Launched in 2014, the purpose of WVLI is to engage and energize leadership efforts in the Wabash Valley. The program curriculum focuses on leadership skills with the intended effects of personal growth in leadership, organizational behavioral skills, and potential community growth in a leadership capacity. More than 75 professionals in the Wabash Valley have graduated from the weeklong program at SMWC. Fifteen participants are chosen for each cohort twice a year based on their display of upward mobility behaviors such as patience, fortitude, humility and accountability.
"I'm really excited about [WVLI] because it's a great opportunity for up and coming Terre Haute leaders to work with other community leaders," Pence said. Attendees also receive three credit hours toward an MLD from SMWC.
Pence is also the owner of Hallie Hound Barkery, a business selling homemade dog treats. Her community involvement includes work with the Terre Haute Young Leaders, Salvation Army, Junior Achievement and Terre Haute Humane Society.
Applications for WVLI's fall 2017 session, which will run on Nov. 13-17, is currently being accepted. Deadline is Oct. 20. For more information, visit