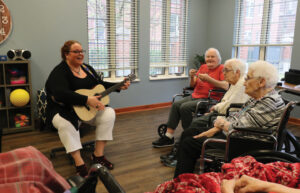 By Beth Allard Yoder, MT-BC, '15
"Oh, we sound like a choir of angels!" The Sister of Providence sitting beside me grabbed my hand and the hand of the woman next to her and held tight. We had just finished singing the last song of our music therapy session, "Edelweiss," a group favorite that turned into a tradition. No one loved it more than this sweet lady. Her voice was soft and small when she spoke and sang, but the joy on her face carried across the whole room. "I'm just so happy you came today," she said.
For more than a decade, the SMWC Music Therapy program has fostered a special relationship with the Sisters of Providence. Through both music therapy groups, individual sessions and community outreach led by the Music Therapy Student Association (MTSA), the connection between Woodsies and their Sisters across campus continues to be strengthened by nurturing the tie that binds generations together: music.
The work provides much more than practical fieldwork experience to the students. Through the singing, music and movement, instrument playing, sensory experiences and songwriting, music therapy sessions become a positive and pleasant space for both the students and residents to create meaningful connections with one another. "Students sometimes have profound moments where they finally experience the power of music to evoke change," says Sharon Boyle, M.M, MT-BC, coordinator of the SMWC undergraduate music therapy program. "On some rare occasions, we have worked with some residents toward end of life and last year a student, assisted by me, worked with a resident in her final days. At the request of a family member on the unit, the student improvised musically to help calm the resident's breathing as I guided her through the process. It was a very profound experience for all of us, particularly the student, and it seemed to benefit the resident by helping her to relax her body and respiration."
These profound moments are the heart of the work. "I chose to take the journey of becoming a music therapist because I have always believed in the power of music in making connections. I felt drawn to the profession and to SMWC as a higher calling. My time at Providence Health Care this semester really solidified that for me," shared Natalie Coffin, a current music therapy student. "I had the privilege of witnessing our clients make connections through the music, with themselves, with each other and with us as facilitators," she said.
The simplest experience—group singing of "You Are My Sunshine," for example—can turn into a sacred moment for those attending. During one such experience, the children of two of the residents in the group happened to be visiting. A moment a clinician never forgets is looking over during the song and seeing a daughter and mother singing it to each other, her mother's hand on her cheek. The student leader's choice of closing together with a familiar tune gave them something the daughter told the clinican she didn't expect to have again: a chance to hear her mother sing their favorite song.