By Kristy Fry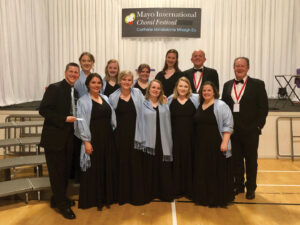 "We couldn't have won without Michael, our director," said junior Madrigal Kaci Jones from Brazil, Indiana. The Saint Mary-of-the-Woods College Madrigals had just returned from Ireland after being named winners of the 2019 Mayo International Choral Festival Premiere Competition – the first international competition for the Madrigals in the College's history.
The Mayo International Choral Festival is held once a year and has two parts: community performances and the competition. The Madrigals performed 11 times in five days. The festival included participation by 35 choirs, 23 of which competed. SMWC competed in two categories: Sacred Music and Four Part Choirs. The winner from each category moved on to the Premier Competition. The Madrigals won the Four Part Choirs category. For the Premier Competition, they sang "Nocturne" and "Will the Circle Be Unbroken."
In the Madrigals' blog post, Michael Boswell, MM, director of choirs and associate professor of music, shared that the piece 'Nocturne' by Eric Tuan was a complex piece and he said, "Our students nailed it. It was truly incredible."
Boswell continued, "When the judges returned, and the runner-up was announced, it was not us. Then they announced the Premiere Competition Champions and the name of 'The Saint Mary-of-the-Woods College Madrigals' never sounded so good!"
Jones shared her own observation of their winning performance. "As we finished 'Nocturne' —we held the last line as it faded out to silence. He [Boswell] held his hands up still, queuing us to close out the note, but he kept his hands up there. The whole crowd was just captivated in that moment. You couldn't hear anything except a few whispers in the back saying, 'Wow.Wow!' You could just feel the whole room — every single spirit in that room was together – was engaged. It was the strongest human connection I've ever felt."
Jones said Boswell prepared the Madrigals for the competition by doing whatever he could to get them to feel and connect emotionally with the song. Boswell used analogies in voice lessons like having them throw balls and ride an exercise bike.
"We worked on the technical, we really worked on that, but we have to have the emotion or it's just going to be noise," she said. "People don't think, 'Oh, I hope they sing every note correctly.' They want to have an emotional connection. They want to feel something. They want to experience beauty and pain and celebration and mourning in a deep way. That is what he was teaching us to do."
"It's about that spiritual connection. You can't see it; you can't describe it fully – it's just that connection right there. That's why we do music," she surmised.
---
To read more blog entries from the Madrigals trip to Ireland and the competition, visit smwcchoirs.blogspot.com.