By Marissa Schmitter
Content Marketing Specialist
What began as a hunt for more family history turned into uncovering another sliver of history related to Saint Mary-of-the-Woods College.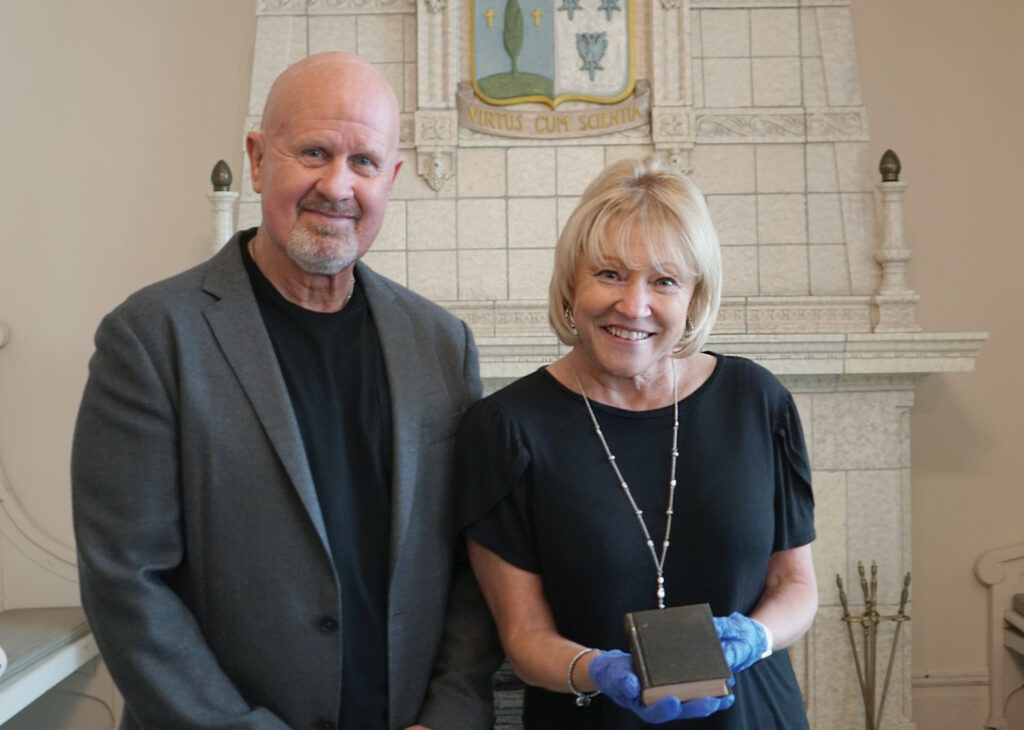 Tom Vachet didn't know much about his family tree, so he began to scour the internet. Through this, he found 17,500 relatives. What he also found was a rare book — only three known copies — that caught his eye. He decided to buy the book.
Shipped in a plain USPS envelope from North Carolina, Vachet received the book with a simple stamp that read "Bishop Brute."
Being born and raised in Vincennes in the St. Francis Xavier Grade School, this name stuck out to Vachet. He spent some of his childhood in the Brute Library, named for the first bishop of Vincennes. While working in the library to tidy, Vachet realized, "The world was in front of me. Scrolls. Books. All manner of interesting artifacts."
Upon receiving the book, Vachet realized the binding was still tight, and that nobody had actually read the text. After reading the first passage, he couldn't get himself to continue.
"I didn't want to turn any more pages," he recounted. "I knew there was something special about this book. This isn't for me to keep; it's for me to share."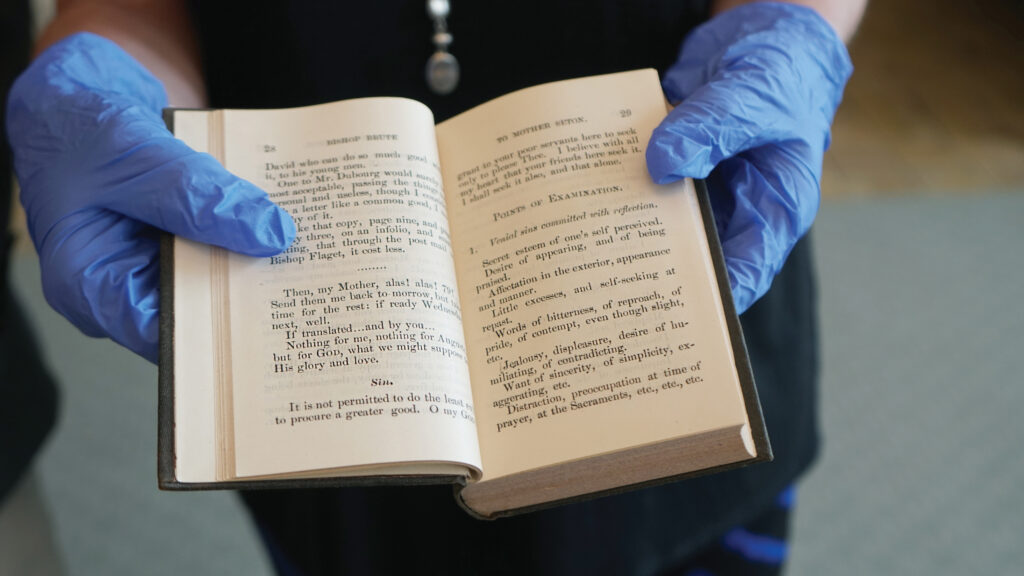 The other two known copies are in college libraries, so Vachet went searching for a meaningful connection. He connected with Kathryn Todd '79, who resides in Vincennes, and she suggested giving the book to her alma mater, which was founded by Saint Mother Theodore Guerin.
Brute, who was seeking to expand his Diocese, recruited sisters from France. Sister Saint Theodore Guerin and her five companions answered the call soon after Brute's passing in 1839. In 1840 when Guerin arrived in Vincennes, the new bishop said Terre Haute needed their services more — and the rest is history.
Dottie L. King, Ph.D., president, believes Providence explains the winding road it took for the book to end up at the College — the place with interlocking history between Saint Mother Theodore and Bishop Brute. "Sounds like Providence to me," King said upon receiving the book as Vachet handed it to her as a donation.
---
This story appeared in the 2021 fall edition of Onyx Anneau. View the full edition online.