By Mikayla Thomas
As a young girl, I grew up seeing my cousin wear the ring, and talk about it and her desire for another family member to wear their own someday. Growing up, I didn't have an interest in The Woods. I didn't get why everyone raved about a ring. When I decided to come to Saint Mary-of-the-Woods College, I had no idea the family I would discover in my time here. Sadly, I lost my cousin right before coming to The Woods. Stephenie represented a true Woods Woman; she was passionate, dedicated, strong and genuine. Everyone loved her. I aspired to leave the same kind of legacy she did. Coming to The Woods, I still didn't "get" the ring and what the big deal was. The summer leading into my sophomore year I worked Reunion. At Reunion, I met some amazing individuals – individuals I still keep in touch with. There, I met someone who would later come to be one of my closest and trusted friends; she would become family. Beth had graduated from The Woods just a few years after my cousin. She remembered Stephenie as a beautiful person inside and out. As we continued to talk, I learned things about Stephenie I didn't know, and I began to realize, even more, the impact she had on the people around her.
During that weekend, I learned what the ring meant. I saw why it was so important. Leaving Reunion, I started to think more about Ring Day and the beloved tradition. I was sad Stephenie couldn't present me my ring. I finally understood her love for it, and I wasn't going to get to share it with her. However, I knew I wanted someone to share that day with me. As I continued to get to know Beth, I saw more of Stephenie in her. Beth embodied many of the same characteristics my cousin did. I knew that Beth was the perfect person to give me my ring. In sharing that, we would create another legacy amongst the three of us. Beth would become family.
At homecoming my sophomore year, I asked Beth to present me my ring. I felt like I was proposing! I was nervous she might think this crazy girl she hadn't known very long that had lost her mind. But, I knew Beth was the person my cousin would want to see sharing that day with me. I knew if Beth had the love for the ring and The Woods' tradition as I did, she would be flattered. Naturally, she happily accepted. From there, our friendship grew tremendously. She's become one of my closest friends, even being in my wedding. I have no doubt my cousin is looking down smiling at the Providence that took place at Reunion five years ago. The ring has helped me connect with so many people. But more than that, this Ring has brought me closer to my cousin, given me a friendship I will value forever and inspired me to leave my own legacy.
---
About the Author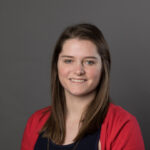 Mikayla Thomas
Mikayla is a 2016 graduate of the campus program at Saint Mary-of-the-Woods College. Mikayla started as an advancement officer for The Woods, was later promoted to the assistant director of advancement and alumni relations and is now currently serving as the interim annual giving director. This work allows Mikayla to constantly be interacting with alumni and hearing their stories. When Mikayla isn't helping alumni make a difference at SMWC, she is enjoying time with her husband and dogs or working on home renovation projects.