For the 2021-22 year, 12 Saint Mary-of-the-Woods College (SMWC) students received the highest scholarship available at the College.
The Saint Mother Theodore Guerin Scholarship recognizes academic excellence, service and faith. Guerin is the foundress of The Woods.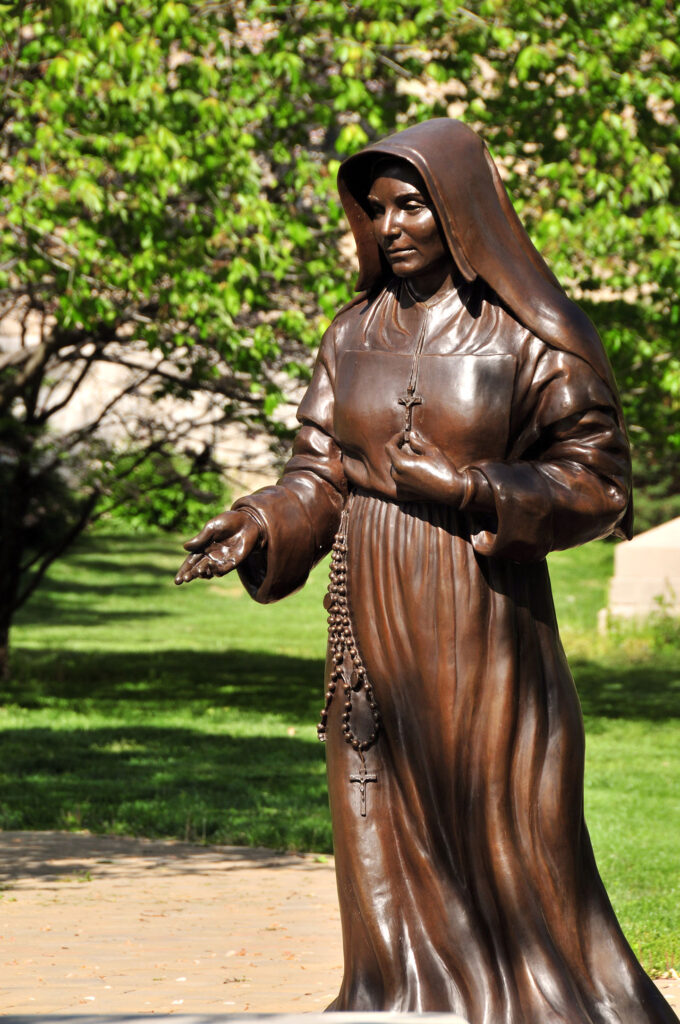 Lillian Bouton
Lillian Bouton from Indianola, Illinois, is an equine studies major and biology minor. She plans to be a large animal veterinarian with an equine specialty. SMWC's one-of-a-kind equine department and small campus are what drew Bouton to The Woods. She also plans to join the SMWC equestrian team.
Receiving the scholarship was a needed confidence boost, Bouton said. "I've worked so hard for so long, and it's nice to see that pay off in the form of this scholarship," she explained. She has several to thank, including her family. "I know God has placed me here for a purpose," she added.
So far, Bouton said she loves the food options. "The variety of food has been so wide and delicious!"
Jordyn Dowd
Jordyn Dowd, majoring in elementary education with mild intervention and minoring in psychology, is from Rockville, Indiana. After graduating from SMWC, Dowd would like to further her education to become a child psychologist and open her own practice or work at a school.
Dowd loves the small campus size, she said and making friends. What drew her to The Woods was the "peaceful campus and small class sizes," she said.
She is grateful for the scholarship because "I feel even more connected to the campus, and I am proud to be someone who can, in some ways, resemble Mother Guerin's values for education."
Savvanah Frye
After falling in love with the campus, Savvanah Frye of Greenwood, Indiana, said she loves the family-like atmosphere of the College. Receiving this scholarship has been "the biggest accomplishment thus far in my life," she explained.
Frye says she has worked hard in academics and athletics — she is an elementary education major and is on the women's basketball team — but the scholarship is more than that. "This was about my character," she said. "By winning this scholarship, I felt as if I was on the right path to God saying that to me. It solidified my need and want to be here."
After graduation, she wants to be an elementary school teacher and eventually a mother. "I aspire to teach little minds about this big world God created," Frye said.
Laney Glass
Laney Glass of Clinton, Indiana, a biology major, is passionate about her soccer career. She plays on the team, one of the reasons she chose The Woods.
After she graduates, she plans on heading to graduate school for a doctorate in marine biology.
Her favorite part of campus is taking part in the social aspects.
This scholarship is helping her afford higher education. She knows the weight it has, being named after the College's foundress, so she wants to "be a good image" while at The Woods.
Ashlyn Hunley
Majoring in elementary education with a leadership studies minor, Ashlyn Hunley is excited to be on campus. From Sullivan, Indiana, Hunley appreciated the "close-knit, family-like community" at The Woods. The small class sizes were another deciding factor, she said. "It was important to me to go to a school where the faculty wants to help you succeed, and that is definitely the case at The Woods!"
While not participating in athletics, she hopes to join organizations to get involved. She also looks forward to the opportunity to grow her faith. So far, she loves the Pomeroy Pedals program to take peaceful rides around campus.
This scholarship will help her pursue her career of being an elementary school teacher. She also hopes to pursue education administration in the future. "I feel like it is not only an amazing blessing to help further my education, but also the perfect opportunity to help me grow as a person," she said.
Kaylee Lowe
Kaylee Lowe of Brazil, Indiana, is pursuing a degree in information technology. She hopes to become a software engineer or computer programmer. On-campus, Lowe is a member of the soccer team.
She said The Woods was a good fit because of her athletics and the small size and beautiful campus. "I wanted somewhere I could form relationships with my professors and other students."
She said receiving the scholarship means a lot. "I am so honored to be grouped with such a high class of students," Lowe said.
Bethanie Majewski
Bethanie Majewski of Portage, Indiana, said the atmosphere is a big reason for coming to The Woods. She didn't want to attend a big college where no one knew each other, so she was pleased to find SMWC "is an institution where people could make true connections."
Majewski, a biology major, hopes to continue her education after graduation to become a dermatologist. This scholarship is one step in her plan to make her dream a reality. "I feel extremely blessed and grateful because the scholarship has allowed me to attend SMWC, and it has helped guide me toward giving back to others," she said.
Her favorite part of The Woods is the nature and scenery.
Bailey Mittal
After a friend recommended SMWC to Bailey Mittal, of Crawfordsville, Indiana, she decided to check it out. After a campus visit, she said she fell completely in love with the campus and nursing program. She is also on the golf team.
The focus on values spoke to Mittal. "I am looking forward to volunteering within my community and being able to represent Saint Mary-of-the-Woods College as a Guerin Scholar," she said.
Making friends through all the campus events has been one of Mittal's favorite parts, she said. They are helping take her out of her comfort zone so she can meet new people.
Chase Nuckols
For Chase Nuckols, choosing The Woods was like choosing a second home. The business administration major from Brazil, Indiana, said the small class sizes were also a determining factor. After only a short time on campus, he said his professors already knew him by name.
A member of the golf team, Nuckols said he feels privileged to be selected for the scholarship. "The history behind the school and this scholarship is undeniably great, and it is an honor to be able to represent the school and Saint Mother Theodore Guerin in a positive light," he said.
He loves the beautiful campus and the short walks to class, he said. He is also pleased with the learning resources available.
Ashley Weber
Ashley Weber, a biology major from Clay City, Indiana, is excited to have received the scholarship to pursue her career. After her undergraduate degree, she would like to attend a school to get her medical and law degrees.
Weber, a volleyball player, has enjoyed the close community feeling of campus. Along with this, the faith-based atmosphere and values the College stands for are also reasons she became a Pomeroy.
"Receiving this scholarship is a great honor because it allows me to fulfill my goals of pursuing college education to help others in my professional career," Weber said.
Kaitlin Whitford
A nursing major from West Terre Haute, Indiana, Kaitlin Whitford has a strong connection to The Woods. She is a part of the Thralls family, who gave Saint Mother Theodore Guerin land to build the academy on and has lived only 10 minutes from campus her entire life.
The scholarship will help Whitford follow her passion for nursing. She hopes to become a traveling nurse after graduation. "I feel very privileged to be able to learn alongside many other bright students who share the same values I do," she said.
She said she feels safe and at home when at The Woods, thanks to the kind and loving atmosphere. She also loves the activities campus offers, such as being a member of the track and cross country team and playing tennis in her free time.