Although the rain had pounded down just a couple of hours prior to the scheduled outdoor dedication, the skies cleared, and the sun shone for those gathered outside the Jeanne Knoerle Sports and Recreation Center at Saint Mary-of-the-Woods College (SMWC).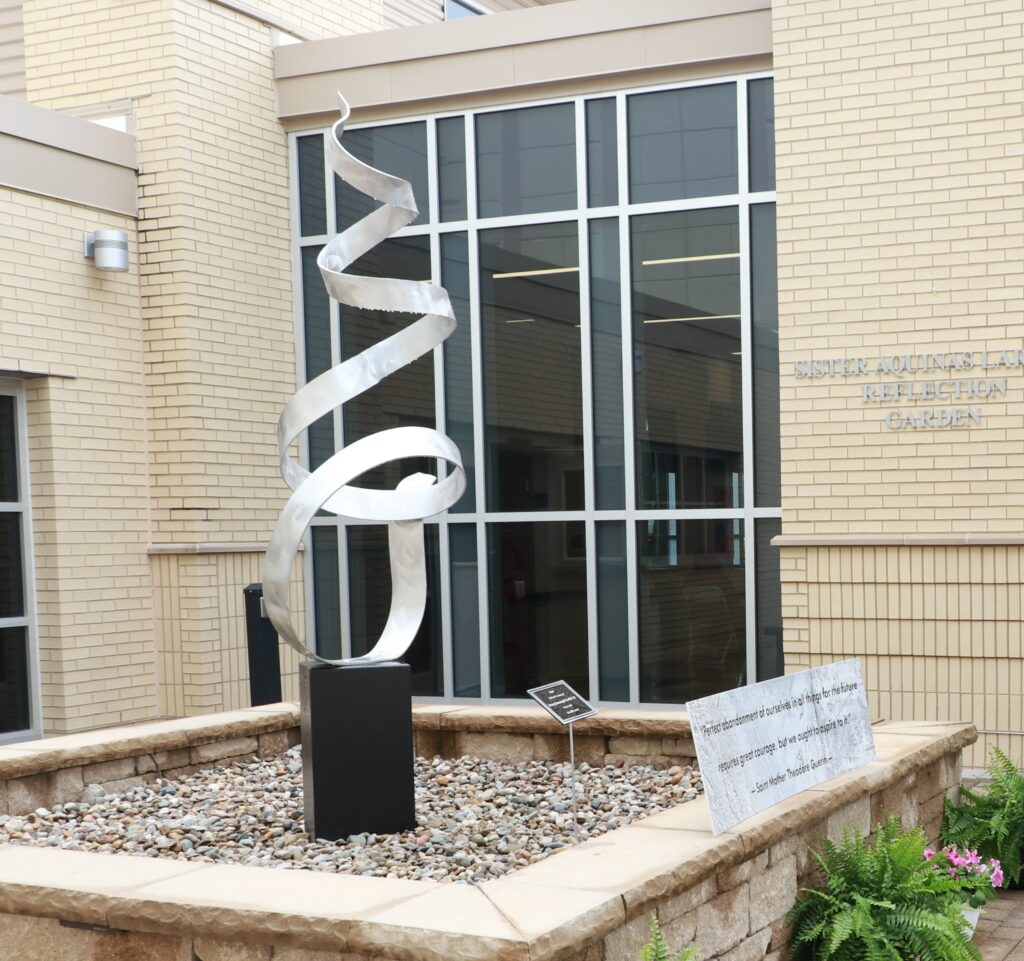 Thanks to the Nordloh Family Foundation and a $25,000 gift made in memory of Mary Cavanaugh Nordloh '60, a sculpture dedicated to Nordloh will adorn the entrance to the Knoerle Center. Nordloh had a passion for art and The Woods and her family felt that this sculpture was a way to honor her.
The sculpture, Aspire, is a stainless-steel ribbon measuring 96 inches high. The artwork was inspired by the College motto, Aspire Higher, and by a quote from Saint Mother Theodore Guerin, the foundress of SMWC. "Perfect abandonment of ourselves in all things for the future requires great courage, but we ought to aspire to it." The quote will be displayed on the wall that fences the sculpture along with a plaque honoring the memory of Nordloh.
During the gathering, SMWC President Dottie King, Ph.D., expressed her thanks to the Nordloh family for their generosity and gave some insight into what Aspire would mean to the College, the students and especially the athletes. Among many comments, President King shared how Aspire called to mind both our motto, Aspire Higher, as well as a spire, often found on churches stretching into the sky.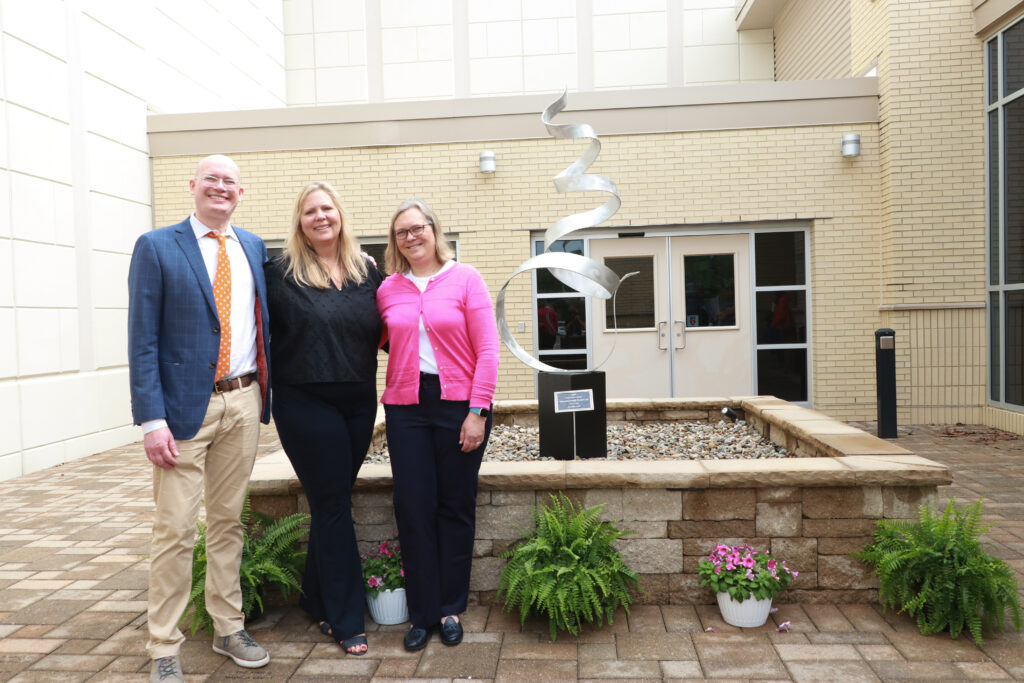 Chris Nordloh, Mary's son, addressed the crowd on behalf of the Nordloh family attendees that included his sisters, Gretchen and Andrea, and other family members. He shared with the guests that "aspiration was such an important part of her life and…this piece speaks to me so much when I think about her." He went on to say that after his mother graduated from The Woods, "her aspiration to be an artist developed into a creative and writing career, work that she was very proud of." He said of his mother, "She never lost sight of art and the need for visual self-expression. I know that she would have loved this spot here and this beautiful sculpture."
Emma Saunders, a student and basketball player at SMWC, remarked on the student-athlete perspective of the statue and its symbolism of the twists and turns in a student's journey. Women's basketball head coach Scot MacAllister led the blessing prayer asking for the Lord's "Providence as we aspire to grow together at these Woods." The Nordloh children blessed the sculpture with holy water during the prayer and all attendees were invited to use holy water to bless the sculpture, the Knoerle Center or any space that was special to them on campus.
The sculpture was created by noted metal artist, Jon Allen. His award-winning artwork has been displayed in over 200 galleries worldwide and has been featured in film and television.