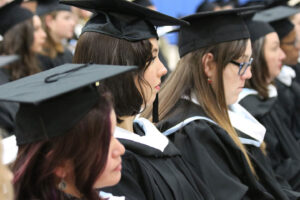 The journey of eager new graduates beyond their beloved Woods began today.
Nearly 70 graduates attended the Saint Mary-of-the-Woods College (SMWC) 182nd commencement in the Jeanne Knoerle Sports and Recreation Center in the presence of proud family members, friends and Woods family.
As they reach a turning point in their lives, they heard an inspiring speech from commencement speaker and the 2017 Sister Mary Joseph Pomeroy awardee for faculty excellence in teaching, Lamprini Pantazi, Ph.D.  Quoting "Ithaka," a poem by 20th century Greek poet Constantine P. Cavafy, she inspired the graduates to enjoy the journey toward their destination. Pantazi, associate professor of leadership development, wished for them rich and full experiences.
"I look at you today and I see in your bright eyes tomorrow's leaders," she said.
"Great leaders respect the individuals who follow them, approach things from different angles, lead with heart in diversity, with mind in complexity and with intuition in uncertainty."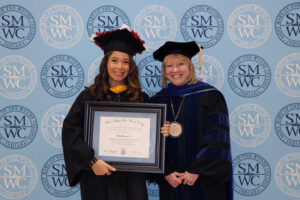 Reaching goals
The new graduates — future leaders — may feel a hint of sadness as they prepare to leave a school they have fondly called home, but this feeling is mixed with pride for their academic achievements and excitement for what lies ahead. They complete this part of the journey prepared to aspire higher in life and empowered by the education they received from The Woods.
Katia Orozco of Chicago — a campus student who graduated with a major in psychology and a minor in Spanish —always intended to attend graduate school after college, so a campus small enough to have opportunities for one-on-one interaction with professors was important to her. She says this was exactly what she received from The Woods.
"I've met some of the best professors who have shaped me into the student that I am and the student I want to be in grad school," Orozco said. Her goals are to earn a Ph.D. in psychology and to embark on a rewarding career combating inequality experienced by minorities and eliminating barriers in the way of reaching their full potential.
Orozco, who received the Undergraduate Alumni Leadership and Service Award during the ceremony, says the people who make up the Woods family make this College special. She enjoyed being surrounded by classmates and soccer teammates who believe in her, which helped develop her confidence over the last four years. When she arrived, she said she was "super shy," but "now I'm ready to go out there."
She celebrated her graduation day with her family members, some of whom even traveled from Mexico to witness the event.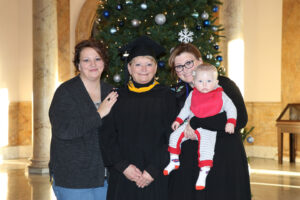 Another graduate had family members attending commencement from near and far. Terri May of Clinton, who graduated with a degree in human resource management from SMWC's pioneering program, Woods Online, celebrated with her two daughters and their families.
The trio now shares a new bond: the shared education they received from SMWC. Christina May Kersey of Clinton was a campus student who graduated in 2001; Melissa May LePley, who now lives in Pittsburg, completed the transition to teaching program in 2007.
May started pursuing a bachelor's degree about 12 years ago, but six months later, had to stop to prioritize her family. She returned three years ago to SMWC to finish what she started, and found a solid support system in the faculty, staff and students.
"My father always told me, education is like a savings account. It's nice to have if you need it, but if you don't, it doesn't hurt anything to sit there," May said. She added she wants to be an example to her grandchildren; she wants to show them the importance of reaching educational goals, a step toward building a future they can depend on.
She wants them to know "no matter what it is, if it's something you want, go get it," she said. "What's nice about The Woods is they'll help you get there," she added.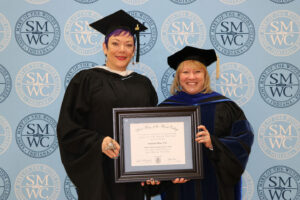 Awards
Of the 69 attendees of the graduation ceremony, 45 were graduate students, 17 completed online and six were campus-based students.  They represented 16 different states: California, Delaware, Florida, Indiana, Illinois, Kentucky, Maryland, North Carolina, Nebraska, New York, Ohio, Oregon, South Carolina, Tennessee, Texas and Virginia.
During the ceremony led by President Dottie L. King, Ph.D., SMWC also recognized graduates and community leaders with special awards. Stephanie Wray of Palm Harbor, Florida, who graduated with a master's degree in art therapy, received the Graduate Alumni Leadership and Service Award.
Alumna Alice Quinlan '65 and former campus security officer Albert "AL" Heramb received the Aspire Higher award. The award recognizes community leaders who demonstrate a passion for using the present to create a better future.
See more photos on Flickr
---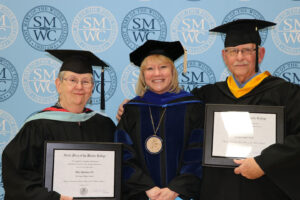 About Alice Quinlan
Alice Quinlan was born in upstate New York and grew up in Evansville. She graduated from Saint Mary-of-the-Woods College in 1965 with a secondary education physics major. She taught high school math and physical science for five years and then moved to the east coast to pursue graduate studies in the history of science. She was a fellow at the Smithsonian Institution and worked in the Archives of the National Academy of Science.
When money was tight, she taught GED prep courses to adults at a local community college—and discovered the joy of adult education in the process. She switched to a master's program in adult education, while working in government relations in Washington D.C. for a non-profit women's organization.
In 1989, Alice returned to SMWC to become the director of the Women's External Degree program, now Woods Online. She served as director until her retirement in 2008. She was also a member of the College's administrative team for ten years.
During her career at the College, Alice was an active volunteer for United Way of the Wabash Valley. She also found volunteer opportunities at The Woods. She organized workshops for education majors struggling to pass math qualifying exams and taught basic math classes on Saturdays. For many years, she and her sister Margaret, a Sister of Providence, cared for the flowers all over the College campus.
After retiring, Alice volunteered to reorganize the College's archives and has served as the state authorization coordinator, monitoring state and federal regulations to ensure that the College is approved to offer distance education in other states. She finds time to volunteer with the Sisters of Providence and its White Violet Center for Eco-Justice. She is an active member of Bread for the World, which advocates for federal policies to end hunger at home and abroad.
About AL Heramb
Albert "Al" Heramb joined the U.S. Navy at 17-years-old in 1969. He went to sea aboard the U.S.S. Ashtabula as a cargo rig captain. He completed three deployments to Vietnam before being stationed in the Phillippines from 1972 to 1976. He was then stationed at Fleet Maintenance Activity Group at San Diego, California as a heavy equipment rigger until 1978. In August 1978, he served as an amphibious warfare instructor at Amphibious Base in Coronado, California. He trained troops and shipboard personnel prior to their deployment overseas. He has served as a Quality Assurance Inspector and was stationed aboard the U.S.S. Cape Cod, which was a nuclear repair ship, and served as a chief petty officer overseeing several repair shops.
In 1989, Heramb retired from the U.S. Navy. After retirement, he returned home and worked as a paid dispatcher, a reserve police officer in West Terre Haute and a reserve deputy sheriff with the Vigo County Sheriff's Department. For 20 years, he worked at the Sisters of Providence and Saint Mary-of-the-Woods College as a campus security officer.
After his retirement, he volunteered hours to The Woods. Heramb dedicates time each week to keeping the grounds beautiful along The Avenue. A friendly face who talks to students as they walk to and from class, Heramb has become part of the everyday fabric of campus. He is a humble servant leader who teaches others by example and goes about his volunteer work in service to The Woods and for all those who live and learn here.