Saint Mary-of-the-Woods College (SMWC) recently held its annual Faculty Appreciation Day presentation in Ariens Atrium in the Jeanne Knoerle Sports and Recreation Center. Five faculty members were recognized for their outstanding achievements.
In 1990, the Sister Mary Joseph Pomeroy Faculty Excellence Award was inaugurated, named in honor of the much-esteemed Woods professor of English who embodied the highest ideals of teaching, scholarship and service. Additionally, faculty received the Outstanding Adjunct Faculty Award and the Saint Mary-of-the-Woods Alumni Faculty Leadership Award.
Pomeroy Faculty Excellence Award for Teaching
Robert Vandermolen , Ph.D., Assistant Professor of Mathematics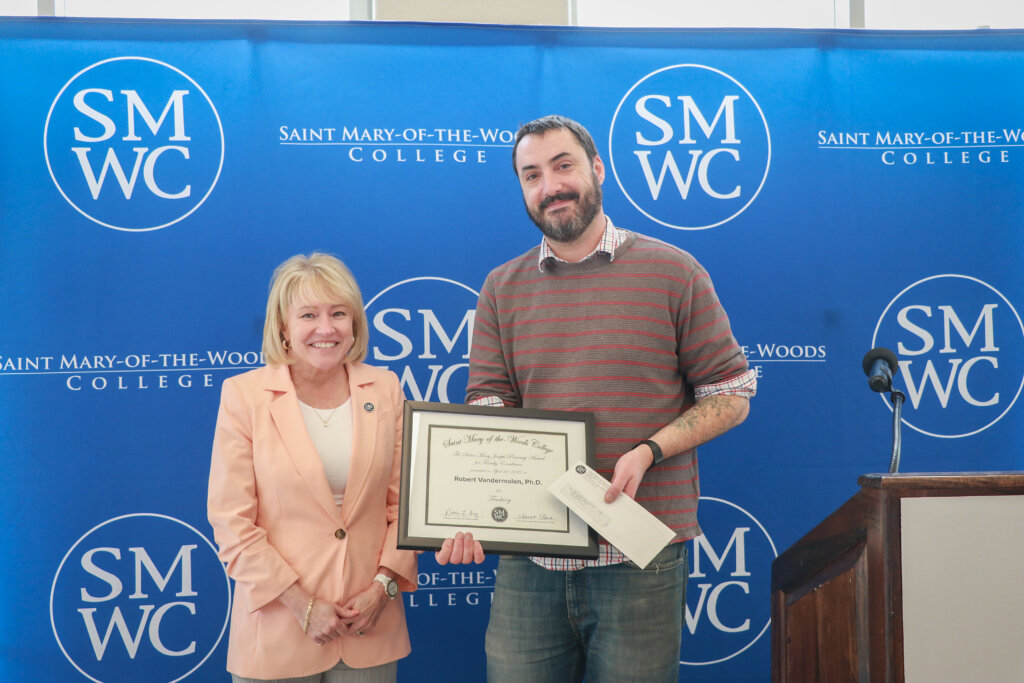 Vandermolen has been teaching at SMWC since 2020 and has a simple yet powerful philosophy – a student-first approach. This philosophy is driven by constant student feedback to increase engagement and the student's ownership of learning. This is extremely relevant and necessary with students of today in this time. He teaches a key general education class, statistics, as well as being the single owner of the Mathematics program.Tailoring that philosophy and teaching methods to those two different groups of students is impressive. He seeks feedback in very interesting ways such as using an app in class that allows for polling the students to rate their understanding,which gives him feedback on their learning,and then generating an exit ticket after they have provided anonymous feedback on his teaching or their experience in class that day.
One of his main teaching methods is questioning and problem-solving, not just demonstrating, which forces the engagement of students. He comments on how this is the best and sometimes the most challenging aspect of teaching.
A growth mindset is also encouraged, especially in the General Education class, by allowing students in MA 253 statistics to retake all quizzes and tests as many times as they need to constantly improve their grades. He remarked that in classes he had taught in the past (before implementing this policy), he noticed that students would take a test and if they performed poorly on the exam, they would not take this as a sign that they need to learn the material, they just moved on, so he came up with this policy to use tests as learning opportunities.
In his first year of at The Woods, he created curriculum and a wealth of materials for 8 different courses, ranging from a general elective Statistics to Calculus III and Physics Labs. He has grown the number of majors in just two years. He has embraced instructional technology, revised and developed new curriculum, such as a computer science major and a graduate certificate in mathematics, to help prepare high school teachers to be dual credit certified. He is responsible for the learning outcomes for the math program and demonstrated his growth and understanding of assessment even as a relatively new professor.
His course evaluation scores are extremely high and above the department and institutional average. Comments from WOL learners,who for years struggled with online math classes, were surprising but pleasing. One comment read, "very pleased with this course, math is not one of my strong suits and I was worried I was going to struggle this semester, but I actually never struggled during this course one bit!" Even other faculty have noticed and commented on occasion that students are dreading math courses less and less. Another comment noted that his biggest strength was his positive attitude in class.
Besides excellence in the classroom, this colleague is also involved in co-curricular activities outside the classroom by starting a Call of Duty eSports team which has reached the playoff tournament. SMWC has joined a new conference, the National Esports Collegiate Conference (NECC), for next season and will field four teams (Call of Duty, League of Legends, Smash Bros, and Valorant).
Pomeroy Faculty Excellence Award for Scholarship
Josh MacIvor-Andersen, MFA, Assistant Professor of English
MacIvor-Andersen has been a member of the SMWC faculty since 2019.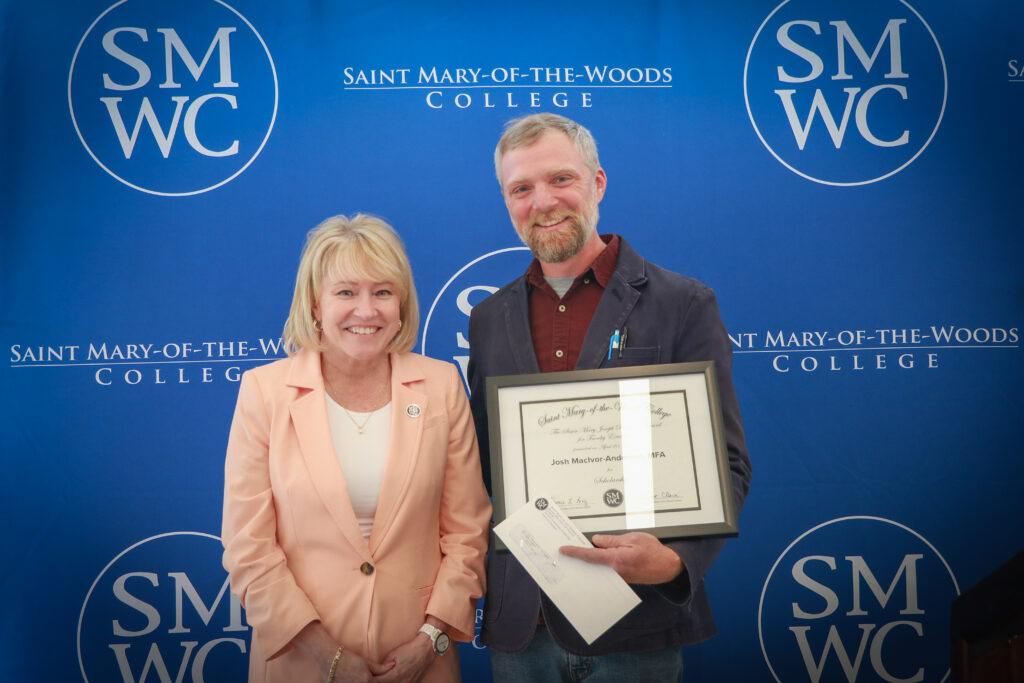 What impressed the selection committee the most about MacIvor-Andersen is the breadth and variety of the scholarship carried out by him while also becoming a teacher at The Woods and developing campus and online classes.
MacIvor-Andersen classifies his scholarship mainly as professional editing. He is the book review and interview editor for an online literary journal called The Waking where he has solicited, edited, and delivered 17 reviews and interviews. He is also the editor of the "Readers' Notes" and "Last Notes" sections of Ruminate Magazine, which involves vetting upwards of 100 submissions per issue down to a dozen and compiling them into a section of the magazine.
MacIvor-Andersen has published three essays and submitted two more "long-form" essays that he recently completed after working on them for what he describes as "years". He also participated in an annual event for Ruminate Magazine where he live-streamed his writing process for over 550 viewers.
Lastly, he has two additional pieces nearly completed. He is working on a manuscript that is part of a collection of meditations on the dynamics of arrival. His story is about a trip back home during a journey to find his place in the world. The second piece is an essay that was accepted in the pedagogical e-publication, Writer's Notebook, by the Association of Writers and Writing Programs titled What Does This Mean?, describing how he approaches motivating and engaging students in the writing process.
He truly is participating in scholarly activities that solidify and reinforce the same tenets of what he is teaching – professional writing. In essence, he's the real deal and students are blessed to have this role model available to them.
Pomeroy Award for Faculty Excellence in Service
Douglas Sperry, Ph.D., Associate Professor of Psychology
Sperry has been teaching at Saint Mary-of-the-Woods College since 2013. He began teaching at The Woods in the Department of Social and Behavioral Sciences in the fall of 2013. He has proven to be an invaluable member with extraordinary service to the college, his profession and the community.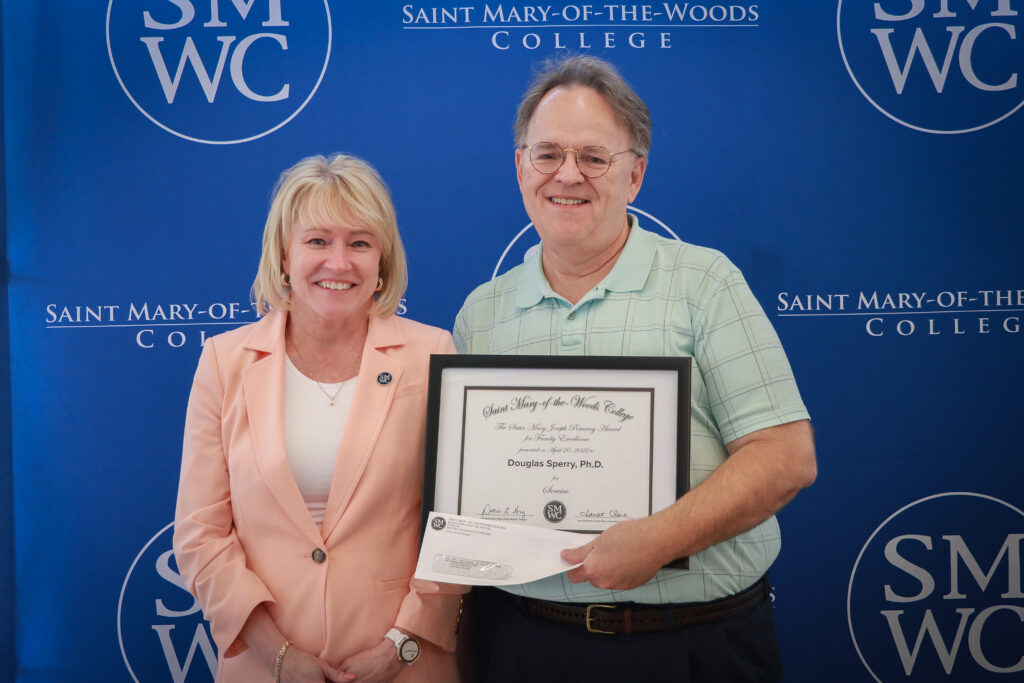 He opened his essay to the selection committee with the following statements. "I cannot stress enough how much the spirit of Saint Mary-of-the-Woods College has influenced my thoughts and practices within the past several years, and to the extent that I am able to give back to this community, I welcome the opportunity." He goes on,"Within that framework, I have been able to identify several venues on our campus where I felt my efforts would be appreciated and where I felt my own abilities and dispositions would best suit me to make a reasonable contribution to our mission."
For the past two years, Sperry has been an engaged colleague and leader at the college. He has been a member of the IRB committee, the faculty handbook taskforce, the grievance committee, the college conduct board, served as faculty assembly secretary and sits on the Ph.D. Advisory board. He has been the chair of the RPT committee for 2 years and has been the organizer of the Dr. Theresa L. Gioannini Student Symposium since 2016. Even more broadly, he has served on the interview panels for the SMTG Scholar awards and has been the volunteer organist at Baccalaureate and Ring Day ceremonies. He has been a research mentor for at least 5 undergraduate students since 2020.
He has been able to blend his religious faith and a life-long passion for music into his community service as a member of the worship committee and as an organist/pianist since 2019 for his church. He has also been a private piano instructor for nearly 40 years. He has served as an organizer or judge for local and state-wide Achievement in Music auditions and was recognized by the Indiana Music Teachers Association with a Distinguished Service Award in 2018.
Sperry holds membership in 6 different organizations and is active in all of them either as a manuscript reviewer or editor for journals such as Frontiers in Psychology, Journal of Child Language, Pediatrics and Child Development, and he was a reviewer of abstracts for the 2021 Biennial Meeting of the Society for Research in Child Development. He has organized workshops and symposia for his profession.
He won the Pomeroy Award for Scholarship in 2015, making him one of the few faculty who can boast of being a multiple award winner.
Outstanding Adjunct Faculty Award
Malea Crosby, MS, LMHC, CHCO, Adjunct Professor
Crosby began her service at the Woods teaching psychology classes on campus in August 2020 and is a valued member of the Social and Behavioral Sciences (SBS) department.
The first impression of the selection committee was how approachable she was. None of the committee had met her before, but immediately they felt a connection with her. It was clear to them that she had gained the trust and confidence of the SBS department, and they trusted her to develop the PS260 Developmental Psychology course as well as be the instructor.
Crosby works hard to involve her students, to make them feel valued and to produce material that is relevant. During her interview, she commented on how much she enjoyed the small class sizes and how important that is to help students make connections to the material. It also allows her to work one on one with students who are struggling in the course or who are not engaging. It is clear that she genuinely wants the students to learn and apply the material, no matter their major. Her passion and enthusiasm for the material she teaches and the students she has was obvious.
SMWC Alumni Faculty Leadership Award
Sara Amstutz, MBA, Assistant Professor of Accounting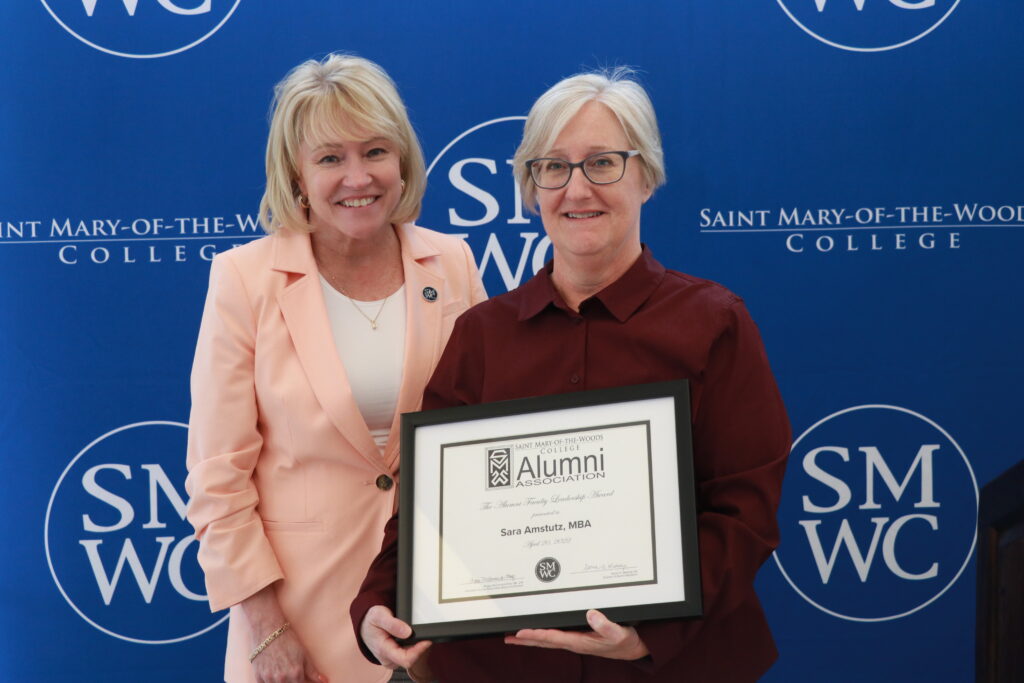 Amstutz joined the Saint Mary-of-the-Woods family in 2015. Working in the field of education since 2002, she has always looked upon leadership training as an essential component of a college degree. Toward that end, she tailors her classes and student experiences to meet each individual where he or she is. Never one to embrace a one-size-fits-all approach, Amstutz spends time getting to know each of her students. Her "open-door" methods are both noticed and appreciated by the students whose lives she touches. "Sara is a quiet servant leader who puts her students first," said one of her nominators.
"Teaching is not the goal," she says. "Student learning is the goal." She takes pride in finding the teaching method that works for each student so that learning becomes inevitable. "I want to empower my students to think outside the box and take ownership of their coursework, as each student has an approach that works for them," she says.
Amstutz finds that guiding by example is the very best way to demonstrate to students the value and importance of leadership skills. By incorporating things such as follow-through skills, a caring attitude and an environment of organization into her everyday campus life, she displays the foundations of leadership in an understated yet highly effective manner. "She makes it known that she wants us all to succeed, and she will do everything in her power to make that happen," said one former student.
Serving as the College's faculty athletics representative, her opportunities for leading by example reach an even broader audience as she gets to know the coaches and student-athletes.
An important aim of Amstutz is to help students understand the significance of giving back to the community in leadership capacities—and her list of contributions reflects that devotion. She has been involved in governance positions in the Terre Haute South Rotary, Junior Achievement of the Wabash Valley, and the Academic Business Council of Terre Haute. Past awards include several "Instructor of the Year" designations at a former employer and the Athena Leadership Award presented by the Terre Haute Chamber of Commerce.
When asked to characterize her, students use words like "positivity," "encouragement," and "responsiveness." These and many other positive attributes can be conferred to this dedicated teacher, who loves nothing more than to see the transformation that her students make from freshman year to graduation. Indeed, she is part of the solid footing that makes that transformation possible.