By Dianne Frances D. Powell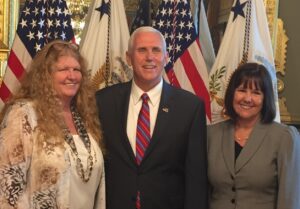 It has been an exciting week for a Saint Mary-of-the-Woods College(SMWC) art therapy expert whose voice found a place among leaders in Washington, D.C.
Jill McNutt, Ph.D., director of SMWC's graduate program in art therapy, joined a small number of art therapists and medical professionals on Monday at the White House for a meeting with Second Lady Karen Pence.
"I was completely honored" to be included, McNutt said.
Pence, the wife of Vice President Mike Pence, convened a brainstorming session with 14 professionals and individuals who have previously benefitted from art therapy to discuss her awareness initiative. Art therapy is a cause she chose to highlight during her time in office.
With the presence of several professionals from Indiana at the meeting, McNutt said she feels the former Indiana first lady is holding on to her Hoosier roots. She sensed Pence's genuine interest to promote art therapy and its contribution to healthcare. "With her platform, she can take it a long way," McNutt said.
During the meeting, Pence's three initiative goals were discussed: educational advancement, elevating the profession and promoting the benefits of art therapy treatment. The discussion also included issues of diversity in the field, scope of practice and licensing, modes of outreach communication, corporate partnership possibilities, and research. The continued building of evidence for the work of art therapy and the prohibitive cost of education were also among topics of discussion, McNutt said.
As the director of the only distance art therapy hybrid program in Indiana to gain the approval of the American Art Therapy Association (AATA), McNutt brought to the table SMWC's unique experience with licensing with multiple states.
Most states license art therapists as counselors which blurs the boundaries between the two professions and creates confusion among graduating students, McNutt said. Karen Pence advocating for the field of art therapy may help with this issue, she said.
Established in 2000, SMWC's Master of Arts in Art Therapy program emphasizes theories of art therapy, counseling and psychotherapy as related to the development of the therapeutic self. The low residency three-and-a-half-year program offers a focus on spirituality and creativity.
In addition, McNutt shared her insight from 17 years of clinical practice in art therapy and cancer care. She has a Ph.D. in expressive art therapy from Lesley University in Cambridge, Massachusetts and a master's degree in art therapy from Mount Mary University in Milwaukee, Wisconsin. For the last 13 years, she has been providing art therapy for children with epilepsy diagnosis and their families through the Epilepsy Foundation of South Eastern Wisconsin. She has been teaching at SMWC since 2012.
McNutt walked away from the meeting feeling excited about the possibilities because of Pence's close ties with art therapy. Pence was the honorary chair of the Art Therapy Initiative at Riley Hospital for Children at IU Health in Indianapolis. She also serves as a board member for pediatric art therapy program, Tracy's Kids.
"She has a history of making things happen," McNutt said.
Before the meeting ended, McNutt and other attendees also met Vice President Mike Pence.