Saint Mary-of-the-Woods College (SMWC) hosted its annual day of giving on February 8. With the goal of 1,000 donors, the College exceeded the target with a total of 1,038 donors, breaking the record of donors in a single day!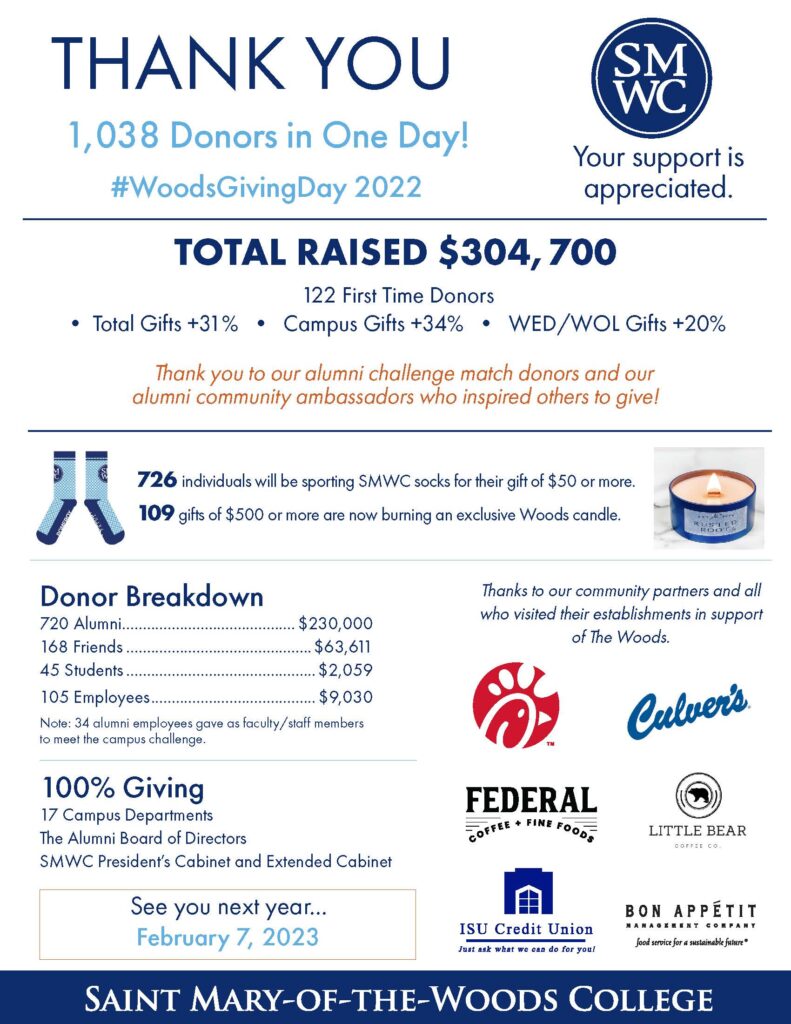 Having both community partners and 122 first-time donors played a huge part in the magnificent success of #WoodsGivingDay. SMWC partnered with Federal Coffee + Fine Foods, Little Bear Coffee Co., Culvers and Chick-fil-A. The College also had two additional partnerships with two alumni-owned businesses: Rusted Root Candle Co. (Jenn Kersey '17), and Clay Plant Road (Courtney Cook '16). Rusted Root made candles for all donors that made a gift of $500 or more, which totaled 109 this year. Clay Plant Road made 10 unique SMWC mugs that all donors were entered in a drawing to win.
The funds raised go toward the Woods Fund, the College's unrestricted fund that directly impacts students and College operations.
Gathered in Studio '64, students, faculty and staff worked the phones from 8 a.m. to 9 p.m. calling alumni and friends. Jenifer Wright '17, director of athletic and community partnerships, was thrilled about the results of the day, as this was her second year of overseeing the event.
"#WoodsGivingDay was a huge success and I'm so pleased that we surpassed our goal of 1,000 donors. We could not have done this without the support of the community and our awesome student workers. This year we had a total of 33 student workers. Several of them phoned alumni and friends for the majority of the day! We know how much alumni enjoy connecting with current students, so they play a huge part in the success of Woods Giving Day."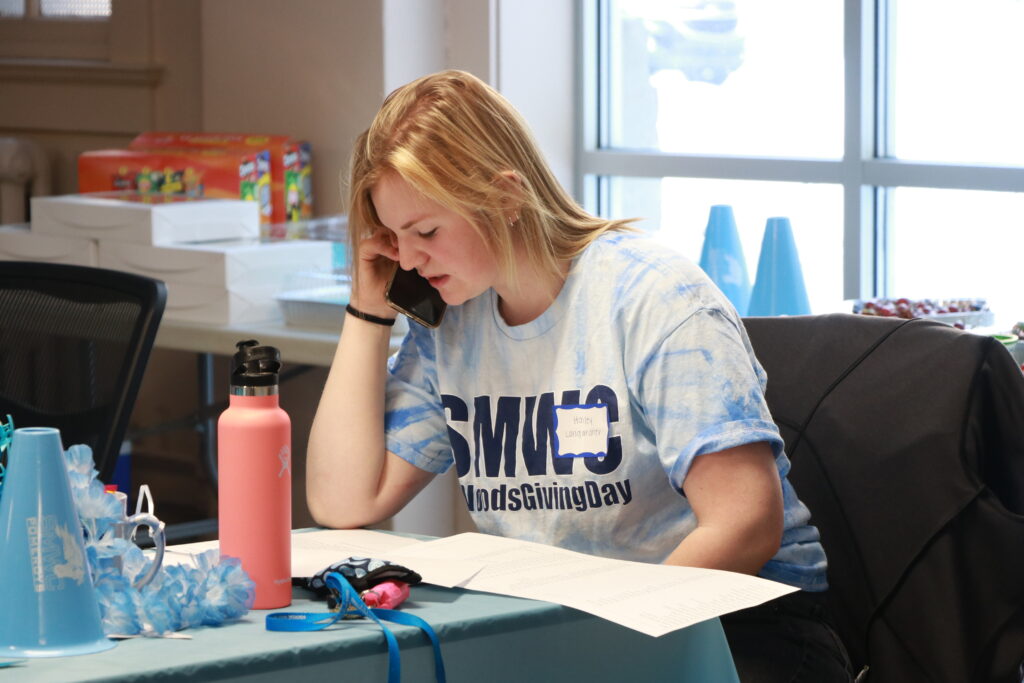 Hailey Longardner, sophomore, was one of several student workers who took part in the day. This was her first year working the event.
"Being a part of Woods Giving Day is another special memory that I will never forget while being here at The Woods. Talking to former alumni and even current instructors to help raise money for the school I love is a moment I will forever cherish!"
"Saint Mary-of-the-Woods College is truly blessed to have so much support from our campus community, our alumni community and the Wabash Valley community," said Catherine Saunders '98, associate vice president for advancement. "They all came together and their support helped us to realize a record Woods Giving Day in both donors and donations. We are grateful for everyone's efforts and support."
Planning is already underway for Woods Giving Day 2023 which will take place on Tuesday, February 7.