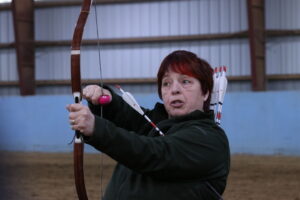 "It doesn't matter what you do as long as you love doing it."
With those few words, Chris Marks, Ph.D., author, founder of the first sanctioned mounted archery club in Indiana and former chairperson of the equine studies department at Saint Mary-of-the-Woods College, communicated a sentiment by a panel of equine professionals at the American Collegiate Horsemen's Association (ACHA) national convention on Thursday.
Another panelist, "Arabian Horse Life" magazine managing editor Stephanie Ruff told equine students and professionals in attendance that success is not linear. "We all bring with us a passion and love for the horse and the people who work with horses."
"And the desire to further everyone, to better the horse, [and] to better the people who work with them. I love what I do. All of it," she added.
Enthusiastically, a panel of seven equine industry professionals spoke to delegates of the ACHA national convention about their careers in the horse industry. Amy Parker, an equine nutritionist with McCauley Bros., a world-renown equine feed manufacturer based in Versailles, Kentucky advised them to always remember their love for the horses. McCauley Bros. is one of the sponsors of the convention.
The other panelists were Ernie and Darla Gaskin of Crimson Lane Farm, Tina Ann Legno of Alivio School of Horsemanship and Angie McMillin, equine facilities manager at SMWC.
The panel discussion was one of the events for the ACHA convention on March 11-14 hosted by the SMWC Collegiate Horsemen's Association (CHA). It was an annual gathering of collegiate horsemen from all over the U.S.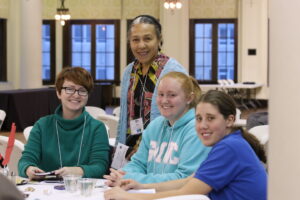 Delegates from seven states — Georgia, West Virginia, Kentucky, South Carolina, Alabama, North Dakota and Indiana — are on campus for the four-day convention, which began on Wednesday and will conclude on Saturday. It is an event where equine students and professionals network and learn from each other.
The convention kicked off on Wednesday with dinner and various games. Thursday's highlight was a panel discussion featuring the industry professionals and moderated by SMWC CHA President Hannah Childress, a senior from Brazil, Indiana, followed by the ACHA annual meeting and candidate speeches, equine demonstrations and advisors' meeting. The demonstrations were on classic horsemanship training, mounted archery techniques and timed events.
The agenda on Friday included tours to the campuses of SMWC and the Sisters of Providence, a trip to Cloverdale, Indiana to the C-Bar-C Expo Center to learn about hosting equine events, Indianapolis to meet mounted police and their horses, and Indiana Grand Racing and Casino for educational presentations. The convention wraps up with ACHA awarding and recognition ceremonies on Saturday.
Childress and other CHA leaders organized the convention. "This has been the highlight of my college experience so far," Childress said. She added she learned time management and leadership skills from the experience.
Now in its 12th year, the ACHA convention has previously been hosted by chapter members at several colleges and universities recently at Oklahoma State University, Murray State University, Texas A&M University and Clemson University.
"What an exciting event for us to host here at Saint Mary-of-the-Woods College!" said SMWC President Dottie L. King, Ph.D. during the welcome remarks to the Thursday events. She thanked the organizers and emphasized the importance of the equine program to SMWC and its rich history, noting that it's so important a horse was chosen as its mascot.
A stuffed version of SMWC's mascot, Onyx, adorned the centerpieces at the panel discussion.