With two more commencement ceremonies concluded, Saint Mary-of-the-Woods College (SMWC) welcomed 300 graduates from the class of 2022 to join the thousands of alumni on Saturday, May 7 during its 188th commencement.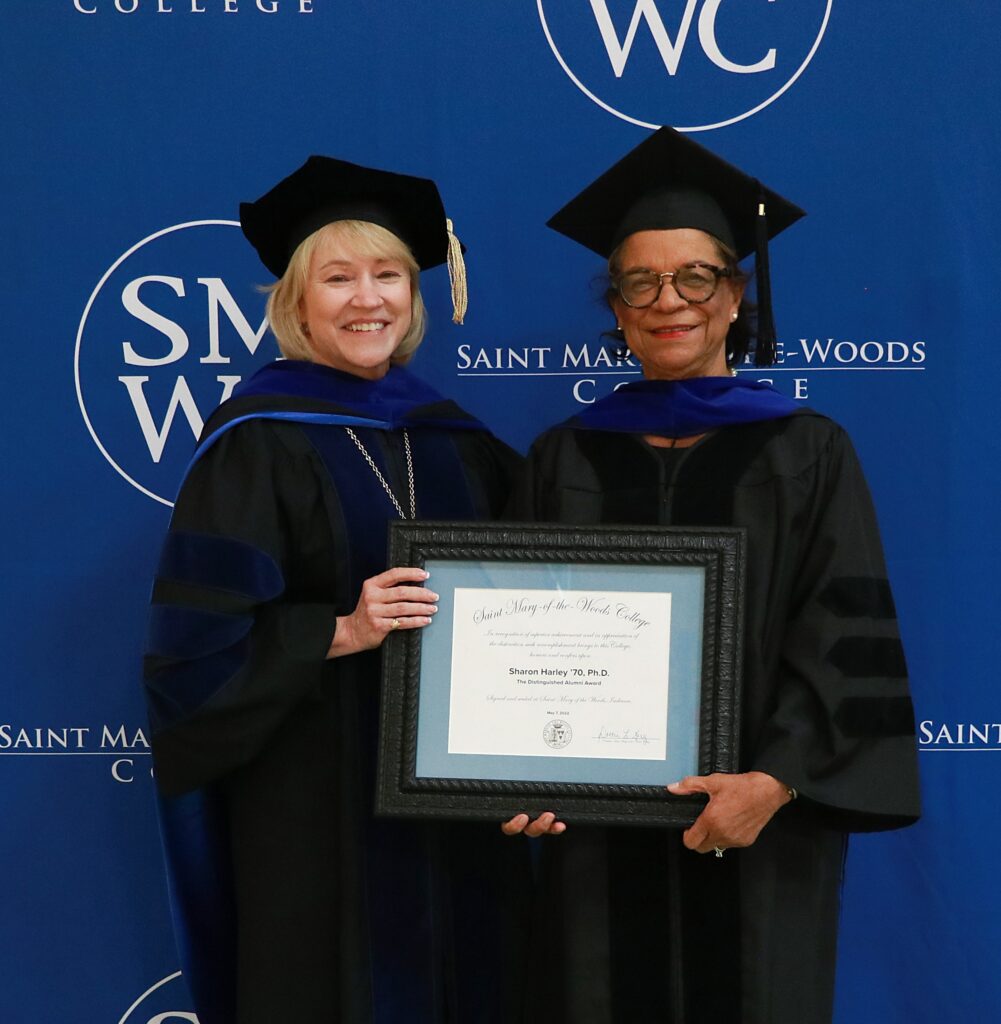 "Today we are celebrating the accomplishments of our students over two ceremonies. Regardless of where you and your loved ones are, we are excited to recognize your graduation and completion of your journey at The Woods," President Dottie King said to graduates.
Sharon Harley '70, Ph.D., was recognized as the 2022 Distinguished Alumni Award recipient during the commencement ceremonies. This is the highest honor bestowed by the College to alumni.
For the second year, commencement speakers were students who were selected from nominations by the student body.
In the morning ceremony, undergraduate campus students absorbed words of wisdom from peer Mikayla Hudgens, a nursing major.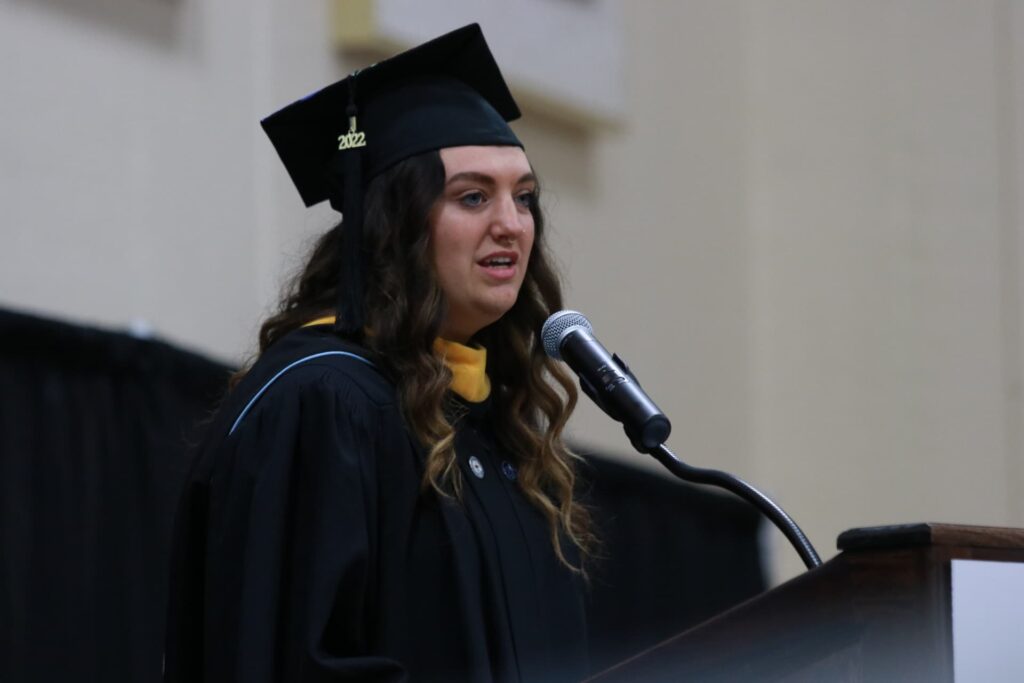 "The Woods has become our home and the place that we have grown to be comfortable in, but now our time here is finished and we must find our own place in the world. So where do we go from here? There is no right answer to this question and the best part is there is not only one answer. It is our time to leave this nest and let someone else take our place but don't forget about this place that has helped us grow and mature into the people we have become," Hudgens said.
For Melisa Spognardi, a campus international student from Canada, shared how much it means to celebrate with her peers and family.
"The Woods has served as a great home away from home for me for the last four years. I'm so thankful to be here with my peers. If it were the same circumstances as the last two years, my family wouldn't be able to be here today, so it's just nice to be here and see the joy in everyone's faces after all the work our class has put in the last four years," Spognardi said.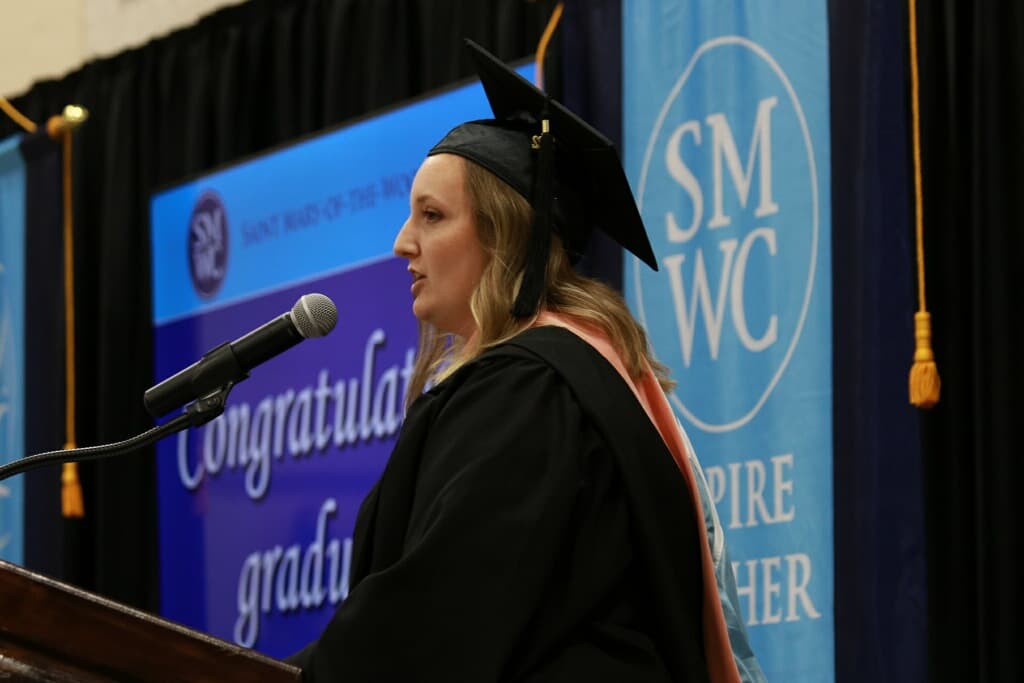 Jessica Boland, a 2018 campus graduate, spoke as a Master of Science in Nursing graduate to her peers during the online and graduate ceremony in the afternoon.
"While we will no longer be connected to The Woods in the sense of books and assignments, providence will continue to provide. We stand here today with our futures laid before us. Take this opportunity to reflect on the moments that challenged you – the moments that you wanted to quit. They are the moments where you overcame, persevered and succeeded. As we embark on the incredible journey before us, place yourself gently into the hands of providence," Boland said.
It feels so good to be here. It was a long time coming. I had a family tragedy that recently happened and I was one class away so this means a lot to me and my family to be able to walk across that stage today!" said Miracle Brame, who earned her master's of leadership development degree.
Award winners were recognized during the ceremonies.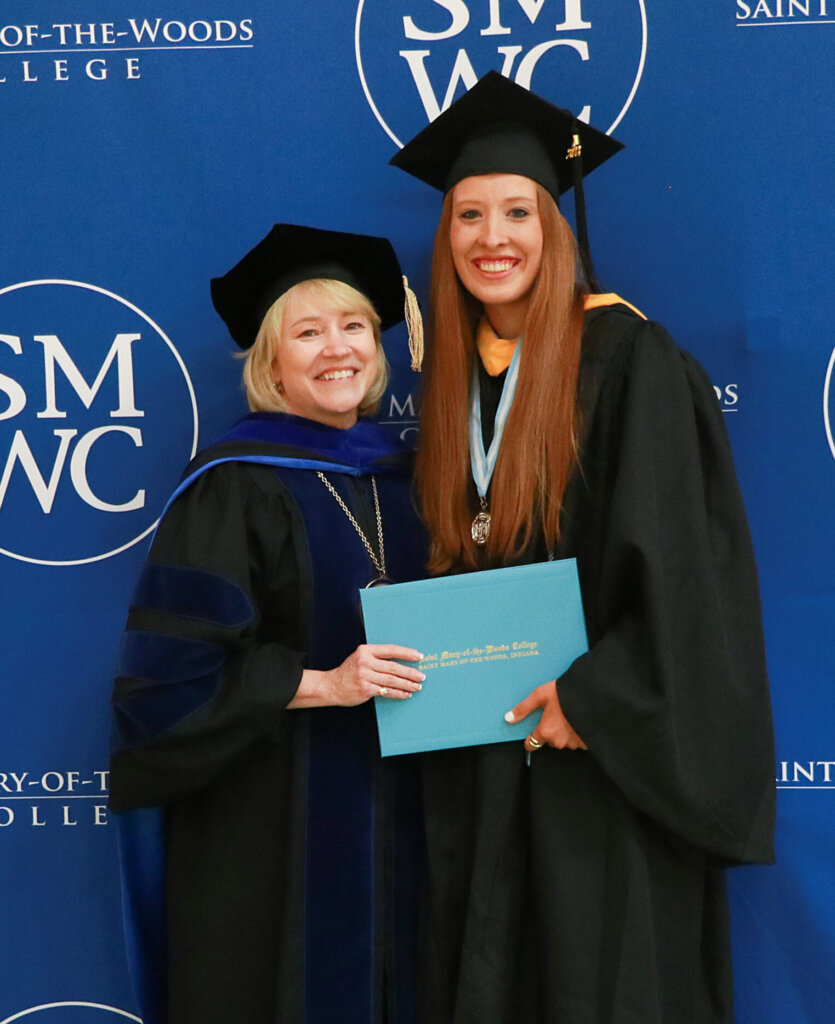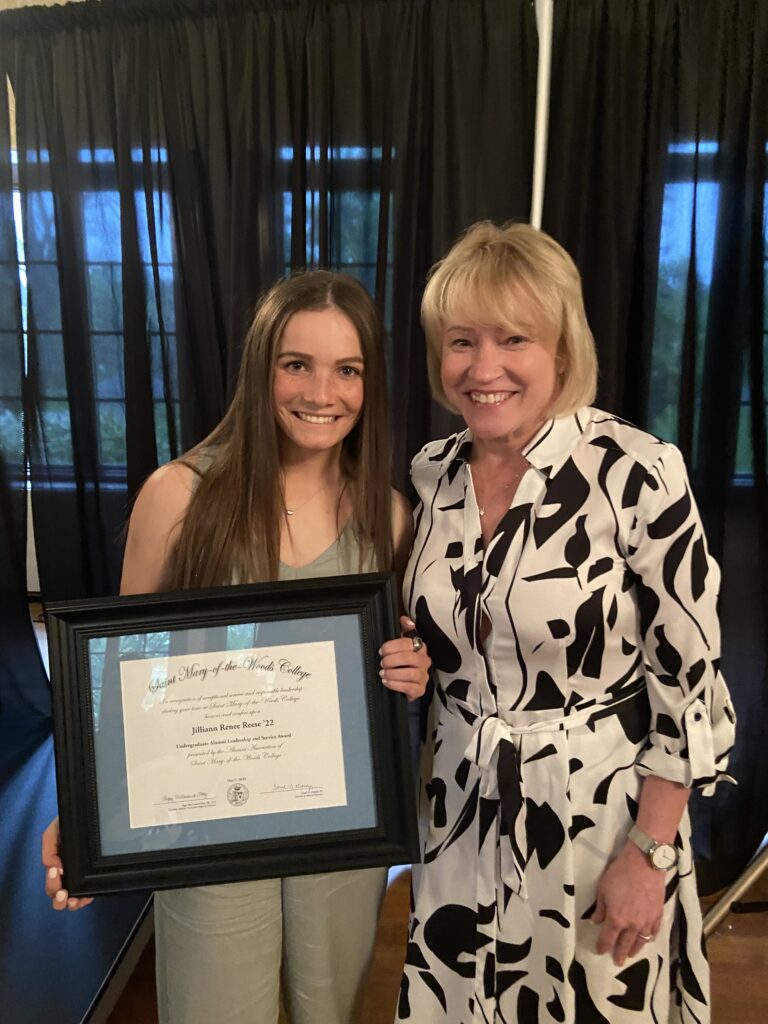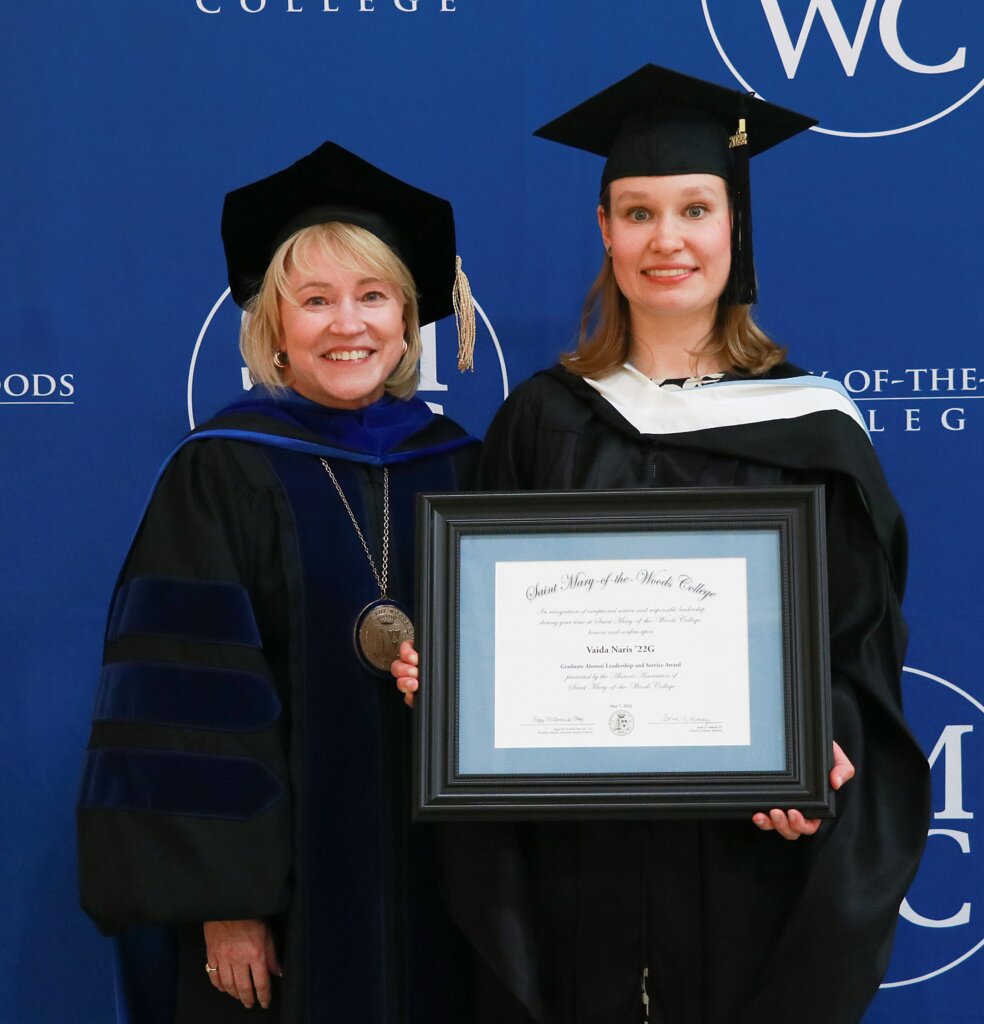 Jilliann Reese received the Undergraduate Alumni Leadership and Service Award, recognizing a graduate who demonstrated outstanding leadership and service during their time at SMWC. Vaida Naris received the Graduate Alumni Leadership and Service Award.
The Maud Helm Rockwell Medal for Academic Excellence is given to a graduate of the campus-based program and a graduate of the Woods Online program with the highest academic grade point average. The Rockwell Medals for Academic Excellence were awarded to Jaelyn Elizabeth Fennell in the campus ceremony and to Lydia Maril Ingram in the Woods Online ceremony.
As a member of the Equestrian team, who qualified for Nationals, Kaylie Meehan realized that traveling on to compete meant that she'd miss both her nursing pinning ceremony and commencement. Faculty, staff and her peers made sure to give her a meaningful experience with a private pinning ceremony before she left for Nationals. Although she had to miss the scheduled pinning ceremony and commencement, she was thrilled to compete with her team. "My teammates and I have worked so incredibly hard for this moment, so it's only fitting that I will end my time as a Woodsie in the show pen! This school has helped me learn and grow into someone I never thought I could be!" Meehan said.
Between both ceremonies, a baccalaureate liturgy ceremony was held in The Church of Immaculate Conception on campus.