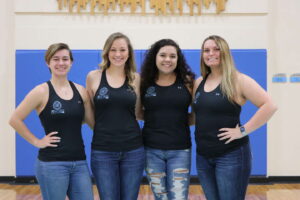 The newly-formed Saint Mary-of-the-Woods College rowing team has already started to see some competitive action.
SMWC Crew recently participated in the 2019 Indianapolis Indoor Rowing Championships, an indoor rowing ergometer race. This was their first competition. "Each of the SMWC rowers achieved personal record best times and they are only going to continue to get better," said Coach Jack Hill.
Since its formation in the fall, SMWC Crew members Ashley Fern, Sara Gossett, Michelle Jenkins and Amanda Winstead, have been practicing alongside other rowers in the local area known as the Wabash Valley Crew to hone their skills for the spring races.
Fern and Winstead on March 10 also competed in another indoor race at Culver Academy in Culver, Indiana. This gets the team even closer to their first water regatta April 13 in Farmer City, Illinois where they will be rowing against other college teams.
Hill says rowing is the ultimate team sport. "This sport is all about working together. It doesn't matter how fast one person is or how strong another person is because they have to row together to make it happen. There's no all-star. It's one boat," he said.
And this team is inviting more members to join its boat. From this SMWC club sport, students learn teamwork, responsibility, accountability and fitness, Hill said.
The SMWC Crew is one of three club sports available to students at The Woods. Other club sports are dance and cycling.
Visit the Indianapolis Rowing Center website to view the results of the Indianapolis sprints and Regatta Central for the Culver sprints. To contact Hill, visit Wabash Valley Crew on Facebook.