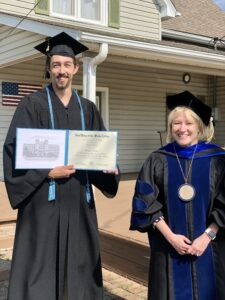 As the Saint Mary-of-the-Woods College (SMWC) graduating Class of 2020 looks to celebrate their achievements together in July, it is clear they have persevered and pivoted through COVID-19, while sacrificing much in their last semester – a culmination that is filled with grace, tenacity and a fair amount of grit.
Among these seniors is Logan Thralls, who was set to miss this last celebration after the ceremony was rescheduled to accommodate state guidelines for large group gatherings.
The Thralls family name has been associated with SMWC since the historic day of October 20, 1840 – when Saint Mother Theodore Guerin and her companions first arrived. Saint Mother Theodore had been sent from France with five other sisters to begin an academy and establish a novitiate for the Sisters of Providence. Joseph Thralls and his family had welcomed the sisters and provided for them until their own house was ready. The sisters were housed in one room of the family's small farmhouse, half of the corn loft and woodshed, which they would eventually buy. Thus was how history began for SMWC.
Logan's own experience at The Woods began at three years old. He attended the pre-school run by the Sisters of Providence. In fact, his mother, Lana Thralls, recalled that he was part of the groundbreaking ceremony as a toddler for the daycare building that now is the Administration Building for the Sisters. "I remember he had a shovel and helped shovel,"
Logan recalled how much he enjoyed being on the campus through his youthful years. "I felt at home, I felt grounded whenever I would come onto the campus."
He often thought about his family history and that his family had owned and farmed the land that he was walking. "There has always been a genuine connection for me here," he said.
Fast forward to May 2015. Logan had just completed his junior year at West Vigo High School and was trying to decide where he wanted to attend college.
"I was looking at several colleges and really wanted to stay near home. I really wasn't sure what I wanted to do yet," he explained. Then he heard the announcement that the College was to become coeducational accepting commuter students the upcoming Fall term and would the following Fall become fully coeducational with men living on campus.
"It was a dream come true," Thralls exclaimed. "It was Providence calling."
Logan immediately applied and was thrilled when his letter of acceptance arrived. He would attend SMWC starting in August 2016.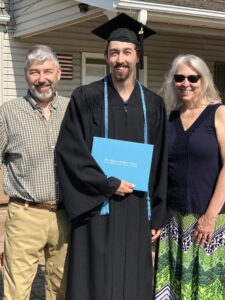 His mom was happy about his choice, saying, "We were excited. He could stay close to home, and we knew that it was a dream of his to go to SMWC."
She said that it felt right because of the family history with the College and she knew that Logan would feel at home.
Upon reflecting on his experience at The Woods, he radiated with pride, saying, "I just loved being there. Some of my biggest takeaways were the positive experiences. I felt support from everyone."
Last summer Logan made another big decision. He decided that upon his graduation in May 2020, he would join the U.S. Air National Guard with an ultimate goal of working in intelligence at the 181st Intelligence Wing. He leaves for basic training on June 2, 2020. Just like many college graduates, it would give him a couple of weeks after commencement to catch his breath and relax a bit before embarking on his career in the military.
In late March, it became clear that COVID-19 would ruin his commencement plans, as it would not take place on the planned date of May 16. Based on federal and state guidelines, SMWC announced the postponement of commencement and chose a date of July 25 for the ceremony. For SWWC, tradition is important and President Dottie King was committed to preserving as much as possible, even while other colleges were choosing virtual ceremony options.
While many graduating students will be able to attend the rescheduled commencement to receive their diplomas, Logan Thralls is not one of them.
Doing what The Woods does best, President Dottie King, Ph.D., reached out to Logan and his family. On Wednesday, President King and a few staff boarded the SMWC bus and headed just north of campus where Logan lives with his parents. There, waiting on the porch was Logan, his mother and father, Scott, and his grandparents, Wanda and Phil Norman.
Logan donned his cap, gown and tassel, while King, dressed in her commencement attire of academic regalia, presented him with his diploma, signifying his completion of a B.S. in psychology.
King said, "Logan's plans to join the military are honorable. Bringing his diploma to him in a ceremonious way was such a joy!"
"Logan exemplifies the qualities that we hold dear at the College," King added. "He respects others and himself, he is a servant leader, he works hard and he loves God. We are grateful that he chose The Woods!"
The family connection has endured over the years. In total, there have been seven direct Thralls descendants to graduate from The Woods. Logan is the first male.
"I know that his grandfather, Alfred, is smiling from heaven today," his mother proclaimed.
With some cheers from the small gathering of people, Logan turned his tassel with a proud smile. A dream achieved.