Saint Mary-of-the-Woods College President Dottie L. King, Ph.D., announced during a special ceremony at Reunion 2021 that she will be naming the new dining hall in memory of Barbara Doherty, SP, '53, Ph.D., who passed away in 2020.
Doherty served faithfully as the 13th president of the College from 1984-1998, and as chancellor of the College following her retirement until her death.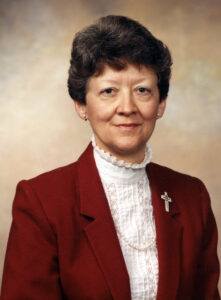 King announced her intention to name the dining hall in memory of Doherty during a blessing ceremony. Joined in remembering Doherty by Carmen Piasecki '70, former chair of the board of trustees during Doherty's presidency, and Dawn Tomaszewski '74, general superior of the Sisters of Providence of Saint Mary-of-the-Woods, the three joined in prayer and blessed the space.
Peggy Lynch, SP, '66, Doherty's cousin, attended the event representing her family along with a number of her friends, which refer to themselves as, "Barbara's Gang."
Doherty, known for making an impact – in the lives of many alumni and in the community – was an author, leader, lecturer, scholar, servant, teacher and theologian, however she may be best remembered for her gregarious personality and as a fierce mentor and friend.
"It didn't take me very long to realize that her name was going to go on the dining hall," said King. "I instantly knew I wanted her name to be a part of this building. I hoped to do this before she was gone, and I am keeping a promise I made to her that the College would honor her legacy. I think she is looking down on us today."
"When I first met Sister Barbara, she was Sister Vincent Ferre. It was 1966. She was fully robed, head to toe… rosary hanging. And her face peers out with a grand smile," shared Piasecki. "I think that the students who walk into this are going to be seated at Barbara's table. I can't imagine the smile she will have… she's going to be the head mistress at the table."
Tomaszewski said that in 1990, Doherty set out to name 14,000 things that made her happy. By her death, she noted 12,402 things that made her happy — of which many were about food.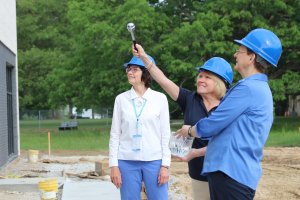 "These books leave behind ample proof that Barbara was indeed a foodie," shared Tomaszewski. "Food and fun. Food and travel. Food and family. Food, glorious food. Of all the places SMWC could have chosen to honor Barbara Doherty, the new dining center is the perfect place."
"This new dining center is a symbol for me. And, I hope a sign for all of us that this is a new moment in the life of Saint Mary-of-the-Woods College a moment truly made possible by the love and dedication by those who have gone before us. I trust that from whatever heavenly banquet that Barbara is currently partaking, she is cheering us on and blessing our efforts," said Tomaszewski.
The new facility, to be named the Barbara Doherty Dining Center, is scheduled to open in August for students.
"The new dining hall will provide dedicated space for students to have access to food and the community that comes with eating together all day long and into the evenings, which is an expectation of today's students," said King.