"I do believe Saint Mary-of-the-Woods College is an institution on the grow."
President Dottie L. King, Ph.D. of Saint Mary-of-the-Woods College (SMWC) made this statement as she shared her vision for the College as well as a review of the launch of a new master plan, which has been under development for the last year. Karen Dyer, M.Ed., vice president for advancement and strategic initiatives and Janet Clark, Ph.D., vice president for academic and student affairs, also spoke offering information as it relates to the current strategic plan, Aspire Even Higher, as well as updates on new academic programs. Also "present" was Lamprini Pantazi, Ph.D., the dean of business and leadership and director of SMWC's new Ph.D. in global leadership, to talk about the new doctoral program virtually from the Acropolis in Greece.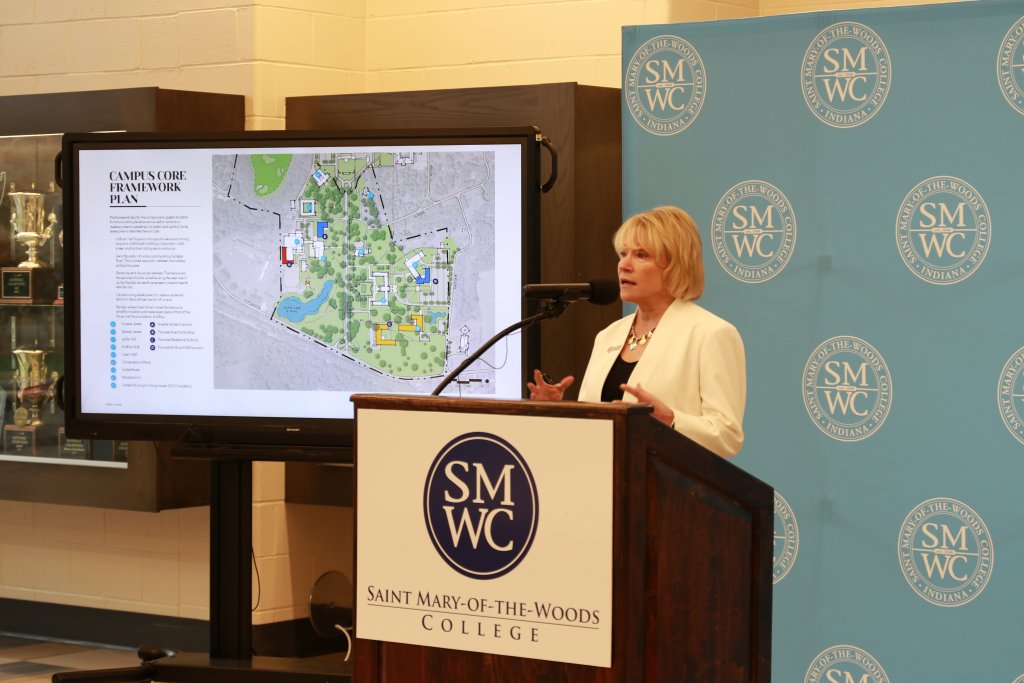 "This strategic plan, dynamic in its nature and framework construction, is the kind of plan that breathes," said Karen Dyer, vice president for advancement and strategic initiatives, who has been tasked with oversight of the strategic and master plans.
The goal of the master plan is to look at how the College will position its physical space to enhance the living and learning community for students, while establishing a future athletics district on the north end of campus and preserving its historic campus and natural setting. "We looked at land, building and space usage as well as the historical nature of our campus as plans were being sketched out as to what the campus might look like in the future," said King. "We paid special attention to look at our beautiful green spaces and took into account the pedestrian pathways for our students as we consider where to expand parking and adjust traffic patterns."
King presented her vision for the next five years, 10 years and beyond.
Goals for the next five years:
Completing the new residence and dining hall, which is on schedule for an August 2021 completion.
Addressing capital projects to update and renovate spaces in our 100-year-old buildings to provide better access and space utilization for today's students, including:

The creation of a student success center in Rooney Library as part of the Woods commitment to strong student retention.
Completion of a $3.2M renovation of student rooms in Le Fer Hall.
Renovation of the auditorium in the Conservatory.
Addressing ADA issues in Guerin Hall to allow for better space utilization of the 1913 structure.
Addressing parking, exterior lighting, wayfinding and pedestrian pathway needs of the College. This work is already underway as new parking lots are being added along with new, historically appropriate, LED exterior lighting throughout campus and wayfinding signage.

Growing athletics starting this year with the first men's basketball program this fall, and followed by men's volleyball, men's and women's wrestling and swimming and diving – and the development of additional sports and a full athletic complex on the north end of campus.
Adding a second doctoral program which will be built out of an area of distinction within the College.
Creating a permanent space for the archives of the Sisters of Providence and the College, as the two have such a shared history, providing a space in Rooney Library that lifts up our 180-year shared history and provides a place for research, digitization of documents, and a place to showcase artifacts and some of the history for visitors.
Connecting the SMWC campus in collaboration with the Sisters of Providence to the county trail system in Vigo County. The College named the trail around Le Fer Lake as a trail head, and the recent reopening of the historic Gate House as the visitor's center is part of this effort.
Looking to increase partnerships in the community, region and state to help with innovation and idea generation while remaining relevant to today's students.
Goals for the next 10 years:
Adding a third residence hall as enrollment continues to grow.
Expanding academic space with an addition to Hulman Hall, as the health science area grows.
Expanding equine facilities to include a community event center and academic offerings as the College has the only academic equine program to offer a bachelor's of science in equine studies in the state of Indiana.
Goals for beyond 10 years:
Institutionalizing its commitment to innovate, remain relevant and meet the needs of its students in a way that embraces excellence, spirituality and care.
Intentionally intertwining virtue and knowledge to create impactful and meaningful educational experiences; intertwining data-driven, brave decisions with firm commitment to mission and legacy creating strong and forward-thinking leadership.
Clark reviewed some of the new academic offerings added in the past year including computer science, kinesiology and exercise science. In September 2020, the College received a $1 million grant from Lilly Endowment, Inc. to fund growth in new academic programs that included the first Ph.D. program and new programs in kinesiology and exercise science.
In March, SMWC was the only institution in Indiana to be included as a partner in more than one grant initiative announced by the Lilly Endowment, Inc., as part of an initiative designed to help Indiana institutions assess and prioritize the most significant challenges and opportunities and develop strategies to address them. The two grant initiatives are collaborative efforts designed to support student retention and mental health resources.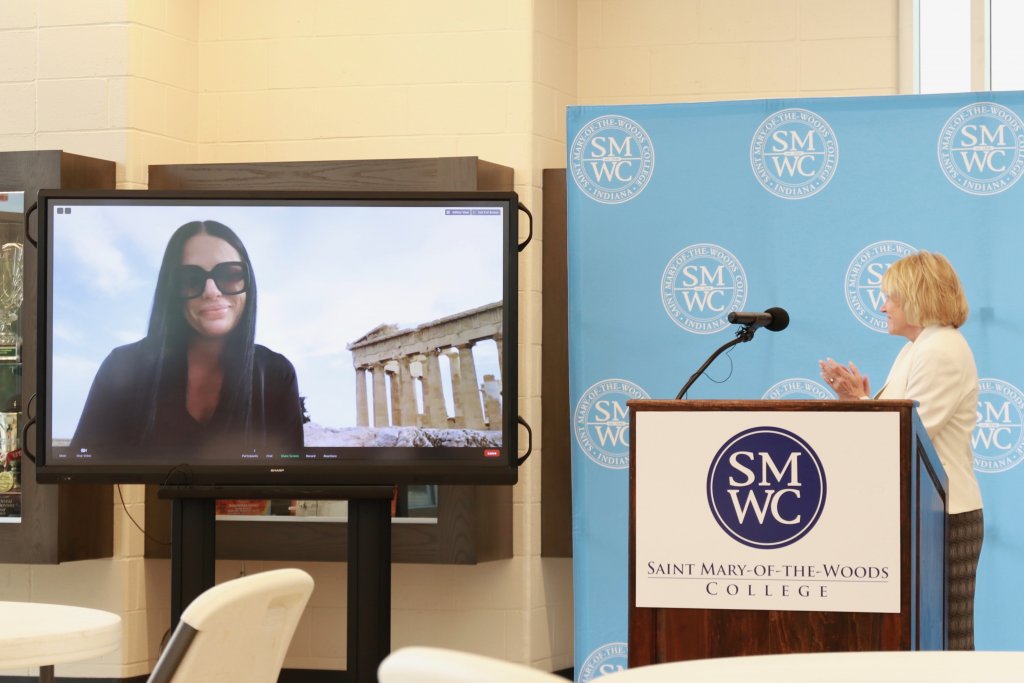 Pantazi appeared on the big screen from the Acropolis in Greece with the Parthenon in the background to talk briefly about the new Ph.D. in Global Leadership. She explained the unique aspects of the Ph.D. emphasizing the aspect of usefulness for a scholar or academic career path as well as a practitioner or professional career path. The tuition pricing is inclusive of all fees and books except for the small dissertation fee and takes only 42 months to complete.
"This Ph.D. program was a natural step for us," Pantazi said, referring to the success that SMWC has had with the Master of Leadership Development Program, the Wabash Valley Leadership Institute and the graduate certificate in women's leadership.
With the accreditation process complete, SMWC is presently taking applications for the first cohort of Ph.D. students for this fall.