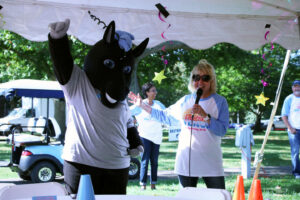 By Dianne Frances D. Powell
Saint Mary-of-the-Woods College alumni of all ages traveled from near and far to join current students, faculty and staff on Saturday for a day of fun, family-friendly activities creating lasting memories.
Homecoming day kicked off with an equestrian show and a bed race on The Avenue between students and alumnae. "We let them win," joked Marie Nohl Comer '81, a member of the alumnae team who pushed on the front of the bed. The team had a great lead in the beginning but the student team took over closer to the finish line. It was all good fun.
Comer said she traveled from Kentwood, Michigan to be with friends at Homecoming 2018 and to show her love for SMWC. She said she enjoys the serene atmosphere of the campus. "It makes you feel like you're home," she said.
Another alum, Kayla Wiggins-Hoesman '07, echoed those sentiments and similarly calls The Woods "home." With her at the event were husband Austin and children Dominic, 4, and Theodore, 1, who was born on SMWC's Foundation Day. She proudly proclaimed that her children are both going to attend SMWC. It wasn't a choice, she said with a smile.
The Indianapolis resident has been to almost every SMWC Homecoming since it started 11 years ago. She said she appreciates how Homecoming celebrates all of SMWC's graduates and not just those celebrating their reunion year.
The list of activities, games and events for the 2018 SMWC Homecoming was extensive. It included a superb concert by the SMWC Choir and the SMWC Band in the Cecilian Auditorium, where "1 St Mary of Woods Coll," an adaptation of the song, "42nd Street" received a standing ovation.
In addition, 300 Homecoming attendees enjoyed tractor rides, yard games, caricature artist, face painting, chalk art, antique furniture sale, beer and brat tent, the SMWC softball game, and the volleyball game between SMWC and Fontbonne University. The Saint Mother Theodore Guerin shrine, Roethele Studio, SMWC Bookstore and Linden Leaf Gifts were also open.
One very special Pomeroy, however, not only stole the show but also everyone's hearts. At around 11:30 a.m. in the beer and brat tent, SMWC President Dottie L. King, Ph.D., introduced Onyx, the College's mascot. Soon, alums, faculty, staff, students, Sisters of Providence and kids of all ages lined up for a picture with the adorable black horse with Pomeroy blue tail. She also made an appearance during the volleyball game and showed off her dance skills.
"I love the new mascot … just perfect," wrote Linda Lovellette Mcleaish '79 on Facebook.
On Sunday, alumni of SMWC and Rose-Hulman Institute of Technology attended the RoseWoods Couples Brunch. A men's soccer game was also scheduled on campus that day. All week long, current students enjoyed a variety of other Homecoming cup and Spirit Week events including scrabble day, laser tag and a glow run/walk.
---
Additional Coverage
Spirit Week Photos on Flickr
Homecoming on Flickr