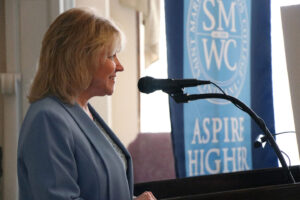 Saint Mary-of-the-Woods College (SMWC) publicly kicks off a $22 million comprehensive campaign on Friday in support of its strategic plan priorities, including campus infrastructure improvements and enrollment growth.
SMWC began the leadership phase of this comprehensive campaign in July 2016. A major initiative under this campaign is a $7 million capital project to renovate SMWC's residence hall, a historic structure built in 1923. The I Love Le Fer initiative aims to improve the look and functionality of spaces to meet the needs of today's students while honoring Le Fer Hall's historic significance.
"This campaign is about doing something for our students and the generations of students yet to come," said Karen Dyer, vice president for advancement. "Our efforts will bring people who love The Woods together to invest in the future of this institution."
"How exciting that we get the opportunity to bring to fruition a renovation that will be both a modernization of the residence hall and a restoration of this classic structure as part of the College's commitment to being a part of the National Register of Historic Places."
Through this initiative, the College aims to support continued enrollment growth and address deferred maintenance in the building. It is meant to improve the overall student experience.
Renovations have already begun in Le Fer Hall. So far, commitments of $1.1 million in gifts to the Aspire Higher Campaign have allowed renovations to be made to the student social areas, food service preparation area and public restrooms on the main level. This work is scheduled to be completed in the summer.
Other work recently completed or underway:
A new card swipe security system has been installed in Le Fer Hall to allow students a safe environment and more modern access options to the building and student spaces.
Three new crosses, fabricated by local artist Bill Wolfe and Sycamore Engineering, were placed on the parapets of Le Fer Hall, Guerin Hall and the Conservatory in September by Adams Roofing as an indicator of the College's commitment to its Catholic identity.
The Sacred Heart Chapel opened in its new location on the main floor in Le Fer Hall thanks to a generous donation from the Class of 1964. The former chapel space will be called Studio '64, a student flex space that will also provide a practice venue for the new dance team and other activities such as yoga and exercise classes.
Master planning is underway for the landscaping, co-curricular outdoor seating spaces, parking and way-finding signage around Le Fer Hall and the entrance to the College. This work will focus on enhancing the natural beauty of the College while addressing needs of a growing and modern college campus.
"I want to thank alumni, family and friends who invest in our College," student Allison Mauk of West Terre Haute said during an official announcement on Friday inside Le Fer Hall. These updates will help us reach our full potential academically, socially and spiritually."
"The students of Saint Mary-of-the-Woods College are excited to be a part of the transition of Le Fer Hall as it becomes a more modern place to call home because we love Le Fer."
In addition to building improvements, the Aspire Higher campaign also focuses on the growth of endowment and unrestricted giving (which is known as the Woods Fund).
Led by SMWC President Dottie L. King, Ph.D., the announcement was attended by members of the SMWC Board of Trustees, SMWC faculty, staff and students, and members of the local community.
"Why are we doing this? We're doing this for our students," King said at the event. "We're doing this because we believe Saint Mary-of-the-Woods College has an important mission to fulfill and our students deserve a good place to stay and live,"
The name of the campaign echoes SMWC's now famous tagline, "Aspire Higher." This is also the name of SMWC's strategic plan. While the success of "Aspire Higher" is rooted in its personal meaning to those who hear, it is a call for everyone to be the best version of themselves and to serve a higher purpose. It honors SMWC foundress Saint Mother Theodore Guerin, a pioneer who overcame adversity to carry her mission forward.
In the same spirit, SMWC is moving forward.
"The Board of Trustees has every confidence that the Aspire Higher Campaign will be transformative … not only for this building but also for the entire campus," said Randy Adams, board chair.
King, Dyer and other members of College leadership plan a visit with alumni all over Indiana and other parts of the country following the campaign launch. This series of trips is dubbed the Aspire Higher Tour.
See more photos on Flickr