Aspiring higher was part of Jerome "Jerry" Hellmann's very essence as he gave a portion of himself to Saint Mary-of-the-Woods College where he was many things – volunteer, cheerleader and philanthropist – modeling for others his strong Catholic value of service.
Hellmann passed away on Monday, October 3, 2022, at his home in St. Joseph, Michigan.
"I will forever remember Jerry as a man who loved deeply and passionately. Love, for him, involved active expressions of care. Saint Mary-of-the-Woods College was the beneficiary of his lifelong devotion," said Dottie L. King, Ph.D., president. "He gave generously of his treasure but his greatest gift to SMWC was himself. He showed up, pitched in, cheered and served. His model challenges me and I am forever better for having known him."
He was in his 14th year of service as a member of the Board of Trustees at the College, serving as chair of the Advancement Committee and a member of the Executive Committee of the board.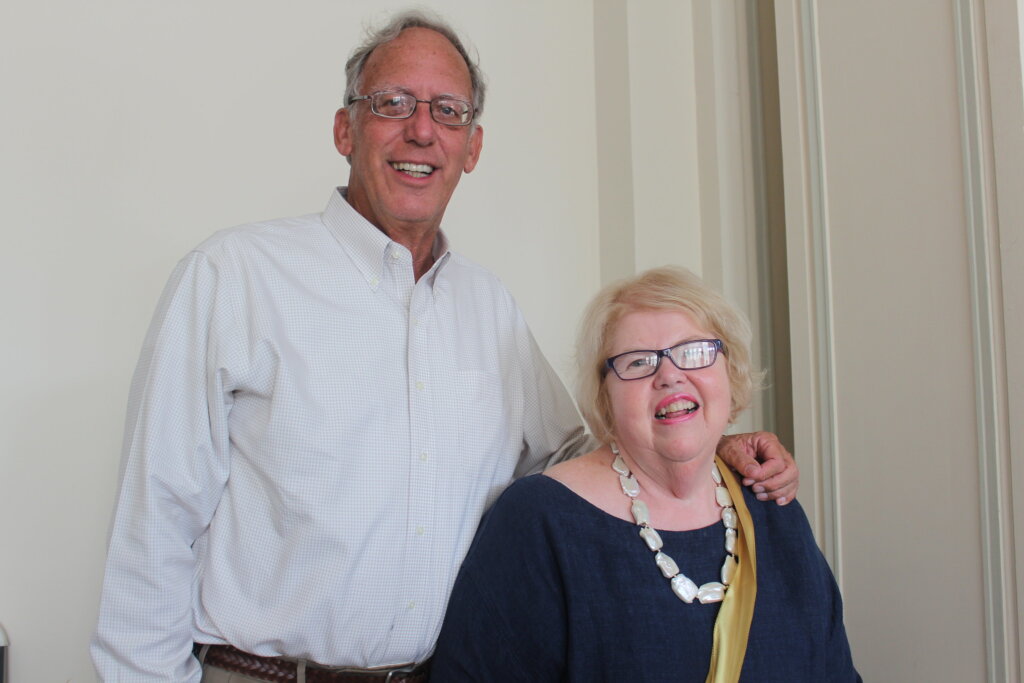 Hellmann was honored by President Dottie L. King, Ph.D., and the Board of Trustees in 2022 with an honorary degree, Doctor of Humane Letters, for his dedication, commitment and passion to education and carrying on the legacy of Saint Mother Theodore Guerin. In 2016, Hellmann received the Aspire Higher Award for his extraordinary service to the institution.
In 2014, he led the charge along with his wife, Mary Ann Hellmann '64, to raise $1 million from the Class of 1964 on their 50th Reunion. That same year, in honor of the 175th anniversary of the College, he wrote a poem, This Place, An Invocation to Saint Mother Theodore Guerin, which he gifted to The Woods.
Throughout their service to the College, the Hellmanns served as members of the Aspire Higher Campaign Committee, making philanthropic lead gifts to create Club '64 in the Jeanne Knoerle Sports and Recreation Center, renovate Studio '64 and the former Sullivan Parlor, now The 1840, in Le Fer Hall, and install a fleet of golf carts named in honor of the class's golden year. Their support has also been given in memory of Sister Marie Brendan Harvey to renovate the Conservatory of Music Campaign, restore the Sacred Heart Chapel and repair the Le Fer tower windows. Hellmann annually volunteered to make phone calls with students and staff as part of Woods Giving Day, challenging members of the Class of 1964 and others to join him in supporting the unrestricted Woods Fund.
The Hellmanns are members of the Visionary Cumulative Gift Society and the Legacy Planned Gift Guild.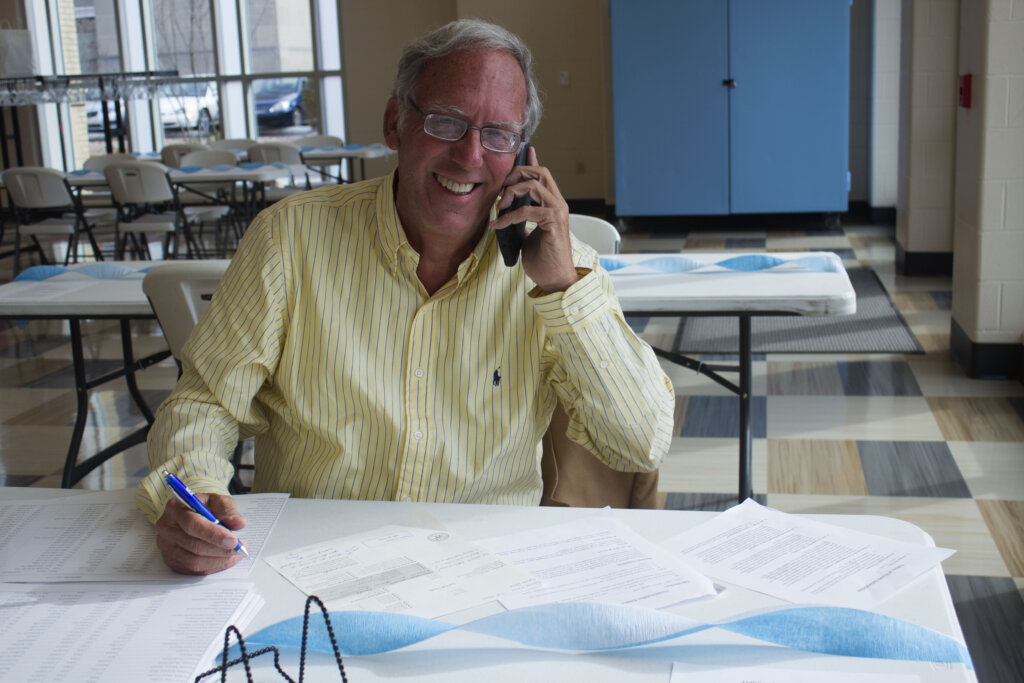 In 2017, the Hellmanns felt a calling to honor the legacy of Saint Mother Theodore Guerin in Ruille, France. Hellmann commissioned a bronze statue to be made as a replica of the one at Saint Mary-of-the-Woods and at the Basilica of the National Shrine of the Immaculate Conception in Washington, D.C. by Indiana artist Teresa Clark. The statue was flown to France, where it was installed and dedicated by the Archbishop of Le Mans, Monsignor Yves Le Saux, and celebrated with more than 300 parish and community members.
He had a long legacy with The Woods, starting with his grandfather meeting his grandmother on campus in the early 1900s as he was on his way to the World's Fair in St. Louis, Missouri. He has three great-great aunts who were Sisters of Providence. His father handcrafted three alters for The Woods, one of which is in use at the Sacred Heart Chapel in Le Fer Hall.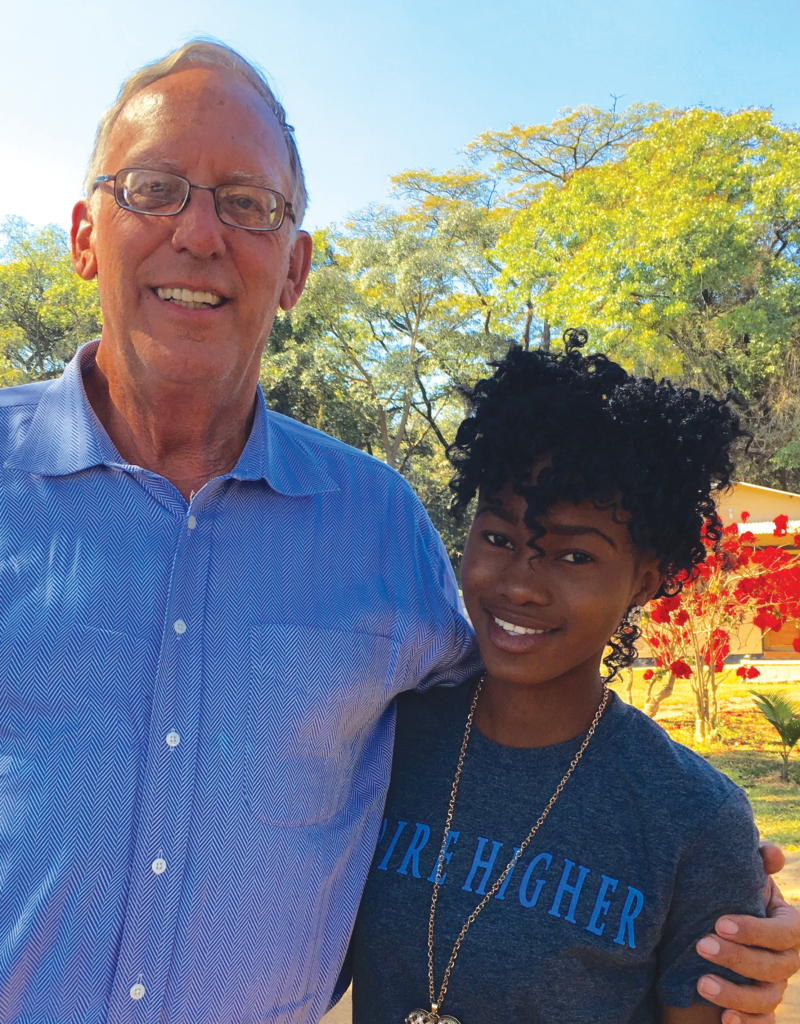 Hellmann's generosity did not stop at The Woods. His sense of adventure, coupled with his want to make a difference in the world, led him to visit Africa in 2006, where he fell in love with the place and the people and would go on to establish and fund a high school in Zambia. The high school, which today has an enrollment of 750 students, serves a population that cannot afford to attend private school. The school celebrated its first graduates in 2010. In 2016, the Hellmanns made it possible for a school graduate, Sue Fanizani, to attend college at Saint Mary-of-the-Woods College, where she received her undergraduate degree and, most recently, a Master of Healthcare Administration. She is the first of the school's graduates to attend college abroad.
Hellmann was a designer, developer and builder of apartment complexes in Chicago and Terre Haute. He was previously vice president of marketing in the furniture, bedding and lighting industry and worked as the group director of television products at Quasar Electronics for 10 years. He also served as the senior systems analyst for P.R. Mallory Company and the computer systems designer at RCA in Indianapolis.
He holds a bachelor's degree in mathematics and physics from Indiana State University, a master's degree in mathematics from Indiana State University, a master's degree in physics from Indiana State University and an MBA from Indiana University. He holds three patents in the electronics, bedding and lighting industry. Hellmann was awarded the Professional Achievement Award from RCA in 1972.
Services will be held on Saturday, October 15, beginning with Funeral Mass at 12 p.m. at St. Benedict's Catholic Church in Terre Haute, Indiana. followed by interment at Saint Mary-of-the-Woods Providence Community Cemetery.