Saint Mary-of-the-Woods College (SMWC), in partnership with Miracle on 7th Street, invites groups, organizations and businesses to participate in the sixth annual "Light Your Way" Christmas Parade. Entries are now being accepted for the parade, scheduled for 6:00 p.m. on December 3 in downtown Terre Haute.
Creative and unique entries aligned with the parade's Christmas theme are being accepted from the community. Entries must be family-friendly, contain lights and portray a Christmas story or theme. Up to 80 entries will be accepted, and three awards will be given at the event: best overall, most creative and most lights.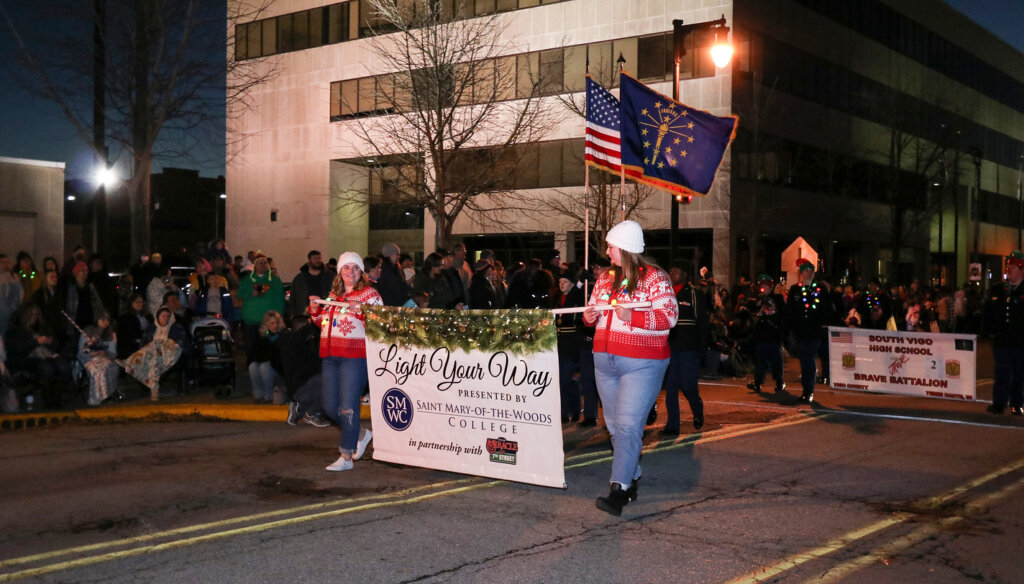 "The Christmas parade is a wonderful Terre Haute event kicking off the holiday season," said John Mace, director of conferences and events at SMWC. "SMWC is a proud sponsor of this event, and we invite everyone to join us in celebrating our community this season."
The 2022 parade route begins at 5th Street and Wabash Avenue, goes east on Wabash and continues until 9th Street, then turns north. The area from Wabash Avenue to Cherry Street on 9th Street is designated as a Sensory Friendly Area for those with sound and food sensitivities. Therefore, food items will not be distributed in this one-block area and no sounds will be used. However, parade participants can hand out non-edible items.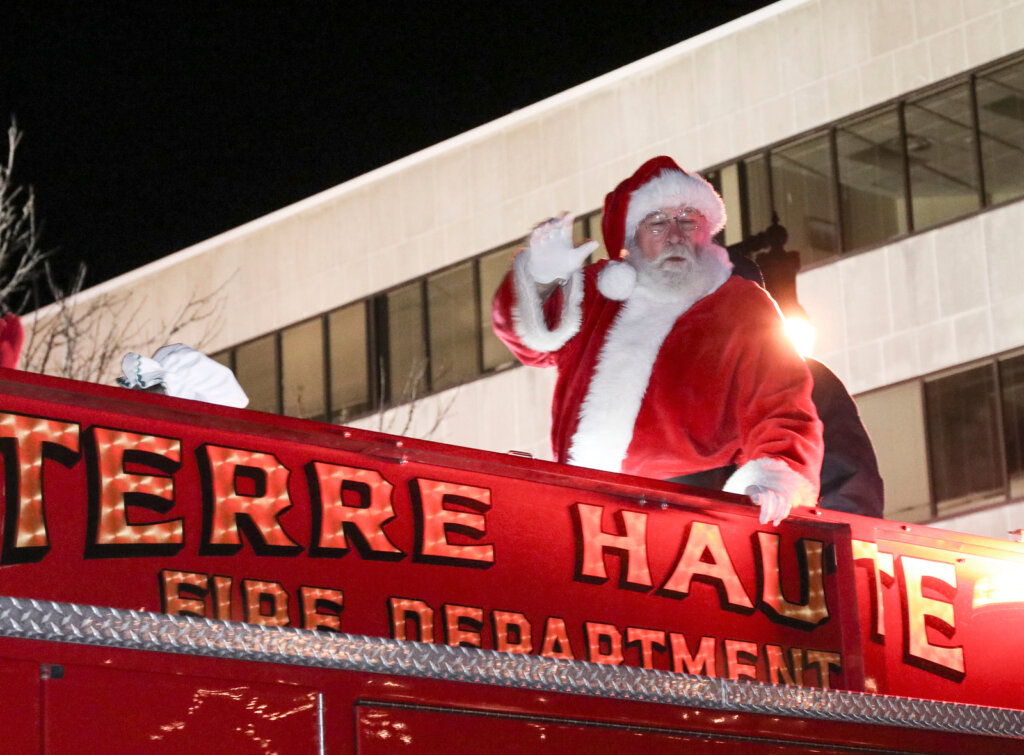 The first parade in 2016 had strong support from the community, with more than 8,000 people in attendance and 60 participants. It has since grown to accommodate up to 80 participants featuring marching bands, decorated floats, dancers, honored guests and, of course, Santa Claus.
Two Saint Mary-of-the-Woods College students are serving as student organizers of this year's event. Interns Ashlyn Hunley and Lauren Rindone are hard at work preparing for the parade. "Our interns are the backbone of planning this community-wide event. We couldn't do it without their efforts," said Mace.
The deadline to submit parade entries is November 28, 2022. This will allow time for the approval of themes.
---
RULES AND INFORMATION
Date: December 3, 2022
Time: 6:00 p.m.
Location: Route begins at 5th Street and Wabash Avenue
All entries must be in place at 5:30 p.m. to start right at 6:00 p.m.
Number of Participants: 80 entries.
Parade Rules
The entry must have lights and be decorated!
A fire extinguisher must be readily accessible on every vehicle/float.
NO political advertising.
Do not have any person dressed as Santa Claus on your float. As to not confuse little children, there will only be one Santa Claus present in the parade. However, you may have a Santa figurine or picture, etc.
Candy and other items may be passed out. However, NO food items may be handed out in the Sensory Friendly Area between North 9th Street from Wabash Avenue to Cherry Street. This is to help families with individuals that have dietary needs. All other items are encouraged (pencils, glow sticks, etc. are great for these guests).
All participants must be in place by 5:30 p.m. for the start of the parade at 6:00 p.m. Upon arrival, participants will be given a number that must be placed on the entry. This is so the emcee can announce details as you drive by. The judges' stand will be located on the stage at the corner of 7th Street and Wabash Avenue outside the Hilton. We ask all participants to ensure that their area is cleaned up as they prepare to move into the parade line-up. SMWC personnel will be present to answer questions and assist you in finding your location for the parade.
NO alcohol or illegal substances will be permitted. No intoxicated persons will be allowed to participate in the parade.
To ensure safety, emergency vehicles should not use sirens and/or horns during the parade unless they are called upon to respond to an emergency.
Headlights should be turned off and daytime lights should be covered when the parade begins.
The entry must be family-friendly.
Other Important Information
Although this is a Christmas event, the parade is open to all faiths and beliefs.
The parade Chairs reserve the right to reject any application.
A detailed letter of information will be sent out upon completion of the entry form.