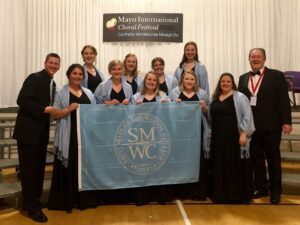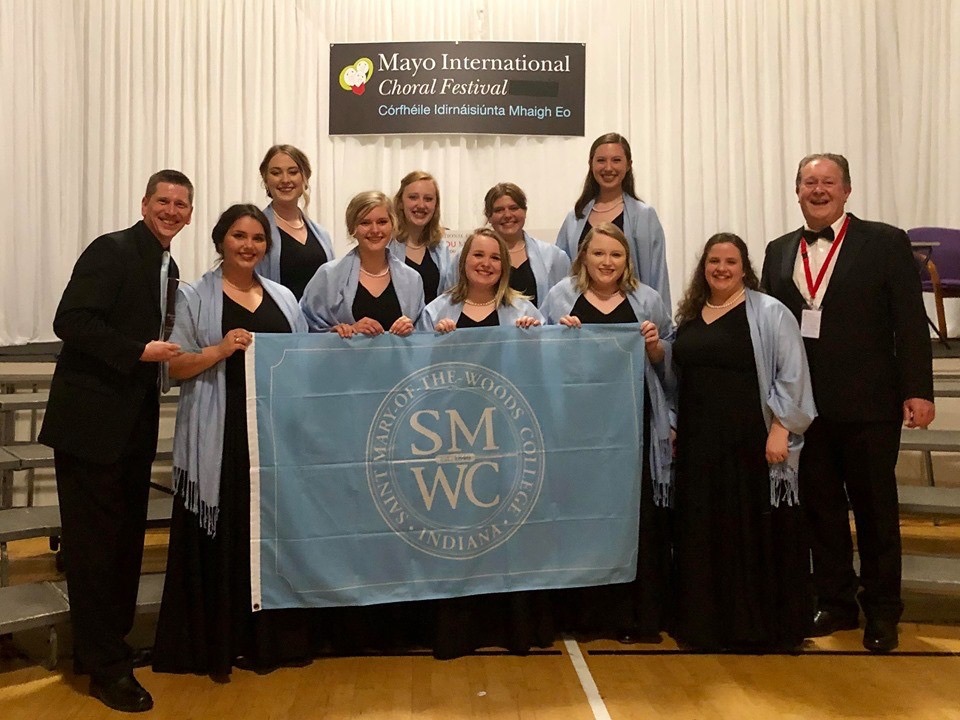 The Saint Mary-of-the-Woods College Madrigals, an auditioned student ensemble comprised of treble voices, is the winner of the 2019 Mayo International Choral Festival Premier Competition in Ireland. Under the direction of Michael Boswell, associate professor of music, the Madrigals competed in the festival on May 25 in the Irish town of Castlebar.
After a first place finish in the four-part choirs category of the festival, the Madrigals headed to the premier competition against other category winners. The selections they performed in the final round were Nocturne by Eric Tuan and Will the Circle Be Unbroken by J. David Moore. The Academy Chamber Choir of Tullamore, Ireland was the runner up.
The Madrigals brought home the championship trophy, €1,300 in cash prizes and the honor of having represented their college well on the international stage to a proud SMWC community. This victory on its first international competition is yet another accomplishment for the Madrigals, which could already boast performances in national and international settings including a tour last year in Ireland celebrating the 60th year of its foundation.
In an e-mail to campus shortly after returning, Boswell said the students represented SMWC with class and grace. "They did much more than sing well. They were expressive, respectful, friendly, responsible, and serious about showcasing the pride we have for our College and community in all of their interactions. They have set a new level of excellence to which future and current students will hopefully aspire," he wrote.
The Mayo International Choral Festival hosts competing and non-competing choirs in a series of concerts, mini-performances and events that take place over four to five days, all over the county of Mayo, in the west of Ireland. All events are open to a public audience. The festival allows choirs to meet and make music together. In addition to its performances in the competition, the Madrigals also serenaded the audience members at the National Museum of Ireland as part of the festival.
For the students, it was an experience they will always cherish. "No picture, video, or recording could do the scenery, music, and memories made, any justice," Justine Gibson said. "I will forever hold the memories and music in my heart as this was truly a trip of a lifetime. I can honestly say I look back on my time in Ireland with nothing but love and joy."
The Madrigals who competed are:
Shea Davis – Clinton, Indiana
Kristin Foster – Metropolis, Illinois
Justine Gibson – Terre Haute, Indiana
Kaci Jones – Brazil, Indiana
Sara Langenberger – Greenfield, Indiana
Catherine Larson – Highland, Indiana
Abbie Roberts – Thorntown, Indiana
Valerie Stewart – Clinton, Indiana
Allee Taylor – Morgantown, Indiana
To read more about the students' experiences in Ireland, visit the SMWC Choirs blog.
To view the full competition results, visit http://www.mayochoral.com/2019-competition-results/