By Dianne Frances D. Powell
Saint Mary-of-the-Woods College employees on Thursday (May 16) brought buckets of white paint, picked up rollers and spent an afternoon painting a graffiti-covered concrete wall long considered an eyesore in the rural village of St. Mary-of-the-Woods in western Vigo County.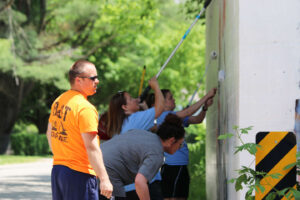 As a result, the unsightly and profanity-filled railroad viaduct on Bloomtown Road, less than a quarter mile from SMWC, is clear. The painting was completed by eight of SMWC's enrollment management staff, which includes employees in the offices of admissions, financial aid, athletics and institutional research.
Chris Lozier, director of admissions and a resident of western Vigo County, said he saw the graffiti often while passing through the area, sometimes with his kids in the car, and felt strongly the need to do something about it. Organizing the painting was a way for him to help create a positive image of the community among current residents, visitors and prospective SMWC students. It was an effort to instill community pride.
Another painter, Admissions Counselor Jordan Cunningham said, "I want West Terre Haute to know we care about our community."
The underside of the concrete railroad bridge is a frequent target for graffiti including language many may consider offensive. Besides reflecting poorly on the community, SMWC was concerned about its impact on prospective student decisions and students' comfort.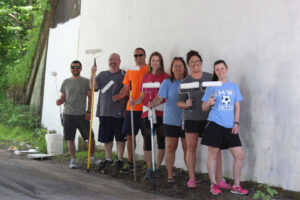 Upon learning that the railroad track was recently purchased by Kansas-based WATCO Companies, LLC., SMWC contacted the company with an offer to clean it up. WATCO proved to be a good neighbor, approving the project and waiving fees for the required permits to access railroad property.
Susan Dolle, director of grants development and local resident, sees future potential for the viaduct to bring something special to the area. She hopes a mural could one day adorn the space. "The project does support our efforts to be a good neighbor," Dolle said. "It's also an effort to enhance the perception of the community by our students – to make our students and their families more comfortable in the community."
SMWC is also working with Vigo County officials to develop a four-mile public pedestrian and bike trail from the town of West Terre Haute to the College. The trail is important for safe non-motorized transportation, recreation and wellness, and economic development.