For several years, students of Saint Mary-of-the-Woods College (SMWC) have come to know Tim Tesmer as their professor, but his role at The Woods has expanded as of this year. In addition to teaching in the classroom, Tesmer accepted the position of Campus Minister at SMWC.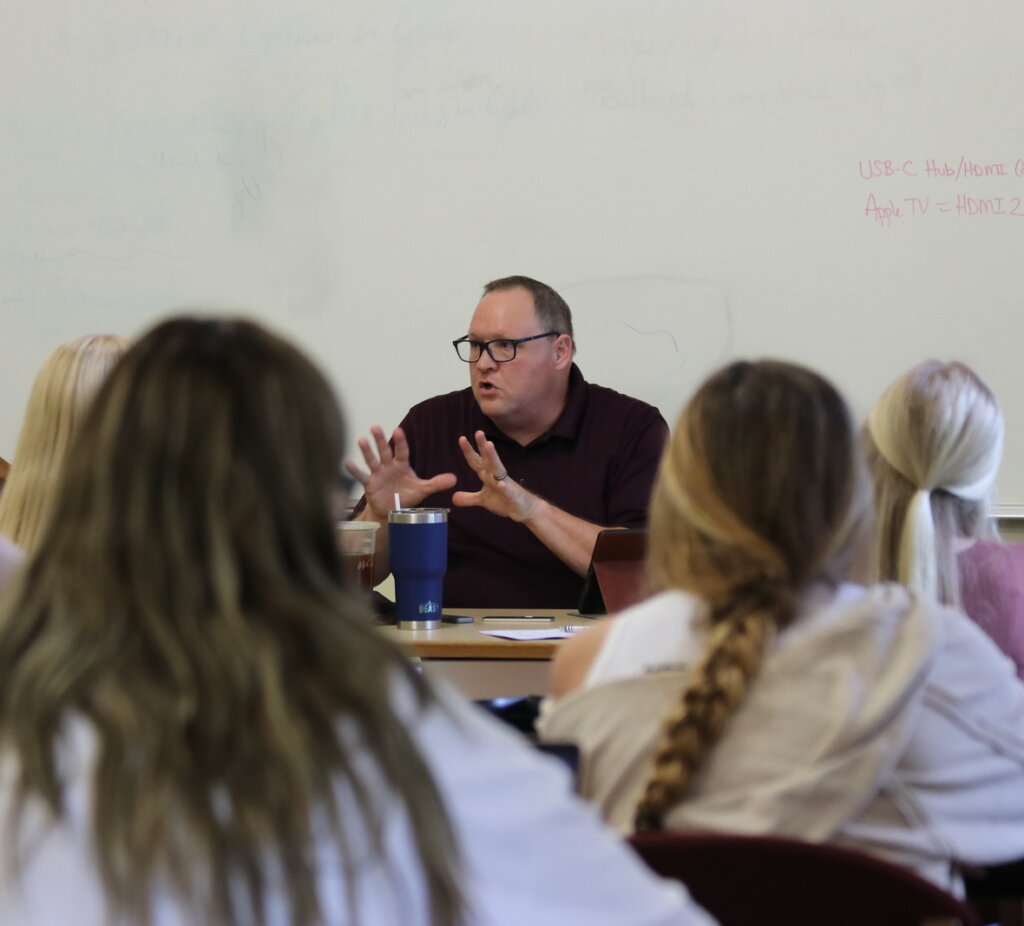 Tesmer has been an adjunct faculty member at SMWC since 2018. He has taught both communications and theology courses. Tesmer shared that education and Christianity have played a part in his career.
"I have a bachelor's degree in elementary education but had never taught professionally. When I was 30, I got into Christian ministry. I pastored in Cloverdale, served as an associate pastor in Greencastle, then served as senior pastor in Vincennes, Indiana," Tesmer said.
In 2015, he and his wife moved back to Greencastle. "When your career is being a pastor, it can be difficult to find employment when you move. You can't just show up and say, 'give me a full-time pastor position.'" It was then that Tesmer thought about a different path. "I thought about way back in the day, I had taken Comm 101 at Indiana State University (ISU) and remembered it was all public speaking and I thought, 'I can do that." After realizing a master's degree in theology wasn't enough to teach communications, he earned a master's in communications, began teaching at ISU in 2017 and started teaching at SMWC one year later.
Little did he know that he would use both of his master's degrees in the classroom. "When I interviewed, the department chair noticed my master's degree in theology. That was what got me into teaching theology," he stated.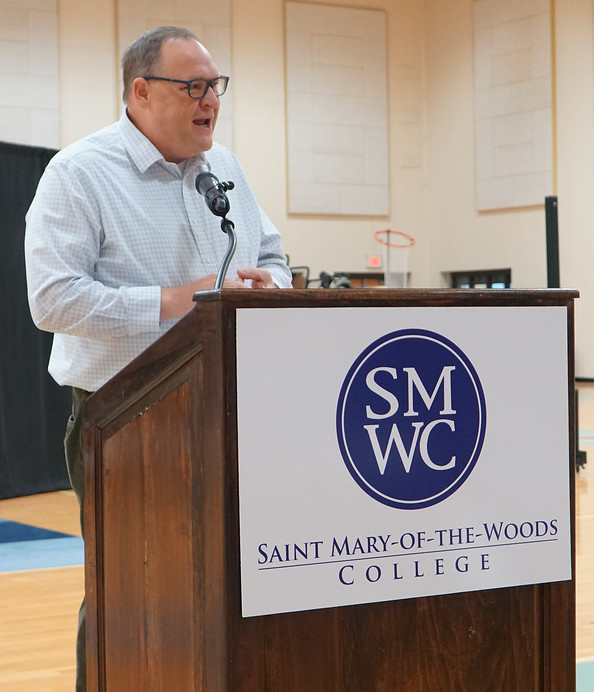 Tesmer's career in higher education turned out to be different than expected. "I always wondered if I would be able to connect with college students. From the first class I taught, though, it amazed me how many students would stay after class and have sincere conversations about both class topics and what they were experiencing in their life. I appreciate how comfortable they are just talking."
Tesmer shared that he believes small conversations and fun chats with students helped him have the opportunity to be campus minister. Although Tim has served as a pastor for several years, he wanted to ensure he was a good fit for the position. "I'm not Catholic, so I wanted to be transparent from the beginning that there may be some learning experiences for me as we embrace our Catholic roots at The Woods and I fully respect that. I wanted to be sure that I could fulfill the position and mission of ministering to the students without being Catholic." Tesmer explained that he was reassured by several faculty and staff members, including Janet Clark, provost and vice president for academic affairs and Aimee Janssen-Robinson, associate vice president for student affairs. "I've sincerely appreciated their support and trust in me. It's been a blessing to have the administration's support as well."
Although taking the position at The Woods meant he had to step down from teaching at ISU, Tesmer shared how heartwarming it was to have the support from the faculty and staff there. "They were very gracious and supportive, which I'm thankful for," he said.
Since beginning his role, he's greatly enjoyed being part of the Office of Student Affairs. "It's reassuring to be part of such a supportive team that is truly willing to help one another when needed. I think it would be a difficult job if I didn't have this team," he said.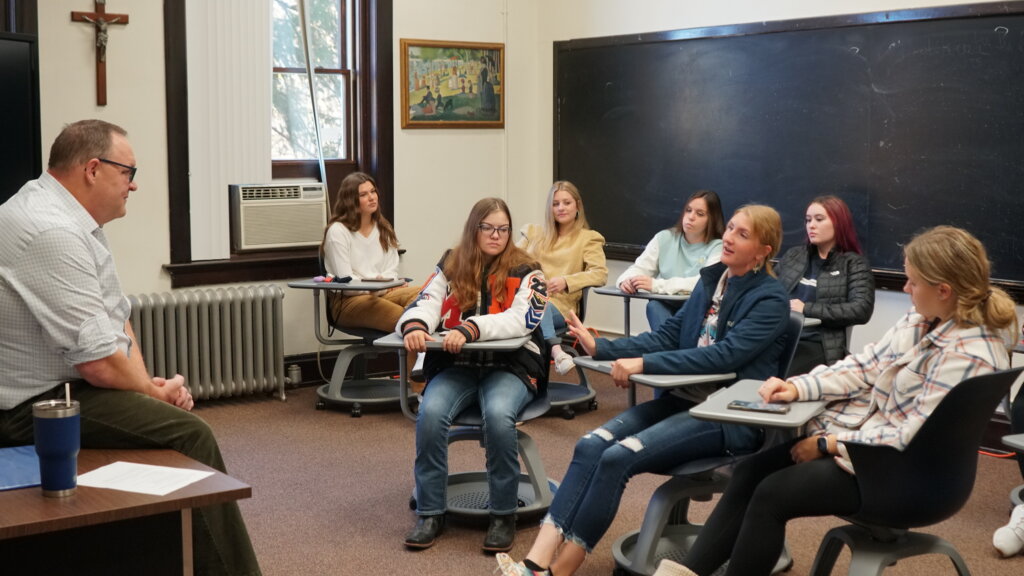 Janssen-Robinson shared how great it's been to have Tesmer as part of their team, "Tim is an excellent addition to the student affairs team as the campus minister. You can frequently find him attending events on campus supporting students."
Tesmer shared his excitement for what's to come as the semester moves forward. He plans to have Bible study/small groups and hopes to hold thematic events on topics that college students can relate to. He said plans are in the works for alternative break trips as well.
"We are looking into planning an alternative spring break trip. We have talked about New Orleans or Florida. We still have details to work through, but I'm looking forward to giving students the opportunity to have transformative experiences," he said.
Every week on campus, you may see students in the campus ministry office. Tesmer explained that he wouldn't have it any other way. "It's amazing – much better than not getting anyone to come by at all. I hope that as long as I serve in this capacity, the trend of students stopping in continues."