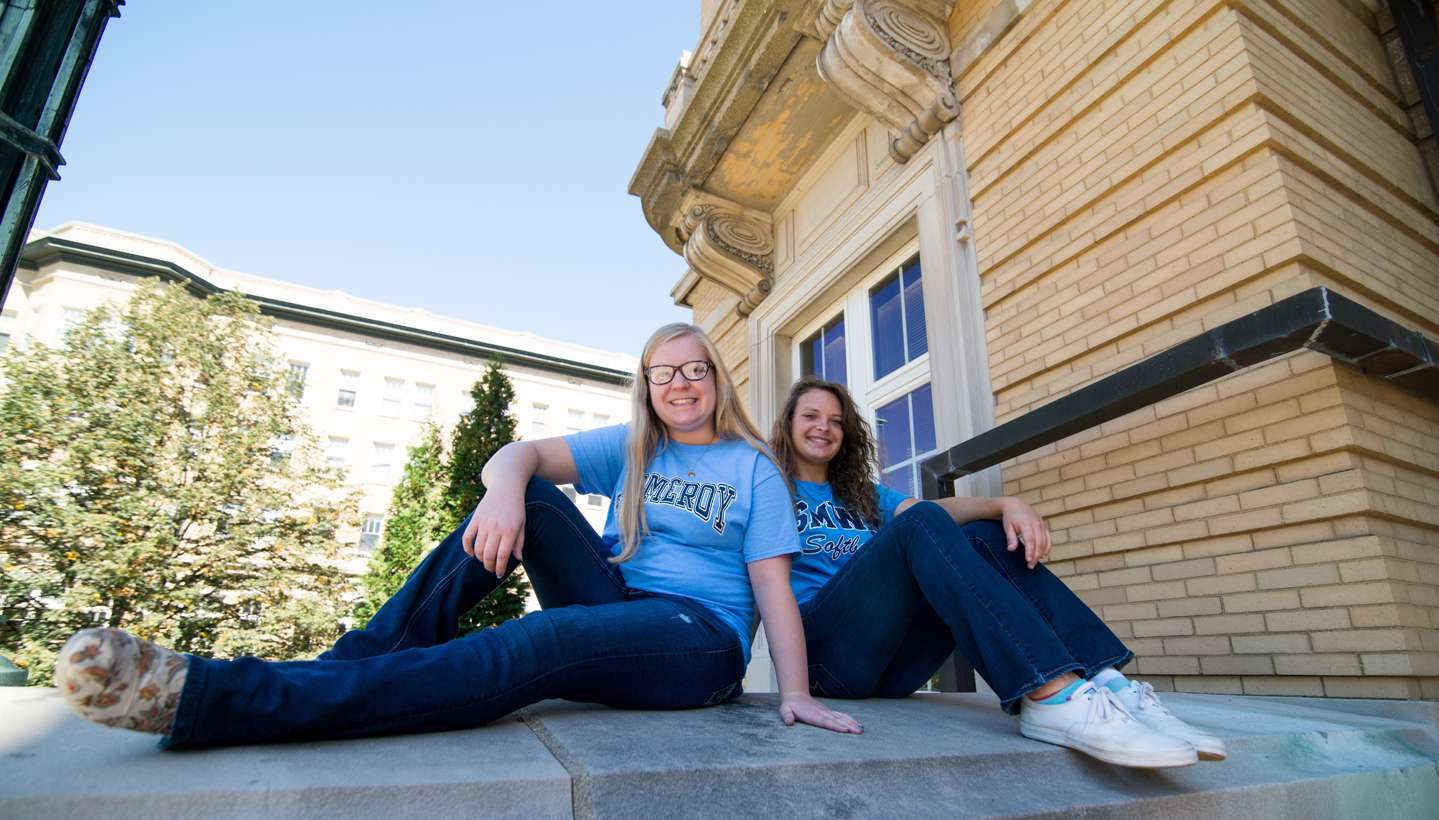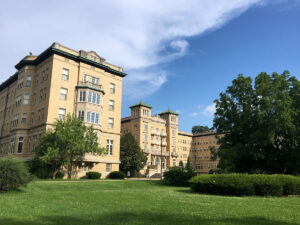 Le Fer Hall may look like a castle, but it is complete with the modern conveniences you need to live, learn and work at SMWC in Saint Mary of the Woods, Indiana. Housed in this 1923 old-world French renaissance structure are the basic comforts of home — air conditioning, hardwood floors, cable TV, desks, beds — plus amenities such as 24-hour computer lab, laundry facilities, student lounges and much more!
Immerse yourself in the full college experience.
Students who live on campus at SMWC find it easier to engage in the campus community which often means better grades and a happier student. And, there is the convenience of walking to class, watching a movie on the large screen television in Sullivan Lounge, and having your friends close by when you need help with a class project.
Services and Amenities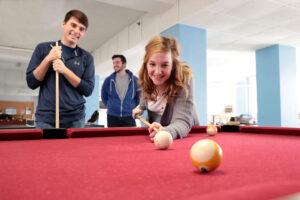 Bicycle rack
Classrooms
Computer Lab (24-hour with free printing)
Full Kitchen on Every Floor
Laundry Facilities
Lofted Beds (most rooms)
Mailroom
Air Hockey, Ping Pong and Pool Tables
Pomeroy Bike Share Program
Recycling
Vending Machines
Wireless Internet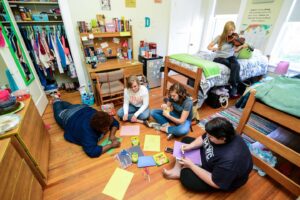 The rooms feature hardwood floors, high ceilings, air-conditioning, ceiling fan and blinds. Each occupant will enjoy the following:
Desk
Chair
Dresser
Stackable Twin Bed
Mattress
Layouts
Double
Double Shared Bath
Double Private Bath
Single
Single Balcony
Single Shared Bath
Single Private Bath
Bay Window Room
Basketball Room (Triple)
Freshman will be placed in double rooms. Please identify on housing application whether community or shared bath is preferred.
To bring and not to bring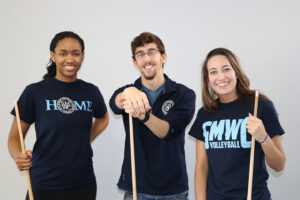 These are the items we think you'll need during your time at Le Fer:
School Supplies (folders, paper, notebooks, planner, calculator, backpack, post-its, writing utensils, tape, paperclips, highlighter, stapler, USB storage device)
Quarters for laundry
Housewares (mattress cover/cushion, sheets, comforter, pillows, towels, alarm clock, desk lamp, laundry bag/hamper, hangers, drying rack, shower caddy, shower shoes, power strips, garbage can (small), flashlight, power strip, décor for the wall, dishes – cups, plates, utensils)
Health and Hygiene (shampoo, conditioner, body wash, facewash, toothbrush, toothpaste, laundry detergent, fabric softener, laundry stain remover, deodorant, medicine, tissues, wet wipes, paper towels, cleaners, first-aid kit, trash bags)
Paperwork (health insurance card, auto insurance card, checkbook, ATM card, stamps, envelopes)
Appliances/Electronics: TV, fan, mini-fridge (less than 3.6 cubic feet), laptop, coffee maker.
Weather Preparedness (umbrella, winter coat, boots, robe) – Be prepared for Indiana weather!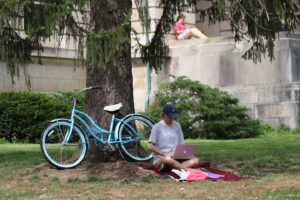 These items are not allowed in Le Fer Hall:
Microwaves (One is provided in the community kitchen located on each floor)
Air Conditioner
Candles/Incense
Alcohol/Illegal Drugs
Pets (Only Fish are allowed)
Open Coil Appliances (toaster, toaster oven)
Portable Heaters
Bed/Mattress
Wall-Mounted TVs
Housing FAQ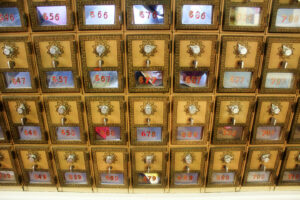 What's the mailing address?
[Student Name]
Le Fer Hall Box [###]
1 St Mary of Woods Coll
Saint Mary of the Woods, IN 47876
What is the best type of room?
Every room in Le Fer Hall is unique and you will soon determine what your priority is in a room. As a new student, you are placed into a room based on your housing/roommate preference form. For the rest of your time at SMWC, you will enter a housing lottery to select your desired room.
Can I bring these items?
Coffee maker– Yes
Portable heater – No
Microwave – No
Fridge – Yes, but must be smaller than 3.6 cubic feet
Candle Warmer – Yes, but no lit wicks or open coils are allowed
Pets – Fish Only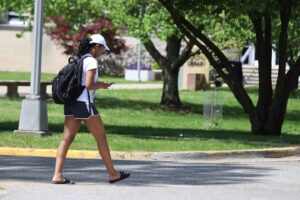 What do students often forget to bring?
Full-length mirrors
Pillows
Command Strips
Laundry Detergent/Fabric Softener
Mattress Cover/Pad
Laundry Basket
Quarters for Laundry
Can I mount / hang stuff on my walls?
All posters and décor must be hung using command strips. You may hang curtains, but cannot install curtain rods unless you use the spring-loaded poles.
Should I bring a TV?
You should talk with your roommate to determine what each of you will bring so that you have enough space in your room for both of your belongings. This will prevent you from bringing doubles of items such as fridges or televisions.
Any additional questions  can be directed to Campus Life staff at CampusLife@smwc.edu.
"Our room is big. I live in a balcony room so I have a full view of the school. In the winter, I get to see all of The Woods. But I think my favorite part of living in Le Fer is definitely getting to live with my best friend. It's just nice to know that if you ever need anything, there are people who will gladly help you."
Katia
Campus Undergraduate Student