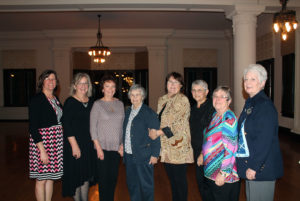 A group of passionate Saint Mary-of-the-Woods College alumni were recently recognized by the College for generosity and philanthropy.
The Terre Haute Alumni Club has made history as the first alumni club to be inducted into the Onyx Society, which is made up of individuals and organizations that have made $100,000 to $499,999 in cumulative gifts to the College. The club's accomplishment was officially celebrated during last month's Donor Appreciation Dinner at SMWC.
"I'm really excited about our club reaching the Onyx level. It took a lot of years of dedication and hard work of alums before we achieved this. I feel this giving back assures opportunities for future generations to have the same experiences that we had," said Lynn Morales '01, president of the club.
A commemorative paver will be added outside the Jeanne Knoerle Sports and Recreation Center to honor the club's achievement, Catherine Saunders '98, executive campaign director told attendees of the event.
"We know that it takes many people to accomplish something like this in an alumni club," Saunders added. "We also recognize that reaching this milestone in the club's giving was accomplished over many years under the guidance of multiple leaders. As such, this commemorative paver will be surrounded by smaller pavers recognizing the club presidents that helped make this possible."
Eight club leaders were given keepsake pavers: Morales, Liz Tuttle '65, Barbara Brugnaux '70, Mary Add Baker '71, Polly Jeffers '77, Judy Price '79, Kymberli Payonk '86 and Kathy Hoffman '67. Mary Jane Wynne '75, the Lifetime Treasurer for the Terre Haute Club, was also recognized.
"Ladies, thank you for your service and thank you for being an example to all of our alumni. I hope you find a special place for your paver, maybe in the garden or by your door so you are reminded of how much Saint Mary-of-the-Woods College appreciates what you have done and continue to do for the local alums, students and your alma mater," Saunders said.
The Terre Haute Alumni Club's purpose is to develop a continued relationship with each other and with SMWC, Morales said. The club has been organizing social events and raising funds for the last several years. Initiatives have included dinner dances, craft nights, breakfasts, antique shows, fashion and style shows, Christmas dinners, family picnics, volunteer events, a golf outing and attendance to support athletic games. Alums even bake cookies every August and come together to package them for incoming students.
The alums' generosity funds three to four scholarships each year. "We always have a good time doing it," former president Mary Add Baker '71 said of the club's fundraisers. Raising funds for the scholarship is one of the most important activities for the club because it is the alums' way of giving someone else an opportunity to receive what they received from their time at SMWC: friendship, education, values and a passion for lifelong learning, Baker said.
"We want to see young people benefit from The Woods like we have benefitted from The Woods," she said.
A scholarship recipient, Woods Online student Sherry Rodriguez, describes the scholarship as "an unexpected blessing." She is looking forward to graduating in December with a degree in business, which adds value to her already existing professional experience, she said.