By Dianne Frances D. Powell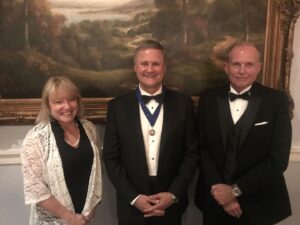 "Honorable leader." "Community catalyst." "Sincere advocate." "Generous." These were the words Saint Mary-of-the-Woods College President Dottie L. King, Ph.D., used to describe entrepreneur and philanthropist Greg Gibson in introducing him as a new member of The Indiana Academy.
"He is truly a man of quiet honor," King said on Monday during the induction ceremony and dinner inside a glittering ballroom at Columbia Club, Indianapolis.
In front of members of The Academy, higher education leaders and representatives from around the state, she continued, "His support of scholarly achievement in Indiana is reinforced by his philanthropic support of several educational institutions. …I can think of no one who is more deserving of induction into The Indiana Academy."
In her capacity as president of SMWC — one of 30 institutions affiliated with Independent Colleges Indiana — King nominated the Terre Haute businessman for The Academy, whose membership are Indiana's preeminent contributors to cultural, scientific, literary, civic, religious and educational development.
The Academy has its own special ties with SMWC and Terre Haute. Founded in 1970 by the Independent Colleges of Indiana Foundation, The Academy is maintained through donations from its members and the Tony and Mary Fendrich Hulman Endowment Fund. Mary Fendrich Hulman, who was inducted into the same elite group in 1980, is a member of St. Mary's Academy (now SMWC) class of 1923. SMWC's 12th president and 1949 graduate Jeanne Knoerle, SP, was inducted in 1988.
This special relationship continues with Gibson. His nomination was supported by Indiana Governor Eric Holcomb and U.S. Rep. Larry Bucshon (R- IN 8th district). The governor wrote in a nomination letter, "Greg's commitment to our state in general, and the Terre Haute community specifically, is unrivaled. …Throughout his life, he's been an avid supporter of higher education, the arts and numerous quality-of-life projects across our state. Indiana is better because of his dedication and service."
Gibson is the president of ReTec, Inc., an environmental management consulting and engineering company. The Terre Haute resident has found success with business operations in commercial real estate development, the hospitality and food service industry, trucking, excavation, coal industry, solid waste landfill development and waste industry advisory services.
Gibson is a trustee emeritus of SMWC where he served for 9 years from 2008 to 2017. He was instrumental in helping SMWC build the Jeanne Knoerle Sports and Recreation Center, the College's newest campus building and the first one in over 50 years. An avid runner, Gibson has been making an impact on the lives of SMWC students through the establishment of the Gibson Family Endowed Scholarship for Cross Country.
A 1984 civil engineering graduate of Rose-Hulman Institute of Technology, Gibson is a member of the Board of Trustees of his alma mater. He is involved in several charitable organizations in the region. Gibson's generosity also helped make significant developments in Terre Haute come to fruition including its first in-patient hospice unit as part of the Hospice of the Wabash Valley, the Gibson Track and Field Complex at Indiana State University, the bronze "Larry Legend" statue of Larry Bird in Terre Haute, and the LaVern Gibson Complex, a cross country course hosting high-profile national competitions. The Vigo County Education Foundation honored the Gibson family in 2018 for its significant philanthropic efforts to the Vigo County School Corporation.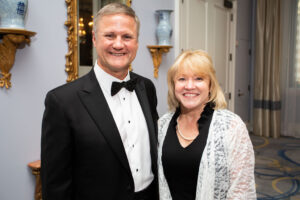 Following acceptance remarks, The Academy's medallion —formed with the organization's initials, TIA, humanized with a face and out-stretched arms — was ceremoniously bestowed upon Gibson to signal his acceptance into the organization. "This evening is about celebrating those who have had a special impact on the state of Indiana and its independent colleges. I feel privileged to be standing here," Gibson said.
He said the two private colleges in Terre Haute, SMWC and RHIT, provide special benefits to students: the ability to quickly adapt to change, address community issues, be nimble in the pursuit of opportunities and work with students on an individual basis make them "the type of place that every parent dreams to send their children," he said.
"I've heard President King say that students at Saint Mary-of-the-Woods [College] have to work to fall through the cracks because there are too many others working to keep them from falling through. I believe this to be true of all of our independent colleges."
"Please let tonight be a reminder to all of us that we must continue to fight for the success and the relevance of all of Indiana's private institutions of higher learning. They are essential to Indiana's robust economy and our educational system. They are a worthy investment in the future of our great Hoosier state."
Gibson was inducted to The Academy alongside Marianne Glick, owner of GlickArt; Tracy Graham, founder and managing principal of Graham Allen Partners; Thomas King, retired president and CEO of Indiana State Museum; and John Lechleiter, retired CEO of Eli Lilly & Company. Nominations to The Indiana Academy are accepted from its members and presidents of ICI member institutions.
Brady Page, accounting major from West Terre Haute and cross country athlete at SMWC, was one of two student speakers at the event.