Sustainability and eco-justice continue to be a focus of Saint Mary-of-the-Woods College, with it being one of the College's four values. Implementing, developing and being leaders in sustainability drives students, faculty and staff.
However, we know going green can be a tad intimidating — but don't fret. We have a few simple ways you can do better for the environment with little impact on you. So really, it's a win-win.
1. Use your digital devices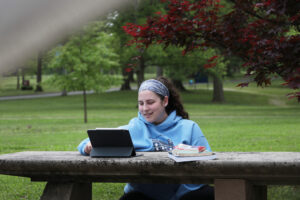 Incoming freshmen are issued Apple iPads and an Apple Pencil, and current students have the opportunity to purchase these items at a discount. Besides just being super handy, using this tech saves paper in the classroom — you can take notes directly on your iPad rather than in a notebook. It also helps the professor save on printed hand-outs when you can pull up class work individually. Many classrooms are also equipped with Apple TVs, diminishing the need for printing even further. You also have access to cloud storage, so there's little need for physical files. While using these devices might seem fun, it's helpful to the environment, too. You can even read your textbooks digitally.
An electronic signage system on campus also eliminates printed informational fliers. TVs display all the needed info in each building.
2. Recycle
You've heard it before, but we're saying it again. Recycling on campus is so easy. There are bins in nearly every hallway, so skip tossing your Starbucks cup in the trash. Not sure what you can and can't recycle? Here's a quick guide: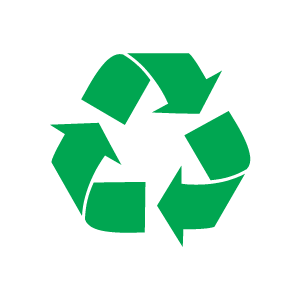 Do recycle
Paper
Carboard
Aluminum
Plastic bottles and cups
Newspapers, magazines, etc.
Don't recycle
Pizza boxes
Styrofoam
Food waste
Plastic bags
Still not sure what you should do? Just ask! We'll help you out.
3. Walk, ride or share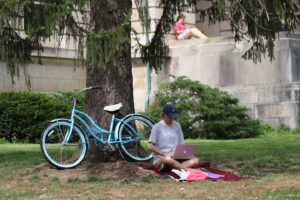 We understand that being literately out in the woods makes having a car necessary but think twice before you jump in it to ride from one side of campus to the other. Instead, get your steps in. Or better yet, use the Pomeroy Pedals program and hop on a bike. These are the nice blue bikes you see all over campus. Anyone can use them to go between classes or just take a leisurely ride around campus. If using your car is a must, make an effort to carpool with your roomie, floormates or teammates. One less car on the road = less harmful emissions in the atmosphere.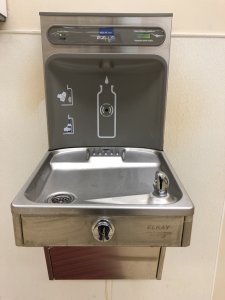 4. Hydrate! But in the eco-friendly way
We won't smack that vending machine water bottle out of your hand if we see it, but we do suggest using the water bottle filling stations throughout campus instead. These filtered stations are easy to use, and even count how many plastic bottles we've saved by using them. (It's about 12,000 in case you were wondering). Here's another win-win for you — it keeps plastic bottles out of the ocean and saves you money on vending machine water. Reusable bottles are also a great way to show your style and Pomeroy pride. Just sayin'.
5. Unplug
Don't worry, not from your phone (although when is the last time you took your eyes off TikTok?) but from stuff you aren't actively using. Done charging your laptop? Unplug the cord. Keurig stopped brewing for the day? Let that poor thing rest. Also remember to switch off your lights while you aren't in your room. Same goes for common spaces such as the kitchens, laundry facilities and centers. These things all draw power without you even realizing it. Also, we love that lights off movie mood.
Being sustainable doesn't have to change your life drastically. Just work these simple things into your routine and you can be helping Earth in no time. Yeah, there are way more tips, but we'll just leaf you with these.