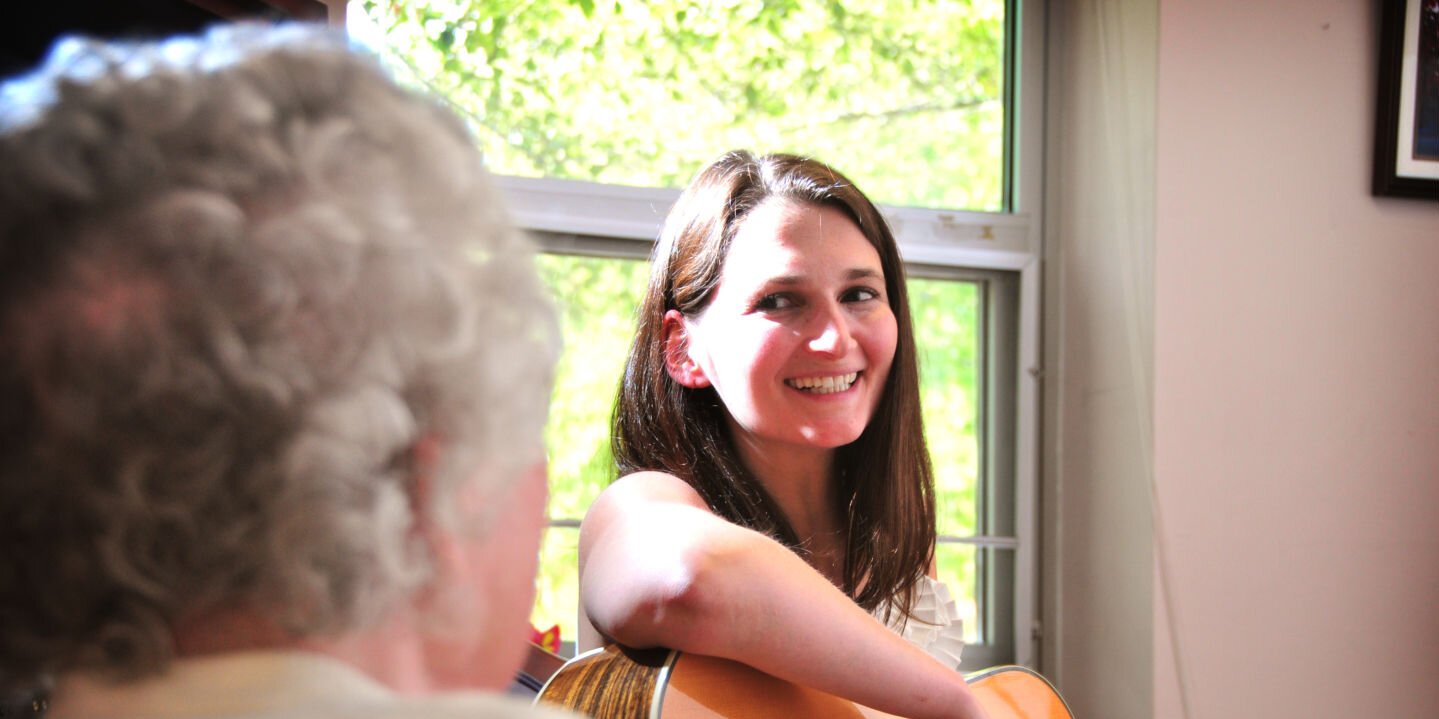 Music Therapy Equivalency Distance
Music Therapy Equivalency Overview
Many people possess excellent music skills and training, and a passion for wanting to help others through music. They discover music therapy and are thrilled to finally find a career that seems to fit! However, until now they could not pursue the dream of becoming a music therapist unless they lived (or moved) near an institution that offered a music therapy program. If you are one of those people, read on.
Approved by the American Music Therapy Association, this music therapy equivalency distance (MTED) program gives you the opportunity to pursue study in the field of music therapy through brief residencies and online classes. SMWC is proud to be the only college in the U.S. that offers the equivalency program in this format. Although three brief residencies per year are required, you can complete a majority of your coursework through online classes and participate in clinical training near where you live.
MTED is designed with you in mind 
With MTED, you can:
Work on your music therapy training primarily from where you live.
Come to campus at least twice for a 3-day residency (Year One: Fall, Winter. Year Two: Fall); do your coursework and clinical training for each semester during the following 16 weeks.
Participate in a 2-day virtual residency (Year One: Spring)
Come for at least one 5-day residency in Summer, and do your coursework and clinical training for that semester during the following 8 weeks.
Finish the program in approximately 2 years (including a six-month full-time internship).
Transition into the Master of Arts in Music Therapy graduate program if desired.
If you have questions about the Music Therapy Equivalency Distance Program, contact Program Coordinator Larisa McHugh.
Prerequisites and Program Requirements
The MTED program is open to individuals holding a bachelor's degree in music. It is a highly competitive program with limited seating. Applicants are taken on a first come first serve basis.
Prerequisites
Bachelor's degree in music from an NASM (National Association of Schools of Music) school
Minimum of 2.5 GPA on a 4.0 scale
General Psychology (C- or better)
Proficiency on voice and at least one accompaniment instrument upon entry
Successful audition on major/primary instrument (2 pieces of contrasting nature)
Basic accompanying and vocal skills (piano and voice OR guitar and voice) on two songs
At least five MT-BCs in your geographic area (60-mile radius from your home)
Program Requirements
Ability to attend brief residencies on campus, twice in first year and at least once in the second year
Completion of supportive courses at SMWC, or equivalent courses completed elsewhere (prior to or in conjunction with the MTED Program)
Specific technology including broadband internet connection, webcam, headset with microphone, digital recording device, current Microsoft Office Software, and Skype account
Successful completion of all proficiency examinations
Successful completion of all coursework and clinical training requirements (at least 1,200 clock hours of music therapy clinical training under the supervision of board-certified music therapists)
Participation in and adherence to an individual training plan developed with music therapy faculty. The ITP is a tool used to communicate expectations and outline the roles and responsibilities of the music therapy faculty and student.
Application and Audition Timeline
| | |
| --- | --- |
| April 1 | Deadline to complete an undergraduate application and submit all materials including auditions |
| May 31 | Deadline to pay $100 deposit |
| June 30 | First payment or Financial Aid application due and introductory webinar completed |
If you have any additional questions about the application process, contact Larisa McHugh, MTED Program Coordinator.
Audition Process
Auditions may be submitted electronically. Once your application is received you will receive instructions on how to submit either a MP3 recording or link to YouTube or Dropbox. Instrumentalists, pianists, and vocalists must perform two contrasting pieces with their primary instrument. In addition you should prepare two songs which demonstrate your ability to sing while accompanying yourself on piano or guitar.
Music Therapy Career Paths
What Does a Music Therapist Do?
According to the American Music Therapy Association, music therapists assess a person's "emotional well-being, physical health, social functioning, communication abilities, and cognitive skills through musical responses". In addition, music therapists design music sessions based on client needs. Applications and techniques may include:
Instrumental or vocal improvisation
Receptive music listening
Song writing
Song lyric discussion/analysis
Music and imagery
Music performance
Learning through music
Music and movement
Music and other expressive arts
Who Does a Music Therapist Help?
A music therapist can work with a wide range of population and in a myriad of facilities. Music therapy can be used with individuals with:
Developmental disabilities
Mental health needs
Substance abuse problems
Physical disabilities
Chronic or terminal illnesses
Alzheimer's Disease
Dementia
Autism
Music Therapy Jobs
A music therapist is trained to work in individual, small group, or large group settings at a myriad of facilities, including:
Medical Hospitals
Schools
Nursing Homes
Assisted-living Facilities
Psychiatric Facilities/units
Pediatric Units
Rehabilitation Units
Private Homes
FAQ
Do I have to have a degree in music to be eligible for this program?
Yes.
What types of music degree should I have?
Your degree can be a BA, BS, BM or BFA. The specific degree title can be any area of music. For example: BA in Music Education. BS in Music Business. BM in Music Composition.
I have a family and a full time job. Can I do this program?
That depends on many factors including flexibility of your job, support from family and friends, etc. Most people in the program are working full- or part-time jobs while progressing through the program and many have family responsibilities as well.