By Jennifer Fredericks Dorsey '97, Ph.D.
A symbol of the longstanding traditions of Saint Mary-of-the-Woods College (SMWC), the Ring is instantly recognizable the world over.
With this year serving as the penultimate celebration leading up to next year's 100th anniversary of the Woods Ring, the traditional awarding of Rings took place on March 20, 2021, in two ceremonies. More than 100 campus, Woods Online and graduate students received their Rings. As important as the Woods Ring is to students and alumni, it is not an inexpensive purchase. Depending on the metal, costs for the Ring can range from $375 to $1,700, creating a financial barrier for some students.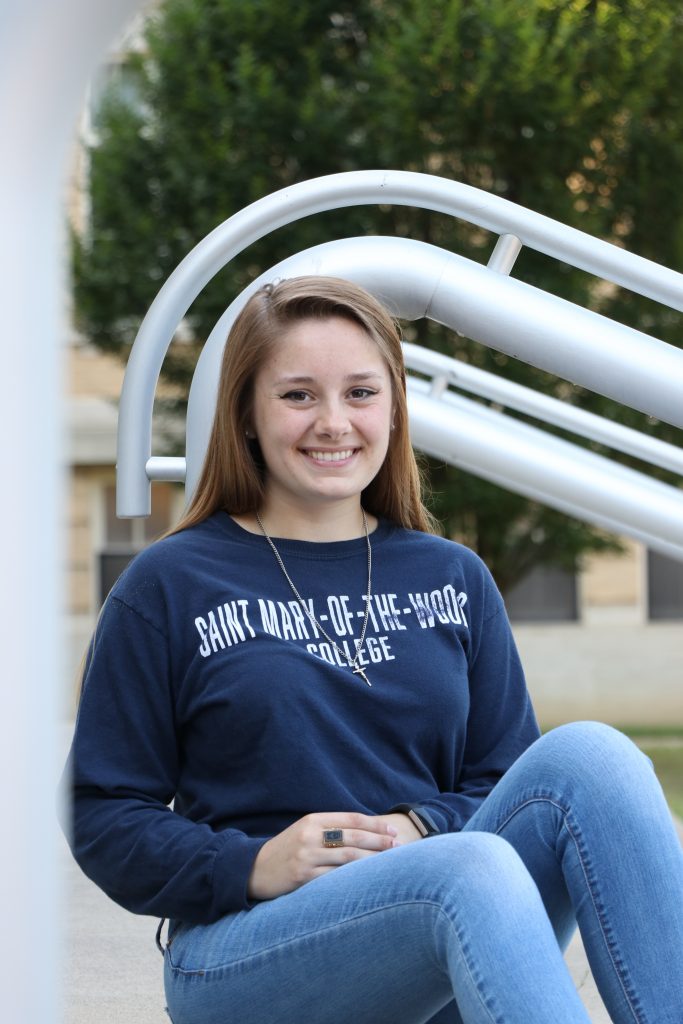 Two programs are available to help bridge this cost gap for those who need assistance purchasing a ring: the Legacy Ring Program and the Woods Ring Scholarship Program. Awards for both programs are decided by a committee of staff and faculty — many of whom are alumni — based upon applications from the students.
The Legacy Ring Program allows alumni and their families to donate pre-owned legacy rings to juniors who qualify on the basis of financial need. Anna Madden '18, '20G, currently serves on the Alumni Board of Directors and is a legacy Ring recipient.
"I applied for a legacy ring, because I not only wanted to enjoy the piece of home close to my heart on a daily basis, but I wanted a reminder to carry on The Woods' values, education and traditions in my forthcoming career and life," Madden says.
Olivia Wendell '20, holds her B.S. in music therapy and will be starting her master's in music therapy at SMWC in the fall while working at Rhythm Garden Music, LLC in Jasonville, Indiana. She is the proud recipient of a legacy Ring from the Cherished: A Ring to Keep By Jennifer Fredericks Dorsey '97, Ph.D. 4 5 estate of Sue Pietrus, SP, '72. who served as Chorale and Madrigals director in the music department prior to her death in 2008.
Wendell says wearing Pietrus' Ring is a daily reminder of their shared love of music. "As a recent graduate from the music department, it fills me with joy knowing that I can continue making music in her memory," Wendell says.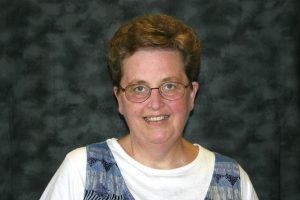 While the origins of the Legacy Ring Program likely began when family members began passing Rings down to relatives and close friends, it has branched out to include bequests as well as donations in honorarium from living alumni who wish to pass on their Rings.
This creates a connection — one that helped Patricia "Patsy" Lysaught Oser '70 decide to donate her Ring while she is still around to meet the student who will wear it next. She would like to see more alums give their Rings to mark special reunion years and create a new tradition of giving with the Ring to build inter-generational alumni relationships. "If I can give this back and remind someone else of the memories they have, those moments will be just as special as the Ring," Oser says. Woods alumni can make Ring Day a reality for more students by participating in the Woods Ring Scholarship Program. This program helps students defray the cost of a Ring.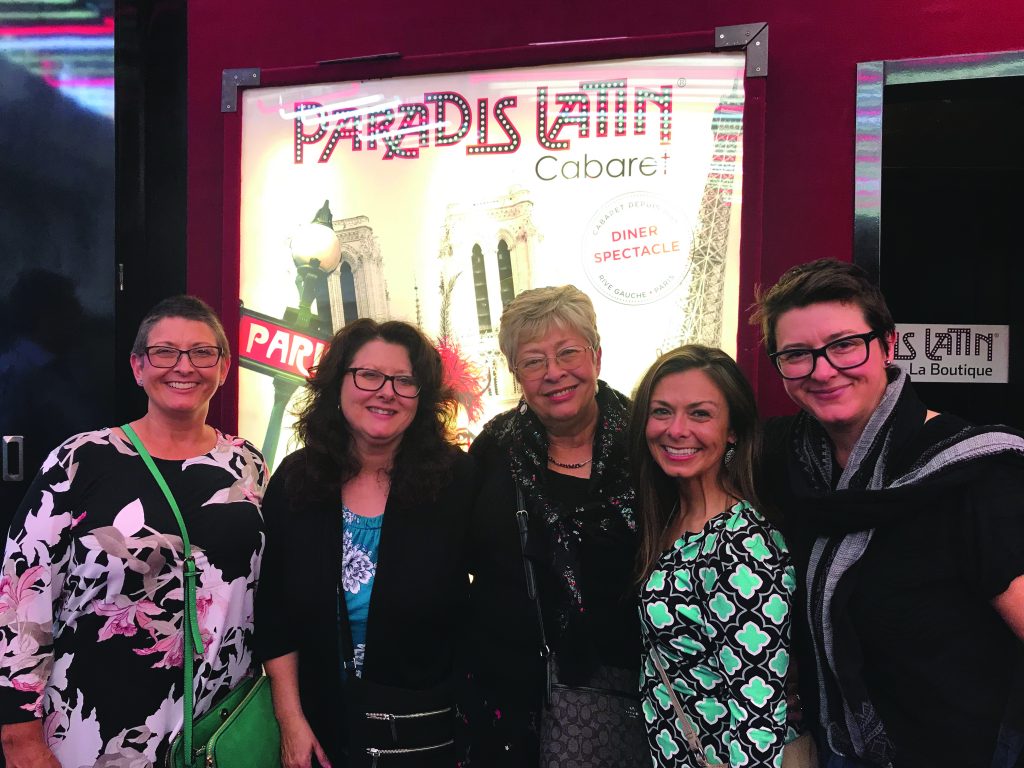 Donating to the scholarship program is a family affair for the Yaw women, who decided to donate a 10-carat Ring each year. Dorothy Carole Bonwell Yaw '91, Ph.D., and her daughters, SMWC associate professor of media art Elaine Yaw '95 and Elizabeth Yaw '92, are members of the East Central Illinois/ West Central Indiana Alumni Club.
"Catherine Mickey Saunders '98 attends our meetings once or twice a year. At our last meeting in 2019, she talked about the Woods Ring and how several students could not afford them, so they had started scholarships. I talked it over with Elaine and Elizabeth, and we decided to give a Ring scholarship as a family, because we love our Rings," Dorothy says. "The Ring is a symbol to all of us of the dedication The Woods has shown to educate women and empower them," Dorothy says.
Madden feels this inter-generational bond every day. "The connection I felt to Alice [Stipanovich] '52 and The Woods after receiving my Ring on my Ring Day was overwhelming joy, the same joy I feel when I glance at my ring today," Madden says. "I'm grateful to Alice and her family for allowing me the chance to wear this Ring with pride."
The legacy of these programs is one the College hopes to continue for a long time. Saunders, associate vice president for advancement, says, "We are deeply grateful to the generous alumni who have donated legacy Rings and provided funding for students who need assistance with purchasing their Rings."
To participate in the program, alumni may contact the SMWC Office of Advancement and Alumni Affairs. More information can be found online.
Do you have a Woods Ring story to share? Plans are currently underway for a big celebration in 2022 for the Ring's 100th anniversary. Let us know what the Ring means to you. Email alumni@smwc.edu to share your Woods Ring story and photos.
---
This story first appeared in the Spring 2021 edition of Onyx Anneau. View the full edition online here.