This speech was presented at the groundbreaking for the new Saint Mary-of-the-Woods College (SMWC) residence hall on June 18, 2020.
---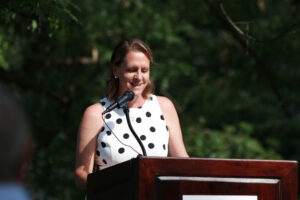 When I was eight years old, my dad told me to jump in the Volkswagen bus with my two older brothers, and off we went to [Saint Mary-of-the-Woods College]. My dad, and his mustache, worked here and I spent many Saturday mornings running around this campus where my mother also went to school. Foley Hall was huge, Guerin was creepy, and Le Fer was majestic.
Fast forward 11 years later, I drove through these gates after two other college attempts and knew this was where I needed to be.
Congratulations to Dottie and her team for their success in continuing and growing the tradition of educational excellence started by Saint Mother Theodore Guerin and her successors in the Sisters of Providence since 1840. The Sisters and the College have always had and continue to have a strong cooperative relationship. In fact, as I look at the sisters here today, I believe all are alums of the College.
This whole campus is a testament to the amazing strength of the women of Providence. When Mother Theodore and her companions made their way through the swampy wetlands of the Wabash, this was literally a woods, six miles from the small community of Terre Haute, with only one family on the property. These women and their successors, scraped, saved, bargained and prayed to build this beautiful campus. There have been many tough times, and when Dottie King became president, the prospects for the future were clouded. Dottie and her team have been extraordinary. Thanks to them and the Board of Trustees, now headed by Barbara Brugnaux '70, for finding the path ahead.
From the time of Mother Theodore until today, the College and the Sisters have always had a big economic impact on Terre Haute and Vigo County. All of these buildings were built with union labor from this area. The retail segment has always benefited from the community here. And now, perhaps more than ever, the College is producing many graduates to the area, improving the local workforce and providing new leaders.
When I attended SMWC, one of my very first introductions to dorm life was "Tonya Nation phone call on 2C." This was an intercom message sent throughout the whole building of Le Fer, summoning me to run as fast as I could to 2 Center to pick up the phone. My, how times have changed. Students now often want their own bathroom, speedy internet access and the ability to answer phone calls from their bedroom.
When I look back at my time spent here, I remember gathering in 4 Center, telling ghost stories, talking about the future and discussing the latest crisis. Shared experiences are so powerful.
As I was preparing my remarks for today, I thought of the Faceless Nun – the ghost that haunted the campus, who was an art student in Foley who died before being able to finish her self-portrait. Now, if you believe in ghosts or not, this story has circulated the dorms of SMWC for years. In fact, I called several classmates and even read a story written in 1974 from Sister Dawn (Tomaszewski '74) about her. Turns out, everyone remembered different versions of the Faceless Nun, but we all know she is here.
I did not start here at SMWC; I transferred here and found my home. Sister Ellen Cunningham was my teacher and mentor that led me to teaching high school math, which in August, I will start my 28th year. I played basketball here in college, where I perfected my jump shot from the corner of the court. I learned how to shoot without hitting the running track that hung above the court. But most of all, I learned how to hold my head high and be proud of who I am.
I am proud to be a Woodsie and proud to serve in the state legislature, where I have the honor and privilege of serving my community. I continue to honor the tradition of strong women, and now men, of making a difference which has always been the hallmark of The Woods.
As we break ground today and move to the next chapter of SMWC's journey, I only hope that the Faceless Nun can find her way to the new dorm.