This speech was presented at the groundbreaking for the new Saint Mary-of-the-Woods College (SMWC) residence hall on June 18, 2020.
---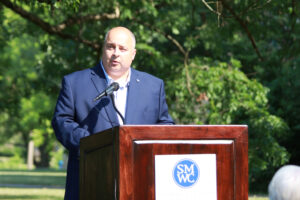 Thank you, President King and Board of Trustees, for having me say a few words this morning. Visiting Saint Mary-of-the-Woods College has always reminded me of where I attended college, Misericordia University. Misericordia is a small liberal arts college, much like Saint Mary-of-the-Woods, but founded by The Sisters of Mercy. It was where I met my wife, where I learned leadership and where I was taught the value of grace mercy. Saint Mary-of-the-Woods College will always hold a special place in my heart for this alongside many other reasons.
In my time as a state Senator, I've had the great privilege of learning more about my community, my region and my state. Although I always knew Saint Mary-of-the-Woods College was a unique asset, I'm not sure I knew just how special it really was.
There is a place in the history book where this college was struggling. It needed unprecedented leadership. There is a place in the history book where people wondered…they wondered about the future of the College. They wondered about enrollment, declining infrastructure and its future. Let's talk about the book we're writing now.
One year ago, the College acquired an additional 160 acres to expand the campus and enhance the student experience. Enrollment in the on-campus programs is the highest it's been in almost 50 years. New academic offerings. New sports programming. And now a new building. This is only to name a few of the big things happening.
I am proud to stand here recognizing the great work of President King, her Cabinet, the Board of Trustees, and the people of Terre Haute, West Central Indiana, and the state of Indiana who are lifting up Saint Mary-of-the-Woods College and its mission. I can't wait to see what's yet to come.