Students are able to receive any help they need through the Counseling Center at Saint Mary-of-the-Woods College (SMWC). The services are free for those enrolled at the College, allowing wide access.
Kalista Lawrence, M.Ed., campus counselor, provides individual and group counseling. She also hosts activities aimed at stress relief throughout the school year for students.
While counseling is generally associated with anxiety or depression, Lawrence said the center deals with a plethora of mental health issues. These range from being home sick to dealing with loss or death. Other difficulties that students can discuss at the Counseling Center can be found online.
She said students apprehensive to start counseling should just try it out. Students are not locked into a certain number of sessions, and the resource is free.
"I really try to stress that this is a safe, comfortable place, and that if they're afraid I'll help them work through it," Lawrence said. "They're in charge, and where they want to go with counseling, I'll help them get there."
She said that students are always welcome to pop into her office in Le Fer Hall if her door is open to say hi. She also has an area with bean bag chairs, zen gardens and snacks where students can decompress between classes.
But she said to any student on the fence – try it out.
"I know you can feel very anxious or scared, but really just reach out," Lawrence said. "We have people on campus that are willing to help. We have an excellent RA staff that go through quite a bit of training. Just reach out, whether it's to an RA, to me or to campus life. We will be able to help."
Pomeroy Care, a new service, is in addition to the existing counseling services offered to students. This telehealth program will provide 24/7 access to medical and mental telehealth care, with no cost at the time of visit.
A mental health professional will be available to talk at all hours of the day, which Lawrence said is important when she isn't on campus. If a student is feeling stressed at 3 a.m., they will have Pomeroy Care to turn to.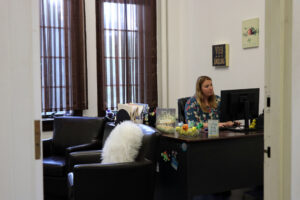 "I do feel like a lot of our students recognize that this is a valuable resource, and I think they'll feel the same way about the Pomeroy Care," she said.
Students can register for Pomeroy Care by going to the Pomeroy Care website and registering with their student email.
Lawrence has already held a planter painting and succulent planting event this year to get to know students and provide them with a stress-free activity. She plans on doing more activities like this.
She also works to highlight important months, such as Suicide Awareness Prevention Month, which is September. On Sept. 10, World Suicide Prevention Day, Lawrence has teamed with the Peace and Justice Committee to hold a night of conversation and snacks. They will discuss the stigma that comes with mental health and how to break it. They will meet in Sullivan Parlor at 7 p.m.
"The stigma is very real," she said.
She said she has had a quick start to her year with the numbers of students she is seeing but said it isn't necessarily directly related to COVID-19.
"It's a double-edged sword, because I don't like that students seek me out, but at the same time I'm glad that they're willing to," Lawrence said.
All information gathered in counseling is confidential, and the privacy of all students are protected.
To schedule an appointment, go to the Therapy Portal, email Lawrence at Kalista.Lawrence@smwc.edu or call 812-535-5102.