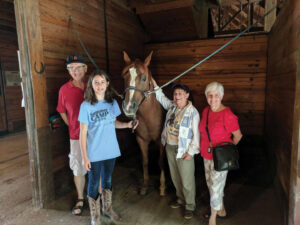 By Lindsey Richardt '07
The equestrian studies program did not yet exist when Phyllis Picardi Harman '68 was a student at Saint Mary-of-the-Woods College (SMWC), but her grandchildren are benefiting greatly from SMWC's equine offerings. The impact she sees the program making on her grandchildren's minds, body and spirits has inspired her to fund a generous endowment to the program.
Through the SMWC Equestrian Summer Camp program, Phyllis' grandchildren have not only developed a special interest in horses, but Phyllis says they have developed a deeper understanding of their own spirituality and affection for the College.
When her 11-year-old granddaughter, Portia, expressed interest in caring for a horse of her own, Phyllis called SMWC. What began as a conversation about adopting one of SMWC's horses for her grandchildren to care for when they visit campus, evolved into Phyllis providing a significant endowment to support the equine studies program and summer camps for generations to come.
"I went to The Woods and we talked about the possibility of doing an adoption. The idea of establishing an endowment fund simply evolved from there," said Phyllis, "Part of the motive for the gift was that I have five little granddaughters, and I would like them to get just as excited about Saint Mary-of-the-Woods College as I am. I think about them attending when they are old enough, and I wanted to start to build a connection between them and the College," said Phyllis.
Phyllis' connection to SMWC began when she joined the Sisters of Providence after finishing high school. She earned a degree in Education at SMWC while going through formation at the convent. She was a teacher for two years as a Sister of Providence before deciding God had other plans for her. It was during this time as a member of the community that she grew closer to the teachings of Saint Mother Theodore Guerin, who inspired Phyllis to leave a legacy of her own at The Woods.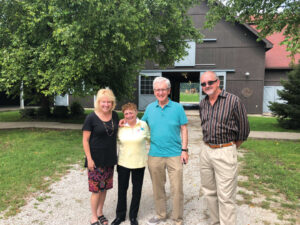 "I don't think of this gift as anything out of the ordinary; it is what Saint Mother Theodore would have wanted. I think the charism of Saint Mother Theodore is being one with nature and helping youngsters develop a sense of creation," said Phyllis.
Watching the development of her grandchildren's sense of creation and spirituality added to Phyllis' desire to support SMWC's equestrian program.
"My oldest granddaughter has developed a sense of the other through her interactions with horses, and I am just so pleased that her spirituality is coming out in a way that I would never think for a pre-adolescent. If she or any of my granddaughters decide they do not have an interest in horses anymore, my hope is that this gift continues the program and helps students of all ages learn and grow.
These big animals have an amazing spirit that seems to align with children and adults."
The endowment will help provide financial support for the stability and longevity of the program, giving the College the opportunity to think outside of day-to-day operations.
"The benefits from this endowment are endless. This gift gives the equine department the opportunity to update and maintain the facilities and the horse herd, provide our faculty and staff with professional development opportunities, and support equine students in their educational journey. We are so thankful for this generous and thoughtful gesture," said Sara Daugherty Schulz '98, '09G, equine studies department chair.
While the legacy of Phyllis will be visible through the success and longevity of the program, the lasting effect of this generous gift is the sense of freedom it gives students, faculty and staff to dream bigger about the program's growth and offerings.
"These funds will be available to spend on things outside the normal operations. This gift allows us to dream." said Dottie King, President of SMWC.