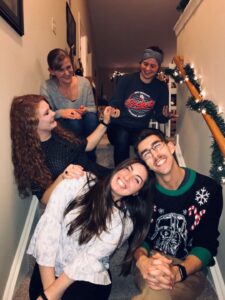 1. New friends
Big/Little week gives upperclassmen an exciting and unique opportunity to interact with the freshman class. This week is not only full of fun but also gives participants the opportunity to make a new friend. My Big was a co-worker named Shannon, a graduating senior who chose me because we were a lot alike. Shannon and I were both elementary education mild-intervention majors with psychology minors and worked in the SMWC Office of Admissions. Before Big/Little week, Shannon and I were sort of friends, but after reveal day, our friendship grew.
Having the opportunity to be a part of a tradition so unique to Saint Mary-of-the-Woods College is exhilarating, and I enjoyed every moment of it. Because of the family aspect behind Big/Little week, I not only gained one friend but a group of them. My "twin" Logan and I are great friends and talk almost every day. Big/Little week really helped me feel connected to Saint-Mary-of-the-Woods College on a personal level, and I look forward to continuing the tradition with a little or two of my own!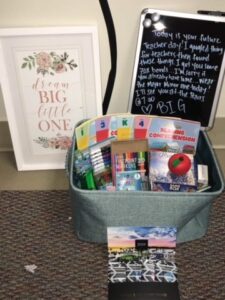 2. Surprises
One super fun characteristic of Big/Little is the notes. Every night between 10 pm and midnight during Big/Little week, Littles get the chance to pass notes under the door with their mysterious Big. This designated time not only helps the Little learn more about their Big but also gives them the opportunity to try and guess who their Big is (be careful, they lie).
Another exciting part is the door decorations. A freshman's Big will often decorate the Little's door. Shannon used adorable flower stickers to embellish mine. Every night Shannon would add different flower stickers and it was always thrilling to open my door every morning and see the new ones! I had about two-hundred flowers on the outside of my dorm room for the rest of the year.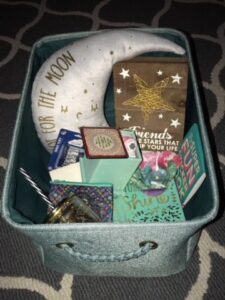 3. Special gifts (every day)
Yes, I said it, fun presents every day for three straight days! Now please, if you are considering participating in Big/Little week, please do not do it for the gifts. While receiving adorable stickers and free candy is nice, this experience is not all about the presents. But of course, gifts are enjoyable, and Shannon did an amazing job with mine! I had themed days for every day, and it was so much fun. I had beauty day, candy day, dress-up day and major day (where I received school supplies and future teacher necessities).
The excitement of opening my door every morning to see what my Big left for me always gave me a rush. It was also fun to see what other freshmen were given by their Bigs. Having Christmas in October is exciting, and being able to experience Big/Little as a freshman and then participate in it for three years as a Big is unique. Big/Little week encourages community at Saint-Mary-of-the-Woods College, and I love that!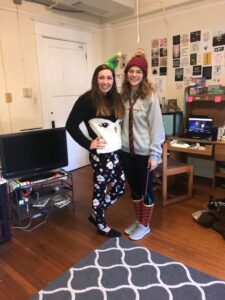 4. The opportunity to dress up and do funny things
Or better yet, watch other people dress up and do funny things. I had the opportunity to dress up in a winter-themed outfit and my friend Kayla McDaniel was asked to dress up in Hogwarts gear. During lunch, many Littles will stand on chairs and dance, sing or perform a skit with other Littles. During Big/Little week, O'Shaughnessy Hall [SMWC's dining hall] is filled with laughter and many newfound friendships.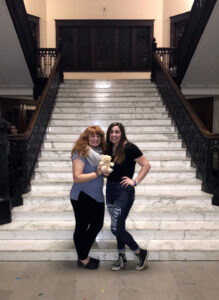 5. Reveal day
The joy and surprises of Big/Little continue from Monday to Thursday evening during Big/Little week, with reveal day being the best of them all! All the participating freshmen sit on the marble staircase as one-by-one their Bigs reveal themselves in extravagant ways. Some littles are sent on a scavenger hunt throughout campus, whereas others are given a matching shirt that their big comes out in. Shannon bought me a special ZOX bracelet called "major minor" and wore it to match with mine. For her reveal, she came out holding two stuffed bears and said, "I could BEAR-ly wait for you to know that I am your Big, Emma." After Shannon finished her statement, I sprinted down the marble stairs (toppling a few people in the process), and gave her a huge hug.
I was beyond shocked when I learned who my Big was. Shannon graduated from SMWC but received a job nearby. We catch up weekly and have "family dinners" at her house every once in a while. I love having the opportunity to participate in Big/Little week here at SMWC and am anticipating another wonderful Big/Little week this year.
Big/little week is a wonderful tradition and every freshman or transfer student should participate and join the fun!
---
About the Author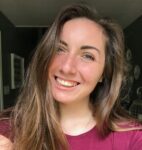 Emma Taylor
Emma Taylor is a junior elementary education mild-intervention major at Saint-Mary-of-the-Woods College. She currently serves as the Junior Class president at SMWC and co-director for Saint Joseph's University Parish Awakening retreat in Terre Haute. She attends small group sessions at Maryland Community Church. She loves SMWC and she says she would not trade the time she has spent here for anything else in the world. Emma is a legacy student because her sister, Callan Taylor is a 2019 graduate of SMWC. She works in the Office of Marketing and Communications during the academic year as a social media assistant.