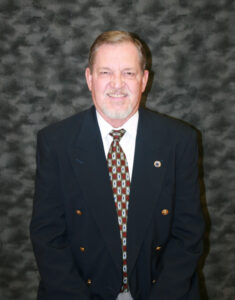 A beloved emeritus trustee of Saint Mary-of-the-Woods College, David Bailey, died on Jan. 20, 2021. He was 76 years old.
Bailey, described as a passionate and gentle man, was actively involved in The Woods and the Terre Haute community. He served two full nine-year terms as a trustee from 1993-2002 and 2005-2014.
Dottie L. King, Ph.D., president, said, "Dave was a real friend to SMWC! He generously shared his marketing expertise and his money. As a trustee, he brought passion and a sense of fun to our meetings."
Kathy Lubeznik '80, former board chair and trustee Emeritus while Bailey served on the board, recalled him having strong faith and was committed to the College's Catholic identity.
"He upheld a vision and gave guidance for the future of Saint Mary-of-the-Woods College during numerous and difficult discussions to continue as a co-educational institution," Lubeznik said. "He was not only dedicated to our beloved College as a trustee, but also as a personal friend to so many alumni, Sisters of Providence, students, staff and administrators."
He graduated with a degree in business management from Indiana State University in 1970. He worked at WTHI-AM/FM/TV in Terre Haute from 1966 to 2005, beginning as a studio assistant and working his way up to general manager and serving as the senior vice president of Emmis Communications Corporation before his retirement in 2005.
He chaired the Marketing and College Relations Committee and served as a member of the Enrollment Management and the Executive committees. Along with his dedication to The Woods, he served as a member of the Terre Haute South Rotary Club and the Indiana Broadcasters Association.
"He was truly one of the great ones, and will be sorely missed," Karen Dyer, vice president for advancement and strategic initiatives, said. "He had a way of envisioning the future, helping others to understand how to take the steps to get there, especially as he advocated for increased awareness of The Woods in our community and beyond."
"I am so grateful for his presence in my life," King added. Bailey was a National Association of Television Program Executives Iris Award winner. He resided in Marshall, Illinois, with his wife, Diana.