As the highest award for academic excellence, service and faith, the Saint Mother Theodore Guerin Scholarship at Saint Mary-of-the-Woods College goes to exceptional applicants.
One student is awarded up to full tuition and $4,000 toward the cost of a room in Le Fer Hall. Three students receive up to full tuition and 10 will receive $22,000 in tuition coverage. Last year, approximately 60 students applied. This year, the cohort houses 16 students. The scholarship not only allows students to have financial assistance, but it gives students the opportunity to form a deeper connection to our foundress.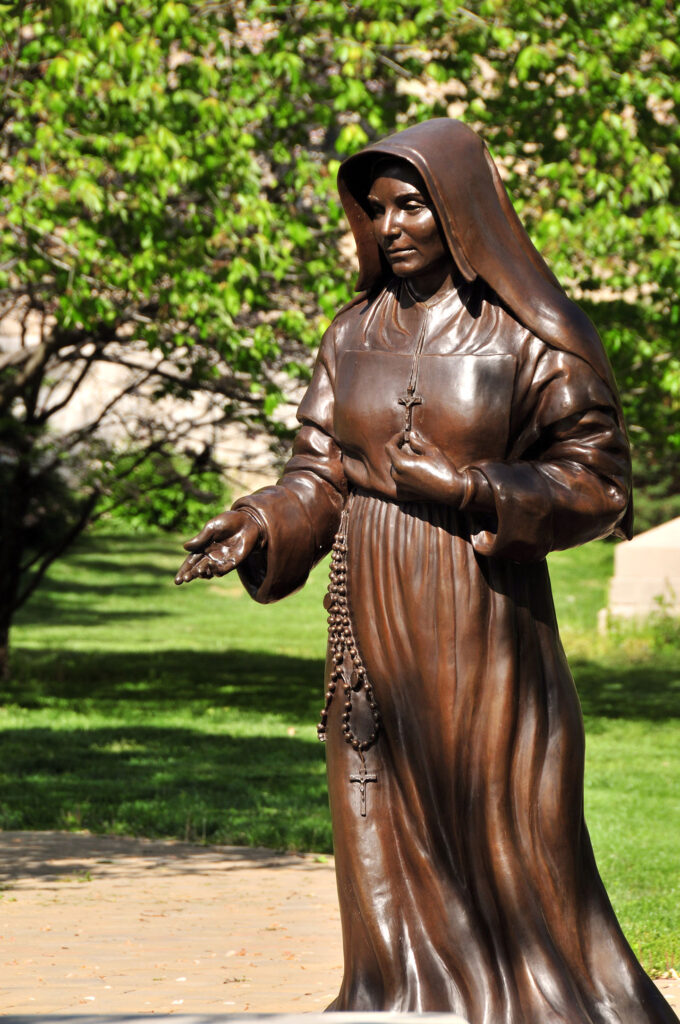 Elizabeth Wetzel, a full-tuition SMTG scholar from Carmel, Indiana shared, "I think that from the beginning of being in the cohort, it provided an opportunity to learn about Saint Mother Theodore Guerin. In our application essay, we were asked to find common ground between an experience where we were challenged and relate it to Mother Guerin's experience, so that made me feel more connected to her throughout the process."
Eligible applicants must be admitted or enrolled as a full-time, campus-based student, planning to enroll in a degree-seeking program. They must also demonstrate unique experience and desire to make a difference in the community and prove academic excellence by holding a 3.2 high school GPA.
Molly Coomer, a freshman nursing major and full-tuition scholarship recipient, explained how providential it was to be selected as an SMTG scholarship recipient. "When I stepped on campus, I told myself, 'This is the one for me.' I then applied for the scholarship and was granted an interview. Understanding finances was one factor that I was keeping in mind, but when I was told that I was selected as a scholarship recipient, it was just a moment of reassurance that I was meant to come here."
In addition to being held to a high standard on campus, each cohort member must complete a number of service hours, which is required in the cohort honors class.
Hannah Harvey, a full-tuition SMTG scholarship recipient and Terre Haute native, shared how much of an honor it is to be welcomed into a legacy. "Being selected into the cohort already made me feel more connected to Mother Guerin. The honors course gives so many opportunities to give back to the community and connect with those who were SMTG Scholars during their college career at The Woods."
Applications for the SMTG scholarship are now open for the 2023-2024 academic school year. The deadline to apply is December 1, 2022.